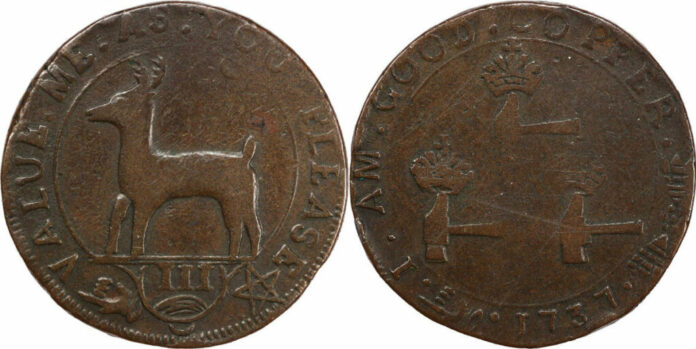 [bsa_pro_ad_space id=4]
Stack's Bowers Summer 2022 Global Showcase Auction
Stack's Bowers Galleries offers their Summer 2022 Global Showcase Auction. The sessions start on 22nd August and run through 1st September 2022. Among the lots are several highly important collections and coins.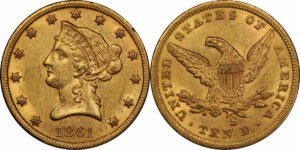 JBR Set form the Fairmont Collection
Stack's Bowers Galleries announces the incredible JBR Set of $5, $10, and $20 Gold Coins from the Fairmont Collection, a landmark feature of their August 2022 Global Showcase Auction. Comprising nearly complete runs of each denomination beginning in 1834, the JBR Set exhibits an astounding combination of Condition Census and Everyman quality across the rarest dates and varieties of U.S. gold. The 554 coins therein feature an overall CAC approval rate of 63% and rank among the top PCGS Registry Sets in their respective categories. Most importantly, each coin exhibits the incredible quality, originality, and eye appeal that has become a hallmark of the Fairmont provenance.
The $5 half eagles from the JBR Set span nearly a full century of U.S. coinage, and include examples from the Classic Head, Liberty Head, and Indian Head series. A remarkable 75% of the 224 half eagles have been approved by CAC and they are ranked as the #1 Current and All-Time Finest PCGS Registry Set LIBERTY HEAD $5 GOLD BASIC SET, CIRCULATION STRIKES (1839-1908) – CAC category, as well as the #2 Current and All-Time Finest Set in the U.S. $5 GOLD COMPLETE BASIC SET, CIRCULATION STRIKES (1795-1929) category.
The $10 eagles in the JBR Set encompass the Liberty Head series through the Indian Head series and offer a CAC approval rate of over 50% across 167 coins. They are currently ranked as the #2 Current and All-Time Finest PCGS Registry Set in both the LIBERTY HEAD $10 GOLD BASIC SET, CIRCULATION STRIKES (1838-1907) – CAC and U.S. $10 GOLD COMPLETE BASIC SET, CIRCULATION STRIKES (1795-1933) categories.
Comprising Liberty Head and Saint-Gaudens $20 double eagles from 1850 through 1928, the 163 coins of this denomination in the JBR Set boast a CAC approval rate of over 60%. They are currently ranked as the #2 Current and All-Time Finest PCGS Registry Set in both the LIBERTY HEAD $20 GOLD BASIC SET, CIRCULATION STRIKES (1850-1907) – CAC and U.S. $20 GOLD COMPLETE BASIC SET, CIRCULATION STRIKES (1850-1932) categories.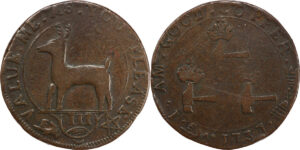 The Sydney F. Martin Collection
For three decades, Sydney F. Martin of Doylestown, Pennsylvania and Amelia Island, Florida was a preeminent figure in American numismatics. He served as president of the American Numismatic Society and was the author of standard references on four early American numismatic specialties. Mr. Martin was a graduate of the Massachusetts Institute of Technology and founder of The Sytex Group, which provided services to the defense and intelligence communities before its acquisition by Lockheed Martin in 2005.
Presented in a meticulously researched, stand-alone catalog will be over 260 coins and medals including his front-line collections of New Jersey coppers and Massachusetts coppers, both among the finest holdings in these series ever assembled. "Syd was a completist by nature," commented John Kraljevich, lead cataloger for the Syd Martin Collection, "so it is not surprising that he gathered up 113 of 145 confirmed die pairings of New Jersey coppers. Collecting over 100 of these die pairings is a major feat, but getting to 113 puts him in rarefied company." Included are major rarities in the series such as the 1786 Maris 9-G "No Coulter" variety graded PCGS VF-30, as well as superb quality pieces like the 1786 Maris 21-N graded PCGS MS-65+ Red-Brown, one of the very finest known New Jersey coppers of any variety.
The Massachusetts half cents and cents dated 1787 and 1788 are even more complete, as Martin meticulously gathered 46 of the 51 known die pairings in the series. "Syd vied not only for completeness in the series but also hunted down the very best coins he could find privately and in the major auctions of the last two decades," mused Kevin Vinton, Senior Numismatist and specialist in early American coinage. "His Massachusetts coppers have the highest average quality of any of his collections and are among the very best collections of these ever assembled – an incredible 32 of his 46 die pairings are between AU-55 and MS-65 in grade." By example, Martin's 1787 Ryder 4-J, one of fewer than a dozen known, is graded PCGS MS-64 Brown and is the finest known by nearly 40 grade points.
Rounding out this initial auction are incredible offerings of Saint Patrick coinage, Higley coppers, Pitt tokens, Rhode Island ship medals, and Libertas Americana medals – all of these series are essentially complete by type and metal. Martin is probably the only collector who attempted to build a complete set of Higley coppers by die marriage, gathering 13 of the 16 known in private hands. Six will be included in the August auction, representing each of the major Redbook listed types. Among them is an incredibly choice, PCGS VF-30 example of the 1737-dated variety with VALUE ME AS YOU PLEASE legend that was once in the Roper Collection. Also tracing its lineage to the Roper Collection is the unique 1778 Rhode Island Ship medal with VLUGTENDE in the legend, graded PCGS AU-55. Its provenance extends back to the late 19th century and includes the famed Ellsworth and Garrett collections as well as, more recently, the John Adams Collection. Providing a coda to the initial offering from the Sydney F. Martin Collection is a silver and bronze pairing of the most famous and eagerly sought of early American medals: the (1783) Libertas Americana medal that was the brainchild of Benjamin Franklin. Martin's silver example, beautifully toned in a panoply of color, is graded MS-62 by PCGS.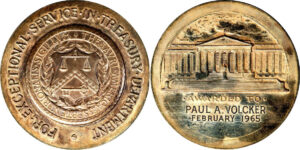 Paul A. Volcker, Former Federal Reserve Chairman, collection
In a career spanning nearly six decades including public service under five U.S. presidents, Paul A. Volcker, Jr. worked for private and public firms as an esteemed economist and helped shape the nation's economic policies. In these roles he received numerous awards, medals, and commendations from entities both domestic and foreign, which Stack's Bowers Galleries is proud to offer at auction to private collectors and museums. In addition to the awards, Volcker collected a small group of numismatic coins that will also be offered.
Beginning in 1952, Volcker joined the staff of the Federal Reserve Bank of New York as a full-time economist. After five years there, he moved on to Chase Manhattan Bank where he served as a financial economist. In 1962 Volcker joined the U.S. Treasury Department as Director of Financial Analysis and, a year later, was appointed Deputy Under Secretary for Monetary Affairs. He returned to Chase Manhattan Bank as Vice President and Director of Planning in 1965. President Richard Nixon appointed Volcker as Under Secretary of the Treasury for International Monetary Affairs, a position he held for five years. During that tenure, he was instrumental in eliminating the convertibility of gold to the dollar, ending the Bretton Woods system which had been in place for just over a quarter century. Following his work at the Treasury Department, Volcker became President of the Federal Reserve Bank of New York, a position he held from 1975 to 1979.
In July 1979, President Jimmy Carter nominated Paul Volcker to serve as Chairman of the Board of Governors of the Federal Reserve System. He was confirmed by the Senate the following month and was re-nominated four years later by President Ronald Reagan. Under Volcker's leadership, the Federal Reserve helped curb inflation, which had risen to nearly 15% in March 1980 – three years later it had fallen below 3%. To fight inflation, the Fed under Volcker raised the federal funds rate, which resulted in extremely high interest rates during the early 1980s. Paul Volcker left the Federal Reserve in 1987 and became Chairman of Wolfensohn & Co., a prominent New York investment banking firm. Throughout the 1990s he remained active, serving as the chairman of various committees and task forces, among them the Independent Committee of Eminent Persons (Volcker Commission), the IFRS Foundation, and the Group of Thirty.
Under President Barack Obama, Volcker was selected to head the President's Economic Recovery Advisory Board. He was reported to be Obama's choice for Secretary of the Treasury, but as he was over 80 by then, he was considered too old. In 2013, Volcker founded the Volcker Alliance, a nonprofit organization to address the challenge of effective execution of public policies and to rebuild public trust in government.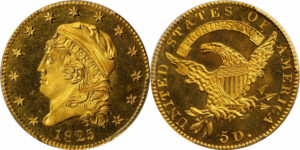 The Mocatta Collection
Another highlight of the sale is the finest of three known Proof 1825/4/1 Capped Head Left half eagles, offered as part of the Mocatta Collection of U.S. Gold Rarities. Graded Proof-67 Cameo by PCGS and awarded a CAC sticker for superior quality, it boasts a magnificent provenance stretching back to before 1864 and has been held privately off the market since the early 1970s. It is first traced to the collection of George F. Seavey formed before 1864, which was purchased en bloc by Lorin G. Parmelee in 1873. It appeared in lot 957 of the June 1890 sale of the Parmelee Collection where it sold for $40, or just eight times the face value. Over the next hundred years, this coin passed through a litany of legendary cabinets including those of Waldo Newcomer, Colonel E.H.R. Green, and even Mr. Louis E Eliasberg, Sr., himself. Stack's had the pleasure of offering this piece twice during this period including their 1944 sale of the Bell Collection and their 1947 H.R. Lee sale – on behalf of Mr. Eliasberg. It was last offered publicly in Sotheby's 1954 sale of the collection belonging to King Farouk of Egypt. This specimen was acquired for the Mocatta Collection circa 1973 and has been cherished privately since.
Among the three known examples, the Proof-67 Cameo (PCGS) CAC Mocatta specimen is the only one currently in private hands and it ranks as the finest by a clear margin. The other two survivors include the example in the Harry Bass Core Collection (graded Proof-64+, as per John Dannreuther) and another in the National Numismatic Collection at the Smithsonian Institution (graded Proof-66, also per Dannreuther). This rarity was missing from most of the greatest cabinets ever formed including Garrett, Pittman, and Norweb, and it surely represents a monumental offering for the most advanced collectors of Proof and Early Gold coinage.
This Superb Proof half eagle is accompanied by numerous world-class treasures that would each represent a crowning achievement in the most advanced cabinet. The gold dollars are highlighted by an incredible Proof-64 Deep Cameo (PCGS) CAC 1855 which is one of the finest of only about eight known. The iconic 1796 No Stars quarter eagle is represented by a near-Mint AU-58 (PCGS) example which is on the cusp of the Condition Census. The popular three-dollar gold series is highlighted by a lovely Proof-65 Cameo (PCGS) CAC 1876, while the 1879 Flowing Hair $4 Stella is represented by a delightful Gem Proof-65 (PCGS) CAC specimen.
The United States Mint American Eagle 35th Anniversary Coins
Stack's Bowers Galleries has been awarded a contract from the United States Mint to auction the 2021 American Eagle at Dusk and at Dawn 35th Anniversary coins as part of the firm's Summer 2022 Global Showcase Auction. The United States Mint and Stack's Bowers present together the 35th Anniversary American Eagle at Dusk and at Dawn coins to collectors at auction this summer. In recognition of this historic offering, Stack's Bowers Galleries will also waive the Buyer's Premium on these 35th Anniversary coins, meaning that the highest bid on each lot (the hammer price) will be the final amount paid by the winning bidder, excluding any applicable sales tax and shipping fees.
Launched in 1986, the American Eagle Bullion Coin series has become one of the most popular and successful modern issues produced by any of the world's mints. Prized by both bullion investors and numismatic collectors, the America Eagle series is considered the United States Mint's signature product and offers an homage to the greatest U.S. coin designs of the 20th century.
To celebrate the 35th anniversary of the series, new reverse designs for the silver and gold eagles were released in April 2021, and the transition between the classic and new designs was commemorated in a striking ceremony at the West Point Mint. During this ceremony, then-Director of the Mint David Ryder personally operated the presses to produce the final 500 coins each of the classic gold and silver 1 ounce coins and the first 500 coins each of the new gold and silver 1 ounce coins.
These American Eagle at Dusk and at Dawn coins will be offered exclusively by Stack's Bowers Galleries on September 1, 2022 as part of their Summer 2022 Global Showcase Auction. These will primarily be offered in special four-coin sets containing one each of the classic gold and silver eagle 1 ounce coins and one each of the new gold and silver 1 ounce coins. The first coins struck of the new designs will be paired with the final coins struck of the classic design and this pairing format will be maintained with all sets. Each of these four-coin sets will also be accompanied by a numbered Certificate of Authenticity issued by the United States Mint. Similar two-coin sets will be offered featuring one each of the classic and new designs in gold or silver. These two-coin sets maintain the same paired striking order as the four-coin sets and are ideal for collectors focusing solely on either the American Gold Eagle or American Silver Eagle series. Select coins of particular significance will be offered individually, including the very first and last coins struck of each type. Each coin will also be graded and encapsulated by the leading grading services NGC and PCGS with custom labels to recognize their historic significance.
You can view all lots of the Summer 2022 Global Showcase Auction in the online catalog.
For further information about the auction house, visit the Stack's Bowers website.