[bsa_pro_ad_space id=4]
Stack's Bowers' Hong Kong Sale Realized $43 Million
Stack's Bowers' and Ponterio's May 2022 Auction, their most recent biannual Hong Kong event, netted a stunning final figure of over $43,000,000 in prices realized. This unprecedented total sets a record for the single highest grossing world and ancient numismatic auction held by any firm. With nearly 10,000 lots offered across 18 sessions and a sell through rate of 97%, the May 2022 Hong Kong Auction truly offered items that appealed to every interest and budget.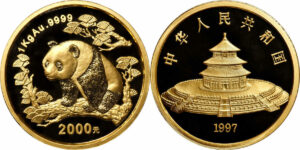 The sale started with offerings of paper money and modern Chinese coins in sessions A and B. Two early pre-modern era pieces of Chinese paper money, a 2 Kuan from the Yuan Dynasty graded by PCGS Banknote Choice Fine 15 and a 1 Kuan note from the Ming Dynasty certified by PMG About Uncirculated 55 realized $40,800 and $33,600 respectively. Several modern Chinese coins also reached astounding prices, proving general strength across almost the entire Chinese market. A 2000 Kilo Panda certified by NGC as Proof-69 Ultra Cameo closed at $114,000 far outstripping its intrinsic value. A 1985 Brass Yuan Panda Pattern with an estimated survival rate of fewer than 100 examples sold for $31,200, more than doubling its high estimate of $15,000.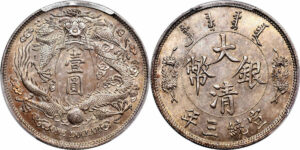 The apex of the auction was Session C, Rarities Night. With 252 lots sold, this single event attracted spirited bidding that brought the final realized prices of the session to an astonishing $26,907,840. The highest priced item in the sale, a majestic Year 3 (1911) Pattern "Long Whisker" Dollar graded Specimen-63+ by PCGS, sold for $3,000,000. This type is one of the most popular issues in Chinese numismatics, and this coin now owns the record for the most valuable Dragon Dollar ever sold. Another ever popular type, a Year 38 (1949) Kweichow "Bamboo" Dollar certified by NGC as EF-40, soared to a final price of $480,000. One of the last issues of the Republic period, this type has long captivated collectors, and this example confirms the strong market for these types. A fantastic "Mausoleum" Dollar Pattern from Year 16 (1927) graded MS-63 by NGC reached $408,000, far surpassing its estimate range of $70,000-$100,000. Those who love Chinese coins will be immediately familiar with the Year 3 (1914) Yuan Shi-Kai Dollar, as one of the mainstays of the Republic series. An offering in the special proof striking format and graded Proof-65 by PCGS crossed the auction block for an impressive $720,000.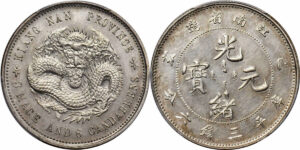 Featured in the Stack's Bowers and Ponterio Rarities Night Session was the incredible Kairos Collection, which attracted the extremely strong bidding demanded by a cabinet of this lofty stature. A classic rarity, the 1899 Kiangnan 3 Mace 6 Candareens Graded PCGS MS-62+ Prooflike, exceeded its estimate to reach $1,200,000. A 1914 Silver Dollar Pattern Specimen-67 far surpassed its high estimate closing at $1,170,000, confirming the incredible popularity of Specimen strikes and becoming the third lot of the auction to cross the $1 million mark.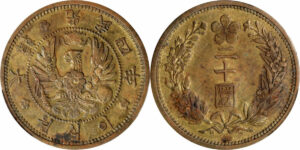 Other numismatic areas also delivered strong results, with much enthusiasm for almost all Asian markets. An Annam 5 Tien featuring Bats graded PCGS MS-63 realized $72,000, seven times the high estimate of $10,000. A lovely Hong Kong City Hall Dollar from the Mark and Lottie Salton Collection certified Proof-62 by PCGS sold for $43,200. The Salton Collection also offered a Man'en Era Oban graded MS-63 by PCGS which closed at $45,600, against an pre-sale estimate of $15,000-$25,000. A Year 4 Brass 20 Won Pattern from Korea, the first of this date known to Stack's Bowers and Ponterio, astounded when it brought $156,000. These prices confirm Stack's Bowers and Ponterio's incredible ability to deliver premium numismatic items for collectors, generate intense excitement for their auctions and realize strong prices for consignors.
Other Notable Prices Realized From the May HK Auction Include:
Dollar, ND (1916). Tientsin Mint. Hung-hsien (Hongxian [Yuan Shih-kai]). PCGS MS-67. $840,000
Chihli (Pei Yang). 7 Mace 2 Candareens (Dollar), Year 23 (1897). Tientsin (East Arsenal) Mint. Kuang-hsu (Guangxu). PCGS MS-66. $630,000.
Szechuan-Shensi Soviet. Dollar, 1934. Szechuan-Shensi Mint. PCGS MS-62. $384,000.
20 Dollars, Year 8 (1919). Tientsin Mint. PCGS MS-62. $288,000.
Silver Dollar Pattern, Year 18 (1929). Hangchow Mint. PCGS SPECIMEN-64. $288,000.
Sinkiang. Mace (Miscal), AH 1352 (1933/4). Kashgar Mint. NGC MS-63. $276,000.
Kweichow. Auto Dollar (7 Mace 2 Candareens), Year 17 (1928). PCGS AU-50. $264,000.
Silver 50 Cents Pattern, Year 25 (1936). San Francisco Mint. PCGS SPECIMEN-64+. $228,000.
7 Mace 2 Candareens (Dollar), ND (1908). Tientsin (Central) Mint. Kuang-hsu (Guangxu). PCGS MS-62. $216,000.
Manchukuo. Tael, ND (1932). PCGS MS-60. $216,000.
Tuan Chih-kuei Silver Medal Silver Medal, ND (ca. 1917). Tientsin Mint. PCGS MS-64. $204,000.
Silver Dollar Pattern, ND (1910). Tientsin Mint. Hsuan-t'ung (Xuantong [Puyi]). NGC MS-63. $180,000.
Yen, Year 8 (1875). Osaka Mint. Mutsuhito (Meiji). PCGS MS-63. $144,000.
Yunnan. Rupee, ND (1907). Kunming Mint. PCGS AU-53. $132,000.
Shanghai. Tael, Year 6 (1856). Hsien-feng (Xianfeng). NGC AU-55. $108,000.
20 Cents, ND (1912). Nanking Mint. PCGS MS-68. $108,000.
Philippines – Peru. 8 Reales, ND (ca. 1832-34). Manila Mint. Ferdinand VII. NGC AU-55. Countermark: AU Strong. $90,000.
20 Sen, Year 13 (1880). Osaka Mint. Mutsuhito (Meiji). NGC PROOF-62. $90,000.
Kiangsu-Chingkiang. Mint Error – Double Dragon Mule – 10 Cash, ND (1906). Kuang-hsu (Guangxu). PCGS MS-63 Brown. $84,000.
View all results of the sale in the online catalog.
For further information about the auction house, visit the website of Stack's Bowers.