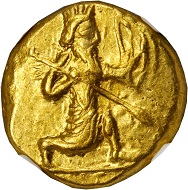 [bsa_pro_ad_space id=4]
16-05-2017 – 17-05-2017
May 2017 Collector's Choice Online Auction
World Collectors Choice Online Auction
Stack's Bowers Galleries will hold their May 2017 Collector's Choice Online Auction of World and Ancient coins and World Currency from May 17th to 18th. The Ancient coins auction will begin live bidding on Wednesday, May 17th at 9 AM Pacific Time. World currency will begin at 11 AM Pacific Time. World coins auction will begin live bidding on Thursday, May 18th at 9 AM Pacific Time. The Collectors Choice sales close live, with an auctioneer, though bids may be submitted ahead of time as well.
Persia. Achaemenidae. Xerxes II to Artaxerxes II. Daric, ca. 420-375 B.C.
The sale begins with over 130 lots of Ancient coins comprising a wide variety of types and designs that are sure to entice collectors. The regions represented include: Celtic, Sicilian, Macedon, Thrace, Athens, Ionia, Syria, Egypt, Rome and Byzantine. One highlight from this section is a lovely Persian AV Daric, created by the massive Persian Empire for trade with the Greeks.
Canada. Dominion of Canada. 5 Dollar, 1912B. P-DC-21c. PCGS Gem New 65 PPQ.
The World Currency section contains over 225 lots, with a diverse offering that will appeal to dealers and collectors alike. One special piece is a DC-21c 5 Dollar note from Canada. No seal, series B. These 1912 "Train Notes" are among the most sought after large size Canadian designs. Stunning blue color is noted on both face and back and all the intricate detail is readily available. Original paper quality is confirmed by the "EPQ," designation by PMG and the Gem grade is cemented by the excellent centering and margins.
India. Mughal Empire. Mohur, AH 1038 Year 2 (1628/9) ((AH1038)//2). NGC MS-62.
The World Coins portion offers over 1,000 lots. It features prominent sections of France, Germany, Great Britain and all manner of Spanish Colonial coinage, with a large Mexican section. One standout coin is the Shah Jahan Mohur dated AH 1038 Year 2 (ca. 1628/9). The period of Jahan's reign is considered the golden age of Mughal architecture, and he bequeathed to the world the famed Taj Mahal. Constructed over a two-decade period to honor his late wife, the monument is now considered one of the wonders of the modern world.
Lot viewing will be available at the Stack's Bowers Galleries Santa Ana office before the sale. Check the company's website for specific dates and times.
If you are interested in selling, Stack's Bowers Galleries is your source for auction. The firm offers professional handling of your collection, with a proven track record of accomplished sales. They are currently accepting consignments for their August 2017 ANA auction as well as the August 2017 Hong Kong sale. Contact a consignment specialist at 949-253-0916 or via email.