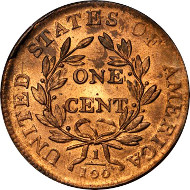 [bsa_pro_ad_space id=4]
12-08-2015 – 13-08-2015
Rarities Night Session, ANA World's Fair of Money Sales
Stack's Rarities Night in Rosemont Realizes $6.45 million
"Excitement" was the buzzword at the annual ANA World's Fair of Money held in Rosemont, Illinois, a familiar and popular venue for collectors and dealers alike. Adding to the excitement of this annual summer event were two official auction sales of U.S. coins held by Stack's Bowers Galleries. The company's ever-popular Rarities Night session was held August 13 and was a resounding success. Its 306 premium lots realized over $6.45 million, with fierce bidding activity throughout the entire session. The second of the two sales comprised two sessions and along with the U.S. currency auction and world coins and currency auction, realized over $14 million.
10028: 1807/6 Draped Bust Cent. S-273. Rarity-1. Large 7, Pointed 1. MS-66 RD (PCGS). OGH. CAC. Price Realized: $470,000.
A prominent highlight of the Rarities Night session was lot 10028, a spectacular PCGS-certified Mint State-66 RD 1807/6 large cent, Sheldon-273, representing the single finest RD example certified by PCGS of any year in the Draped Bust design type, 1796-1807. This impressive early copper opened with great fanfare and the bidding skyrocketed from there, with the final price of $470,000 setting the pace for the rest of the sale. All told, the coppers in the sale showed remarkable prices and strong bidding activity.
10108: 1839-O Capped Bust Half Dollar. Reeded Edge. HALF DOL. GR-1. Repunched Mintmark. Branch Mint Specimen-62 (PCGS). Price Realized: $105,750.
Silver coins offered many standout performances, including lot 10108, an extremely rare PCGS-certified Branch Mint Specimen-62 1839-O Reeded Edge half dollar, one of only four Specimen strikes of the date currently traced. After fierce floor and Internet bidding activity the 1839-O half dollar hammered home at $105,750. Lot 10075 proved to be a highlight among silver issues. This beautiful PCGS-certified Proof-65 1828 quarter with a pedigree chain that includes such names as Parmelee, Cleneay, and Clarke, sold at the final hammer price of $99,875. Morgan dollar aficionados were out in force for the Morgans in the sale, including lot 10153, an MS-63 1884-S certified by PCGS that realized $82,250. Silver coins in every denomination brought outstanding prices across the board.
10269: 1853-O Liberty Double Eagle. Specimen-61 (NGC). Price Realized: $352,500.
Among the numerous gold highlights of the evening was lot 10269, a Branch Mint Specimen-61 1853-O double eagle certified by NGC that made its first-ever auction appearance. When the dust settled the coin had hammered for $352,500.
10236: 1797 Capped Bust Right Half Eagle. Small Eagle. BD-1. Rarity-7. 15 Stars, Wide Date. AU-58 (PCGS). Price Realized: $235,000.
Among half eagles, lot 10236, a 1797 Small Eagle, 15 Stars, Wide Date variety in a PCGS AU-58 holder made a strong showing. Called Rarity-7, or extremely rare, this lovely half eagle sold after strong bidding for $235,000. Lot 10245, an 1812 Capped Bust left half eagle realized an impressive $105,750. Lot 10297 was an 1852 United States Assay Office of Gold $50 slug, an ever-popular territorial gold issue. Housed in a PCGS MS-62 holder, the .900 THOUS die variety hammered at $141,000.
The complete prices realized for the sales are posted on the company's website.