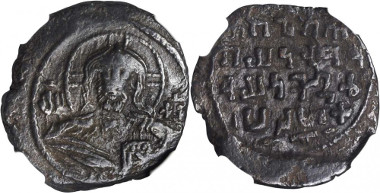 [bsa_pro_ad_space id=4]
09-01-2014 – 13-01-2014
NYINC
Stack's Bowers Galleries realizes over $5m at NYINC
This year's convention saw nearly 2,000 collectors, dealers and enthusiasts from around the world cross the bourse threshold at the historic Waldorf-Astoria Hotel in New York City. The convention floor was a beehive of buying and selling activity during the day, and the auction gallery was standing room only during the evening hours. The Stack's Bowers Galleries event garnered over $5 million in sales when all was said and done.
"The NYINC starts each year with one of the most dynamic events we have the pleasure of attending. We deeply appreciate the fine team that organizes this show and look forward to working with them for many more years," said Rick Ponterio, executive vice president. "We are extremely pleased with the auction results. Rarities and superb quality examples were eagerly sought in the auction gallery across the series. There was strong demand as well for 'type' coins and less valuable pieces."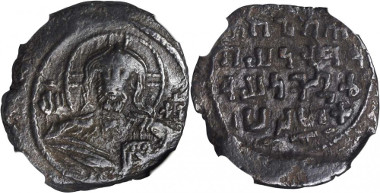 80: ARMENIA. Greater Armenia. Tashir-Lori. Kiurike II (ca. 1048-1100 A.D.). AE Follis. Estimate: $7,500. Sold for: $18,800.
Leading the auction was a wide variety of ancient coins, where an extremely rare Follis of Kiurike II of Greater Armenia – possibly the finest known specimen, graded Choice VF by NGC – saw spirited bidding before realizing $18,800. An exceptional Achaemenid Daric graded Extremely Fine took in $17,625, and a Solidus from the Ticinum Mint, Constantine I graded Choice About Uncirculated by NGC soared to $19,975.
Coins pedigreed to the Thos. H. Law Collection captured the attention of all in attendance and exceeded presale estimates.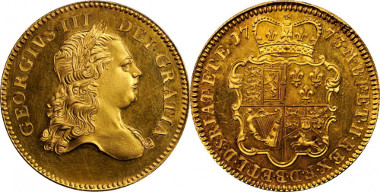 1003: GREAT BRITAIN. George III, 1760-1820. Pattern 5 Guineas, 1773. S-3723; Fr-350; KM-Pn52. Starting price: $60,000. Sold for: $440,625.
Highlights from this offering included an impressive 1773 George III Pattern 5 Guineas from Great Britain, which sold for $440,625, followed by a 1768 George III Pattern 2 Guinea from Great Britain at $199,750, and an 1820 George III Pattern 5 Pounds that went to a collector for $188,000.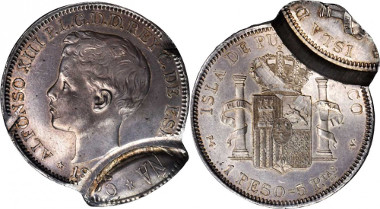 1582: PUERTO RICO. Peso Mint Error Double Struck Blank Planchet Obstruction, 1895-PGV. Start price: $6,000. Sold for: $23,500.
The ultimate Puerto Rican mint error – an 1895 PGV Peso double struck with a blank planchet obstruction – created quite a buzz prior to the sale, and sold for $23,500.
479: COLOMBIA. 8 Escudos "Milled", 1755-S. Nuevo Reino Mint (Bogota). PCGS EF-45 Secure Holder. Starting price: $60,000. Sold for: $223,250.
A previously unknown "Milled" 8 Escudos graded Extremely Fine by PCGS and the sole surviving specimen, had the audience enthralled as bidding opened with hands in the air all over the room. Action in the gallery was brisk before the hammer fell for a total of $223,250.
Additional highlights include:
Lot 46 Attica. Athens. AR Tetradrachm. 454-431 B.C. Choice Nearly Mint State. $14,687.50
Lot 209 Australia. Florin, 1910. PCGS MS 65+ Secure Holder. $14,687.50
Lot 226 Austria. Salzburg. 6 Ducat, 1655. PCGS AU-58 Secure Holder. $30,550
Lot 229 Belgium. Brabant. 2 Moulton d'Or, ND. (ca. 1370/1). Vilvorder Mint NGC MS-63. $15,275
Lot 237 Bolivia. 8 Reales "HEART," 1710-Y Extremely Fine. $21,150
Lot 258 Brazil. 3,200 Reis, 1749-R. PCGS MS-63 Secure Holder. $30,550
Lot 307 Brazil. 960 Reis, 1815-R. NGC AU-58. $14,687.50
Lot 511 Curacao, 6,400 Reis, ND. (1802-16). Very Fine. $18,800
520: CZECHOSLOVAKIA. 10 Dukatu, 1938. PCGS MS-67 Secure Holder. Fr-4; KM-14. Starting price: $18,000. Sold for: $82,250.
Lot 520 Czechoslovakia. 10 Dukatu, 1938. PCGS MS-67 Secure Holder. $82,250
Lot 1341 Korea. Warn, Year 497 (1888). PCGS EF-45 Secure Holder. $18,800.
Lot 1363. Mexico. 1/2 Grano. 1769-MoGO. NGC MS-65 RB. $17,625
Lot 1364. Mexico. Grano. 1769-MoGO. NGC MS-65 RB. $17,625.
Lot 1535. Poland. Taler, 1621/0 IIVE. Bromberg Mint. PCGS VF-35 Secure Holder. $14,687.50
Lot 3091. Bank of Canada. $1,000, 1937. P-65. PMG Gem Uncirculated 65 EPQ. $32,900
Lot 3093. Bank of Canada $1 to $1,000, 1954. P-66s to 73s. $18,800
Lot 3190. National Bank of Egypt. 50 Pounds, 16.4.1906. P-5s. PCGS Very Choice New 64. $11,162
Lot 3261. States of Guernsey. 5 Pounds, 1.12.1956. P-44a. PMG Gem Uncirculated 66 EPQ. $6,462
Lot 3311. Reserve Bank of India. 5 Rupees, ND (1959-70). P-R2. PMG Superb Gem Uncirculated 67 EPQ. $5,875
Lot 3402. Dutch Administration 1 to 500 Gulden, 2.1.1950 P-4s to 10s. Netherlands New Guinea 1950 Specimen Set. $17,625
Lot 3436. Qatar & Dubai Currency Board. 10 Riyals, ND (1960s). P-3a. PMG Superb Gem Uncirculated 67 EPQ. $5,875
Lot 3463. Saudi Arabian Monetary Agency 10 Riyals, AH1379 (1984). P-NL. Uncirculated. $17,625.
Highlights listed include a 17.5 percent buyer's premium.
A special section of the Stack's Bowers Galleries NYINC catalog was devoted to the marvelous collection of Art Nouveau plaques and medals formed over a long period of time by well-known dealer and connoisseur Tony Terranova. This offering may stand as the reference work on the series for years to come.
"Ancient coins, world coins, world medals and world paper money have been a mainstay at Stack's Bowers Galleries since the 1930s," said Brian Kendrella, president of Stack's Bowers Galleries. "We anticipate 2014 to be a very active year in these market areas, and I am pleased to announce that we have now added ancient coins, world coins and paper money to our weekly online iAuctions. The first Sunday of the month will showcase ancient and world coins, while the last Sunday of the month will feature world paper money, along with U.S. paper money. We invite you to visit us online at StacksBowers.com, and check it out."
In addition to presenting the official auction of the NYINC, Stack's Bowers Galleries has also been named an official auctioneer for the American Numismatic Association (ANA) World's Fair of Money for 2014–2017.
You can find a list of the realized prices on the Stack's Bowers website.
Here you can see the lots of the current iAuction.