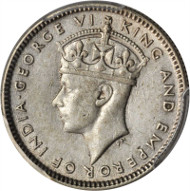 [bsa_pro_ad_space id=4]
29-03-2015 – 31-03-2015
Hong Kong Auction
Exquisite Chinese and Asian Rarities at Stack's Bowers and Ponterio's Hong Kong Auction
Stack's Bowers and Ponterio's April 2015 Hong Kong auction will entice bidders with a total of 2,077 lots of Chinese and Asian coins and banknotes from ancient to modern times, in four live Showcase sessions and two internet-only sessions.
Session A commencing at 10:00 a.m. Hong Kong time on Monday, March 30, 2015 (7 p.m. PT Sunday, March 29), begins with non-Chinese Asian coins. Important highlights such as lot 10013, a 4-piece proof set of Burma dated 1852, will turn heads, as will lot 10040, an 1865 Pattern Hong Kong Dollar.
MALAYA. 10 Cents, 1945-I. PCGS EF-45 Secure Holder. KM-4a; Tan-MAC6; Prid-9a; Boon-KN6f (plate coin). Extremely Rare. Estimate: $8,000 – $10,000.
A rare 1945-I 10 Cent of Malaya, graded EF-45 by PCGS appears as lot 10108, and an incredibly rare Gold 2 Baht of Thailand, nd (1864) will cause a stir when lot 10124 is sold. Following the World Coins is a selection of Ancient Chinese coins and Sycee. A very rare and important gold medal commemorating the establishment of the Fuzhou Arsenal, circa 1874 (quite large and impressive at 51.81 mm, 90.07 grams) will be the centerpiece of the next cabinet it graces and is the start of a selection of Chinese medals, orders, and decorations.
Following the medals, orders, and decorations, Stack's Bowers and Ponterio offer coins from the W&B Capital Foundation Collection, an assemblage of rare, high grade, historic, and valuable Chinese coins. The W&B Capital Foundation, a private family foundation for arts and antiques collectors, was founded in the late 1970s and has headquarters in Hong Kong and Canada. Inspired by the well-known late architect Victor Chu, the foundation's members began to focus on the coin market in China in the early 1980s by actively engaging in different international exhibitions. They established their exclusive collecting system and market, building a fabulous collection through international auctions as well as private sales. The W&B Capital Foundation believes that a professional perspective along with an understanding and control of the market leads to the best collecting and investing strategy, focused on quality rather than quantity. Collecting rare and desirable items over a long period of time can result in a rich investment return, with the added benefit of bringing back to China coins that over time had flowed overseas.
CHINA. 7 Mace 2 Candareens (Dollar) Pattern, CD (1900). NGC MS-63. L&M-6a; K-233; WS-0010; Wenchao-73 (rarity four stars). W&B Capital Collection. Extremely Rare. Estimate: $100,000.00 – $150,000.00.
In this way the W&B Capital Foundation can manage and preserve this precious numismatic resource for the future. With an eye on the power of China and the maturity of its coin market, W&B Capital Foundation looks to improve the China Coins Collection. In cooperation with Stack's Bowers & Ponterio, the foundation will share the partial collections in order to promote the art, culture, and history of China and to increase the interactions between collectors to enhance the development of coin collecting in China. Richard Ponterio, Executive Vice President, and Nirat Lerchitvikul, Director of Asian Operations, note that: "The number of important coins in this collection is remarkable. This is an important opportunity for serious collectors of Chinese numismatics that should not be taken lightly. Many of these coins have been removed from the market for 20 years or more, and this may be the only chance to acquire these specimens, as they may disappear from the market for another 20 years, ensconced in the next collections they grace." Stack's Bowers and Ponterio President Brian Kendrella added, "We are truly honored to be chosen by the W&B Capital Foundation to auction these important numismatic treasures of China." "This is another wonderful collection of coins that our firm has been able to bring to the market in Hong Kong, and will join the ranks of the Wa She Wong, Demarete, Ken Bressett, ANS Duplicates, Craig Family, and other collections that we have sold since our first Hong Kong sale in December 2010," Richard Ponterio stated.
CHINA. Kwangtung. 7 Mace 3 Candareens (Dollar), ND (1889). NGC AU-58. L&M-123; K-16; Y-198; W&S-0931; Wenchao-552 (rarity four stars). W&B Capital Collection. Estimate: $80,000.00 – $100,000.00.
Among the many highlights from the W&B Capital Foundation consignment is lot 10197, an extremely rare 1900 Peking Mint Pattern Dollar, certified by NGC as MS-63. A very rare and popular "Reverse Dragon" Pattern Dollar of 1911, graded MS-63 (NGC), is a coin missing from many important cabinets of Chinese rarities, and will likely see fierce and spirited bidding before finding its new owner. What is often referred to as "the first Dragon Dollar of China," the circa 1889 7 Mace 3 Candareens piece of Kwangtung, will appear as lot 10242. Kwangtung was the first provincial mint to utilize modern coinage equipment, contracted from the Heaton Mint in Birmingham, England. These 7 and 3 silver dollars were struck with a higher silver content than the Mexican 8 reales then in circulation in order to drive them out. When this was done, the standard was reduced to the 7 mace and 2 candareens content that became standard. This first "Dragon Dollar" is also historically important as the earliest Chinese dollar to feature the dragon motif that became the standard as well.
CHINA. Pattern Tael, Year 29 (1903). Tientsin Mint. PCGS SP-63 Secure Holder. L&M-1; K-927; KM-Pn295; WS-0016; Wenchao-pg. 117#79 (rarity four stars); Chang-CH21; Chang Foundation-pg. 70#29 (rarity four stars); Shanghai Museum-Mr. Shi Jiagan's collection-pg. 10#39; Sun-II-2-01. Estimate: $175,000 – $225,000.
Concluding Session A are the General Issues of the Imperial and Republican Governments. Lot 10257 features one of the most important of Chinese "milled" or machine produced coinage, an Imperial Pattern Tael struck at the Tientsin Mint in the 29th year of Hu Poo (1903). This specimen is of the utmost rarity and is tied for the finest certified by PCGS at Specimen-63. Another important Imperial era pattern, lot 10304, is a lovely Specimen 1911 50 Cent in silver; this piece was donated to the American Numismatic Society (New York) in 1937, and is a duplicate from their vast collection. Republican issues are highlighted by lot 10433 a Gem Prooflike Small Characters Dragon and Peacock Dollar, graded NGC MS-65 PL; lot 10437 a silver Pattern "Mausoleum" Dollar graded AU-55 (NGC); and lot 10438, a very rare Specimen Italian pattern Sun Yat-Sen Junk Dollar, signed by A. Motti and graded by PCGS as Specimen-63.
CHINA. Fukien. Chang Chow Military Ration Dollar, ND (1844). PCGS Genuine–Tooled, AU Details Secure Holder. L&M-290; K-5; WS-1028 (plate coin). Very Rare. Estimate: $20,000 – $30,000.
Session B will commence at 10:00 a.m. Hong Kong time on Tuesday, March 31 (7 p.m. PT on Monday, March 30) and is dedicated to Chinese Provincial Coinage. A very rare and exceptional Chang Chow Military Ration Dollar of Fukien (1844) (lot 11091) is the plate coin for the WS reference. A beautiful MS-64+ example of the Small Characters Hupeh Tael, year 30 (1904), is among the finest certified by PCGS, and will attract spirited bidding as lot 11127. An extremely rare 1900 Kiangnan 3 Mace 6 Candareens (50 Cents), graded AU-53 by NGC is an important minor coinage issue of the Provincial series, and presents an important chance for the specialist. Lot 11331 offers an exceptionally attractive and high grade example of the ever popular 1928 Kweichow "Auto" Dollar, graded AU-58 by PCGS. The exceptionally rare 1836 Taiwan Military Ration Dollar appearing in lot 11409 is even more desirable as the plate coin of the L&M reference.
Session C will commence at 10:00 a.m. Hong Kong time on Wednesday, April 1 (7 p.m. PT on March 31) and features coins of the modern Chinese series. Popular Panda coins, Lunar Calendar, Olympic, and other themed commemoratives in gold, silver and platinum are represented.
CHINA – EMPIRE. Board of Revenue. 10 Taels, Yr. 4 (1854). P-A12b. (S/M#H176-13). CMC Very Fine 25. Estimate: $6,000 – $8,000.
Session D will commence at 12:00 p.m. Hong Kong time on Wednesday, April 1 (9 p.m. PT on March 31) and contains 323 lots of Chinese and Asian banknotes. Serious students of this very popular collecting field are realizing how scarce and rare some of these fascinating notes are. The market has matured in many ways in recent years. Lot 13003, an appealing Board of Revenue 10 Taels, year 4, certified VF-25 by CMC, is a mostly problem free example of this popular type. Historically important and rare denomination proof sets for the Bank of China can be found in lot 13025 (a set of 1-100 Yuan notes of 1914) and lot 13029 (a similar denomination set from 1917). Each set contains both front and back proofs. A rare Farmers Bank of China 50 Yuan note of 1937 is offered as lot 13083, and lot 13104 features a PMG EF-40 10 Yuan of the People's Bank of China note from 1953. Year 1 Ili Official Currency Board notes – a 1,000 Cash note and a 2,000 Cash note – appear in lots 13147 and 13148. "The diverse nature of the rare banknotes in this sale is remarkable," explained Matt Quinn. "There are very important rarities for specialist collectors, as well as popular collector type notes in all budget ranges. As such, we expect serious bidder competition."
Sessions E and F are the Internet-Only sessions for Coins and Paper Money and will be governed by a new bidding format, which utilizes the same iBid format as our live Showcase auctions. As noted in the catalogs, these sessions close the following Tuesday and Wednesday. These sessions contain 414 lots of coins and 217 lots of paper money and feature many popular and collectible issues.
"While not our largest Hong Kong sale by lot count, this time quality trumps quantity, and we are very happy with the form that this sale has taken," Nirat Lerchitvikul said. "The number of highly important rarities is truly impressive, and will see very spirited bidding from numismatic enthusiasts of all types."
The sale will be available for viewing and bidding at the website of Stack's Bowers Galleries.