[bsa_pro_ad_space id=4]
31-07-2014 – 01-08-2014
The Richard L. Lissner Collection
Record prices achieved by the sale of the Richard L. Lissner Collection
Record prices were achieved by the sale of "The Richard L. Lissner Collection – The Collection of an American Connoisseur" on 1-2 August 2014, held at the Chicago Marriott O'Hare, just prior to the annual summer convention of the American Numismatic Association in Rosemont, Illinois. The total of prices realized was $5,779,885 (excluding the 21% buyer's fee) against the presale estimate/starting prices of $2,399,380, with 100% of the 2183 lots sold.
The auction of the Lissner collection, conducted jointly by St. James's Auctions, LLC (Knightsbridge Coins), of London, England, and Classical Numismatic Group, Inc., of Lancaster, Pennsylvania and London, England, with cataloging by M. Louis Teller Numismatic Company of Encino, California, was deemed a "huge success" by the principals of all three firms.
Lot 58: BULGARIA, Principality. Ferdinand I. 1894-KB Proof 5 Leva. Körmöcbánya (Kremnitz) mint. KM 18; Y 159. In NGC encapsulation graded PF 67 WINGS APPROVED. Gem mottled toned proof with beautiful iridescence. Realized $27,500 (without buyer's fee) against an estimate of $5,000.
The prices for coins from several countries, including Bulgaria, Norway, and Romania from the first day's auction of the "Old World," …
Lot 1540: COSTA RICA, Central American Republic. 1828-CR F 8 Escudos. San José mint. KM 17; Cr 10; Friedberg 1. In NGC encapsulation graded AU 58. Very choice AU, with very lustrous surfaces and just a hint of orange peel toning. Good strike and nice surfaces grace this specimen. Realized $42,500 (without buyer's fee) against an estimate of $10,000.
… and Costa Rica and Venezuela from the second day's auction of the "New World" were nothing short of astounding.
"This was without a doubt the most exciting sale that we have ever had. With most coins fetching world record prices, this shows what happens when fresh coins hit the market, it shows the market is very strong," commented Stephen Fenton, Director of St. James's Auctions.
Mark Teller, principal cataloguer of the sale, and a life-long friend of Richard Lissner, stated: "The auction went beyond any of our expectations. Although one or two coins fell short of what we had anticipated, the vast majority left us awestruck by their results. Literally, many hundreds of coins brought world-record prices."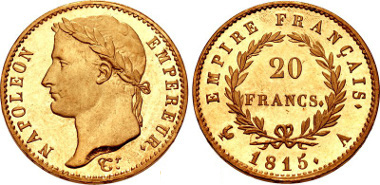 Lot 367: FRANCE, Premier Empire. Napoléon I. 1815-A Proof 20 Francs Cent Jours (Hundred Days) issue. Paris mint. VG 1025a; KM 705.1; cf. Friedberg 522 (for business strike). In NGC encapsulation graded PF 65 Cameo WINGS APPROVED. Realized $55,000 (without buyer's fee) against an estimate of $10,000.
Victor England, U.S. Director at Classical Numismatic Group added: "When an important collection is brought to market and it is presented with great photographs and conservative estimates, the results are usually outstanding. The sale of the Lissner collection helped illustrate this important point."
The quality of the Lissner collection was evident throughout the sale of 2183 lots, which included the large lots of multiple coins. This was one of the individual highlights:
Lot 1423: COLOMBIA, Colonial. Fernando VI. King of Spain. 1759-No Ro JV 8 Reales. Nuevo Reino (Santa Fé de Bogotá) mint. Juan de Chávez and Victoriano del Valle y Mendoza, assayers. KM 33; Gilboy SF-8-1. In NGC encapsulation graded MS 62 WINGS APPROVED. Very lustrous toned uncirculated. One of the rarest coins of colonial Spain, and one of the most sought after coins of the Colombian royal series. Realized $95,000 (without buyer's fee) against an estimate of $60,000.
Printed catalogs for the Lissner Collection are still available with prices realized for this historic sale. To order a catalog, please click here.
Catalogs are $75 to North American addresses, and $100 to the rest of the world. Payment may be made by U.S. $ check or Visa/MasterCard.
For further details and any additional information, please contact CNG.