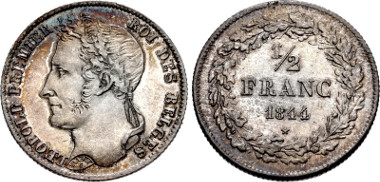 [bsa_pro_ad_space id=4]
31-07-2014 – 01-08-2014
Richard L. Lissner Collection: Old World Coins
The Richard L. Lissner Collection: "Old World" Coins
St. James's Auctions, LLC (Knightsbridge Coins), of London, England, in association with Classical Numismatic Group, Inc., of Lancaster, Pennsylvania and London, England, and cataloging by M. Louis Teller Numismatic Company of Encino, California, are conducting the sale of The Richard L. Lissner Collection – The Collection of an American Connoisseur on 1-2 August 2014 at the Chicago Marriott O'Hare, just prior to the annual summer convention of the American Numismatic Association in Rosemont, Illinois.
Information for lot viewing, the virtual online catalog, online bidding, and ordering the printed catalog is available at CNG's website under the Printed Auctions category.
Richard Lissner was buying quality coins before it became fashionable, and as a result, this sale offers collectors an extraordinary opportunity to acquire beautiful examples of type coins that are seldom offered. While there are many coins that are going to sell for high prices, one of the important features of this sale is the extensive offering of quality minors.
For European coinage, there are extensive runs of coins from Belgium (45), Denmark (88), France (233), Italy (94), Netherlands (79), Norway (82), Spain (136) and Sweden (104).
A highlight from each country of some affordable and inexpensive coins, and some not so reasonable.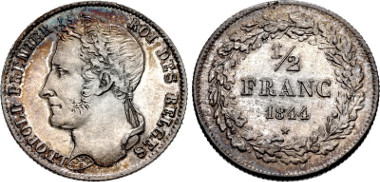 Lot 15. BELGIUM, Kingdom. Léopold I. 1831-1865. AR 1/2 Franc (19mm, 2.5 g, 6h). Bruxelles (Brussels) mint. Dated 1844. KM 6; C 10. In NGC encapsulation graded MS 65. Gem BU with beautiful light to moderate toning. An absolute gem original coin. Estimate: $1,000.
Lot 176. DENMARK. Christian VIII. 1839-1848. AR 4 Rigsbankskilling – 1/4 Skilling (16mm, 1.79 g, 12h). København (Copenhagen) mint. Georg Wilhelm Svendsen, mintmaster. Frederik Christopher Krohn, engraver. Dated 1842 FK VS. KM 721.2; C 123. In NGC encapsulation graded MS 66 WINGS APPROVED. Dual denominated for use in Schleswig-Holstein. Gem uncirculated with original amber, gray and a touch of blue toning. Superb quality and strike grace this little jewel. Highest of this type and denomination ever graded. Estimate: $200.
Lot 340. FRANCE, Premier Empire. Napoléon I. 1804-1814. AR Demi franc (18mm, 2.46 g, 6h). Paris mint; différents: signature/rooster. Pierre-Joseph Tiolier, engraver general. Ch.-Pierre de l'Espine, director. Dated 1806 A. VG 396; KM 671.1. In NGC encapsulation graded MS 65 WINGS APPROVED. Gem superbly toned prooflike uncirculated. Fantastic color. A true jewel. Highest graded by seven grades. Estimate: $500.
Lot 554. ITALY, Regno d'Italia (Napoleonic). Napoleon I. 1805-1814. AR 15 Soldi (20mm, 3.75 g, 6h). Milano (Milan) mint; differenti: pomegranate and inverted cup. Luigi Manfredini, engraver general. Dated 1814 M. KM (C) 7; Montenegro 268. In NGC encapsulation graded MS 63. Nice moderate toning over clean unimpaired fields. A very rare date that Montenegro gives a Rarity 3 (very rare). Only 370 minted. Estimate: $750.
Lot 682. NETHERLANDS, Kingdom. Wilhelmina. 1890-1948. Proof AR 1/2 Gulden (21mm, 5.03 g, 6h). Utrecht mint; muntmeestertekens: seahorse and winged caduceus. Dr. C. Hoitsema, mintmaster. Dated 1910. KM 147; Y 41; Schulman 837. In NGC encapsulation graded Proof 65 WINGS APPROVED. Superb gem proof iridescently toned with hues of blue and amber. Estimate: $200.
Lot 778. NORWAY. Oskar II. 1872-1905. AR 2 Kroner (31mm, 14.98 g, 12h). Kongsberg mint. Dated 1878. KM 359; Y 27. In NGC encapsulation graded MS 63. Choice moderately patinated UNC. Highest ever graded for this date and extremely rare so choice. First year of this type. Estimate: $1,500.
Lot 978. SPAIN, Gobierno Provisional (Provisional Government). 1868-1870. Proof AR Peseta (22mm, 5.01 g, 6h). Madrid mint. Donato Álvarez Santullano, Rafael Narváez, and Ángel Mendoza Ordóñez, assayers. Dated 1869 SN M. KM 652. In NGC encapsulation graded PF 65 Cameo WINGS APPROVED. Gem proof with a faint hint of patina. An exceptional rarity and the only example ever certified. Estimate: $5,000.
Lot 1079. SWEDEN. Karl XV. 1859–1872. Proof AR 50 Öre (22mm, 4.27 g, 12h). Stockholm mint. Lea Ahlborn and Sebastian Tham, engravers. Dated 1862 LA ST. KM 713; Tingström 6. In NGC encapsulation graded PF 66 Cameo WINGS APPROVED. Gem brilliant proof with incredible amber color streaks on the obverse. Only specimen ever graded. One year only type. Extremely rare. Estimate: $4,000.
In addition there are a number of important historical pieces such as a:
Gem Specimen 2 Rigsdaler
Lot 195. DENMARK. Christian IX. 1863-1906. Specimen AR 2 Rigsdaler (38mm, 28.94 g, 12h). København (Copenhagen) mint. Rasmus Heinerup, mintmaster. Harald Conradsen, engraver. Dated 1864 HC RH. KM 772.1; Davenport 79. In NGC encapsulation graded SP 66 WINGS APPROVED. Gem Specimen proof with moderate iridescent toning in hues of gold, deep blue, and honey. Absolute gem. Highest and only specimen ever graded. Estimate: $3,000.
Purchased from F. S. Werner, March 1972.
Though the Danish government states that no proofs were struck during this period, several "specimen" examples like the present piece are known.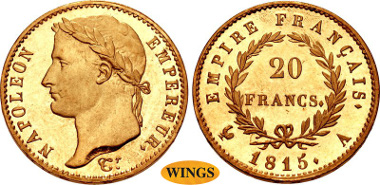 Stunning Proof of the 100 Days
Lot 367. FRANCE, Premier Empire. Napoléon I. 1804-1814. Proof AV 20 Francs (21mm, 6.46 g, 6h). Cent Jours (Hundred Days) issue. Paris mint; différents: signature/rooster. Pierre-Joseph Tiolier, engraver general. Ch.-Pierre de l'Espine, director. Dated 1815 A. VG 1025a; KM 705.1; cf. Friedberg 522 (for business strike). In NGC encapsulation graded PF 65 Cameo WINGS APPROVED. The grade tells it all. Just overwhelmingly superb. One of the rarest coins in the French segment of the collection at hand. It needs no further words. Estimate: $10,000.
Ex Mortimer Hammel Collection (Stack's, 15 September 1982) lot 78.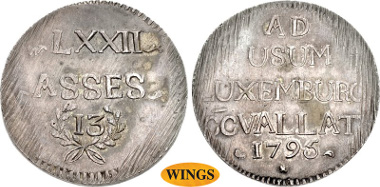 French Siege of Luxembourg
Lot 621. LUXEMBOURG. French occupation. 1795-1814. AR 72 Asses – 72 Sols (38mm, 29.29 g, 5h). Struck by Marshal Baron Johann von Bender during the Siege of Luxembourg. Dated 1795. Davenport 1592; KM 20. In NGC encapsulation graded MS 63 WINGS APPROVED. Light to moderate gray patina overall and extremely strong strike. By far the finest example of this type we have seen. Incredibly rare in this grade and the highest graded by NGC. This rare siege piece is seldom offered for sale; Richard waited 40 years to purchase this coin. Estimate: $5,000.
Purchased from M. Louis Teller, February 2010. Ex Stack's (22 April 2009), lot 2053.
The siege of the Austrian-held Fortress of Luxembourg by the armies of the République française – lasting from 22 November 1794 to 7 June 1795 – was part of the War of the First Coalition (1792-1797), in which the monarchic powers tried to contain Revolutionary France. Known as 'the Gibraltar of the North' because of its superb defenses, the French were unable to breach its walls; nevertheless, the mounting number of casualties caused by French retaliatory bombing compelled the Austrian commander, Feldmarschall Blasius Columban Freiherr von Bender (who was then an octogenarian), to surrender. As a result of city's capture, Luxembourg was included in the newly established French département of Forêts.
Following their capture of the Château de Rheinfels (German Burg Rheinfels), the French controlled most of the left bank of the Rhine, which for centuries had provided a natural defensive boundary since ancient times. Only two fortresses – Mainz and Luxembourg – remained outside of French control. Tasked with taking Luxembourg – not only of strategic importance, but which also contained desperately needed supplies – the Armée de la Moselle, under the command of Jean René Moreaux, began their siege of the fortress. Because the siege carried on throughout the winter, the French forces suffered privation, due to the lack of supplies; soldiers resorted to pillaging neighboring villages and, on 10 February 1795, Moreaux himself perished of fever. Moreaux's replacement, Jean-Jacques Ambert, however, along with three divisions of the besieging army, was soon called to replace the Armée du Rhin. Now, two divisions of the Armée de Sambre-et-Meuse, under the command of Jacques Maurice Hatry. Observing these movements, the defenders believed mistakenly that the siege was being lifted. After numerous attempts in vain to repulse these new forces, and with French retaliation producing heavy casualties within the fortress, the Austrians capitulated on 7 June 1795. While the remaining Austrian garrison was allowed to leave with the honors of war, a column made up of Austrian Netherlands troops refused to follow the Austrians and demanded to serve France instead.
Printed catalogs for the Lissner Collection are now available. To order a catalog, please visit the CNG website and visit the Order a Printed Lissner Catalog page under the Printed Auctions category. Catalogs are $75 to North American addresses, and $100 to the rest of the world. Payment may be made by U.S. $ check or Visa/MasterCard.
We published an auction preview of the Lissner Collection sale in CoinsWeekly.
You can view the Lissner Collection sale on the CNG website.
There is also available a preview catalogue for world coins …
and a preview catalog for the New World coins.
To browse through the Lissner Collection in the CNG coin shop please click here.
If you want to learn more about Richard Lissner don't miss this article by his friend Mark Teller.