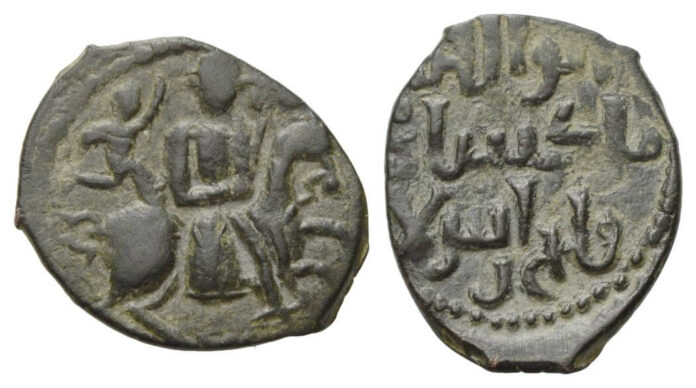 [bsa_pro_ad_space id=4]
Solidus Stages Two Auctions: Saxon Silver and Islamic Coins
On December 8, 2019, 101 selected Saxon coins are on sale. The auction will be held live on the platform AUEX on Sunday, December 8, starting at 17:00 CET. Pre-bids can already be submitted.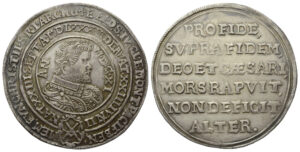 Auction 50
The auction starts with Talers and fractions of Christian II. and his brothers, among them many appealing items with a beautiful patina. This series ends with four coins commemorating the death of Christian II. in 1611, among these a rare double Taler (lot 15) and a particularly pretty Taler of the same type (lot 16). The auction continues with coins of the common rule of Johann Georg I. and August, featuring two very rare special editions on extremely thick flans from the dies of quarter Talers with the weight of a Taler (lots 19 and 20). A Taler from Dresden of 1614 with the bust of August within a circle of emblems is also worth mentioning.
From the sole reign of Johann Georg I. five coins of the year 1617 commemorating Christmas are available: An extremely rare Taler, two half Talers and two quarter Talers (lots 25 – 29).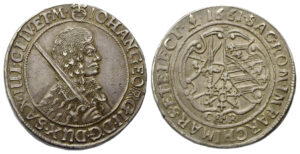 Johann Georg II. is also represented with several items – two special editions of Talers on extremely thick flans from dies of quarter Talers should be accentuated (lots 32 and 33).Other coins of Johann Georg II. are rare issues for Upper Lusatia (Oberlausitz; e.g. Lot 34: Groschen 1666 HI, Bautzen, furthermore lots 36 and 37) and for the markgraviate (Markgrafschaft) Meißen (e.g. lots 39 and 40: 60 Kreuzer 1669 and 8 Groschen 1669). Another rarity is a quarter of a so-called "Wechseltaler" from 1670, minted in Dresden (lot 42).
The following series with coins of Johann Georg III. contains rare pieces commemorating the death of his mother Magdalena Sibylla (lots 54 – 57). A few low priced and pretty  small coins are typical for the offers representing Johann Georg IV. Four rare architectural medals are from the period of Friedrich August I. and his son Friedrich August II. (lots 71 – 74). Among the Saxon coins of the 19th and the early 20th century several attractive and rare medals should be noted and particularly several pieces in proof quality and other cabinet pieces comprising different nominals (e.g. lot 78: Taler 1857 of Johann; from the Imperial period lot 86: a commemorative coin celebrating the visit at the mint Muldenhütten; furthermore lots 91 f., 94 and 96 – 99).
Auction 51
One week later, on 15 December 2019, 333 Islamic coins with various rarities will be offered in auction 51. The focus is on Abbasid, Rum-Seljuq and Ilkhanid coins. The auction will be held as a live auction on the auction platform AUEX on Sunday, December 15 from 18:00. Pre-bids can also be submitted already.
The auction begins with some silver and copper coins of the Umayyads. Following is a large series of Abbasid dirhams with many rarities: e.g. Lot 41, a dirham 202 H. of al-Ma'mun from Samarkand mentioning the heir ar-Rida and the title of the vizier al-Fadl (dhu'l-riasatayn), furthermore lot 42, a dirham 205 H. of al-Ma'mun from Dimishq mentioning Mohammad bin Bayhas or lot 60, a Dirham 319 H. of the caliph al-Muqtadir billah from Antakiya.
This is followed by some Abbasid copper coins, a rare cast Tulunid fals (lot 77), a series of selected silver and copper coins of the Ayyubids as well as Mamluk issues in gold, silver and copper.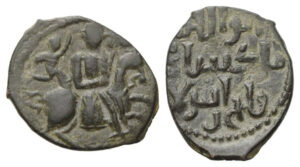 Lot 106 is the first item of a rich series with coins of the Seljuqs of Rum: an extremely rare fals of Qutb ad-din Malikshah II. bin Qilij Arslan  from the end of the 12th century (6th century H.). Besides some copper coins with horsemen, numerous silver dirhams of various rulers dominate. It concludes with four  Dirhams of Kaykubad III. bin Faramurz, some of them extremely rare, three with pictorial representations (lots 141 – 144). The auction continues with rare pieces of Anatolian beyliks, followed by a group of Ottoman coins with some rarities, e.g. an Akce of Djem Sultan from Brusa (886 H.  / 1481) and an Akce of Bayezid II of the same year from Qastamonu (lots 161 – 162). Hereafter coins of several dynasties are offered, whereof rare copper coins of the Salduqids are particularly remarkable (lots 179 – 184).
The next focus is a large number of Ilkhanid coins, mostly silver pieces and a few rare copper coins. Striking is a series of anonymous "Qa'an al-adil-issues" from Tiflis with many variants (various years and months), as well as rarities like 2-Dirham-pieces of Uljaytu from Harput (lot 221) and Sawah (228). Other dynasties represented are the Jalayrids, the Eretnids and the Aq Qoyunlu with rare specimens. The auction closes with attractive groups of coins, grouped thematically by dynasties.
You can place your maximum bids before the auction – or during the live auction, during which you can bid on the lots in real time and actively influence the auction process, similar to a floor auction. The live auction starts on Sunday, 15th December 2019, at 18.00 CET.
The online catalogue of Auction 50 is available on AUEX and Sixbid.
The online catalogue of Auction 51 is also avaiable on AUEX and Sixbid.
The coins can be viewed at the office of Solidus Numismatik prior to the auction (only by appointment).
This is the website of Solidus Numismatik.