[bsa_pro_ad_space id=4]
Premium Numismatic Literature and Attractive Coin Groups at Solidus
Before the Easter holidays two auctions of Solidus are simultaneously online. In the current Chance-Auction 40 on the auction platform AUEX 777 coin groups are offered. The compilation has been performed by qualified persons with an expert eye. The range incorporates ancient, Byzantine and Islamic coins, furthermore medieval and modern world coins. Among the lots are many handsome and partly rare items. The live auction on the AUEX auction platform will start on Easter Monday, April 22, at 15:00.
On Thursday, April 18, the fourth and to date biggest auction with numismatic literature of Solidus will be online. More than 1300 lots display a huge range, starting with bibliophilic treasures of the 17th century and continuing with current specialist literature and finally rare periodicals and auction catalogues The live auction on the AUEX auction platform will start on Saturday, May 11, at 16:00.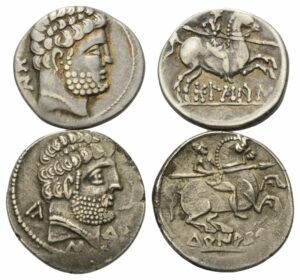 A lot of two celtiberian Denarii ist representative for the attractive compilation of 777 coin groups in Chance Auction 40. In addition to many familiar, but handsome ancient coins, also some rarities have been integrated into the auction. E.g there are some markedly rare and exotic strikes of factions of the Golden Horde that have been produced in the 14th century, probably on the territory of the modern Republic of Moldavia (lots 752 and 753). The composition of medieval coins of Southeastern Europe and of some Islamic dynasties are also exciting. Some of the latter contain a considerable variety of types, sometimes in above-average preservation. Checking the offers in auction 40 pays off. For most fields of collecting very decent lots are presented with definitely moderate estimations.
The numismatic literature in auction 41 starts with some bibilophilic rarities. There are four books of H. Goltzius. Among these: Sicilia et magna Graecia sive historiae urbium et populorumq. Graeciae ex antiquis nomismatibus. Antwerpen, G. v. Wolsschaten for F. de Bie, 1617. With engraved title, 37 plates and two copperplate engraving maps." Further treasures for aficionados of historic numismatic literature are e.g. Köhler's"Vollständiges Ducaten-Cabinet" und Appel's "Repertorium zur Münzkunde". Many other oeuvres like "Silesia Numismatica, oder Einleitung zu dem Schlesischen Münzcabinet. Jauer: Johann Gottfried Webern 1711." would deserve to be mentioned here. But it would be advisable for every client to discover his favorite items in the auction himself.
Many works deal with ancient numismatics, among them elder but still valuable publications like "Sammlung Bachofen von Echt. Römische Münzen und Medaillons. Wien 1903." described by O. Voetter. In addition to many sought after specialist books there are complete sets of standard literature, like a complete series of the RIC and all volumes of Grierson's "Catalogue of the Byzantine Coins of the Dumbarton Oaks Collection …"
The literature for medieval and modern numismatics is also represented with many high value items. Some books of the 19th century are still of importance today. Special mention deserves the book of Bahrfeldt printed in the year 1900: "Das Münz- und Geldwesen der Fürstenthümer Hohenzollern." Only 100 copies have been produced. Passionate collectors of Bavarian coins may acquire the original edition of Beierlein's "Die Münzen und Medaillen des Gesamthauses Wittelsbach …" There is also a substantial series of French numismatic literature.
At the end of the monographs dealing with ancient numismatics or later at the end of those dealing with medieval and modern numismatics lots with bigger sets of numismatic literature can be purchased.
Finally, there are periodicals on display, among others the first years of the "Revue Belge de Numismatique" and the extremely rare magazine "Der Münzsammler, Budweis." Furthermore many auction catalogues have been integrated, e.g. the Pozzi collection in the original edition, likewise the collections Oppenheimer, Peltzer, Essling (in top preservation), Erbstein, Hahlo, Harmenig, Kraaz and many more. Partly there are complete sets of auction catalogues, e.g. of the company Künker, that contains all important collections, among these the sought-after "collection de Wit" with all volumes.
If the total of the hammer prices of a bidder exceeds 2500,- Euro, the buyer's fee of the literature auction will be reduced from 23 % to 19,5 %.
You can send your maximum offers before the auction – or participate in the live auction, that allows you to bid on the lots in real time and influence the auction process directly, similar to a floor auction. The Live Auction of Chance Auction 41 starts on Easter Monday, 22 April 2019, at 15.00 CET.
The coins can be viewed at the office of Solidus Numismatik prior to the auction (only by appointment):
Solidus Numismatik e.K.
Ottostraße 5
80333 München
This link will take you to the auction platform AUEX.
The auction can also be viewed on Sixbid.
Click here to visit the website of Solidus Numismatik.