[bsa_pro_ad_space id=4]
27-10-2018 – 01-01-1970
Premium Auction 35
Ancient Coins for Lovers of Perfection
At Solidus Premium Auction 35 on the AUEX auction platform, 222 selected lots will be offered. The range extends from ancient, Byzantine and Islamic coins to coins from the Middle Ages and modern times.
The high quality of many coins from antiquity is striking, characterised by the stylistic perfection of the dies, their unusually good preservation or their rarity. Some extremely rare coins from the German and European Middle Ages are on offer. Valuable modern gold coins from Saxony and Poland as well as a small series of excellently preserved Bulgarian silver coins from the late 19th century are also worth mentioning. The collection is completed by Ottoman coins, including some rarities.
Pre-bids for the coins of the premium auction can still be submitted until 28 October. The live auction on the AUEX auction platform will start on the same day at 16:00.
Lot 29: Thessalia. Drachm, 400-370 BC.
The auction begins with Celtic coins, including two interesting Tetradrachms of the Thasos type in an idiosyncratic style.
These are followed by extremely attractive, exquisite Greek coins, characterised by the fineness of style and their unusually good preservation, such as a rare tetradrachm from Ainos (Lot 10), a rare stater from Maroneia with a lovingly drawn horse and dog on the obverse (Lot 11), a tetradrachm from Philip II of Macedonia with a perfectly centered and outstanding Zeus head (Lot 17), or a rare drachma from Pharsalos (Lot 29), whose immaculate preservation in connection with the stylistically excellent die cut of highest quality justifies the predicate "of classical appearance".
Lot 118: Roman Empire. Tacitus. Aureus, 275-276 AD
The next part offers a series of Roman provincial coinage in particularly good condition with interesting and rare reverse motifs from northern Greece and Asia Minor, including a very rare bronze of Gordianus III from Nikaia, showing a Hercules lying on the back of a striding lion, to whom an Eros hands a wreath. Next are some Denarii of the Roman Republic, which are equally distinguished by their preservation or rarity, including a Denarius with a first-class portrait of Caesar (Lot 79).
This is followed by coins from the Roman Empire, including many attractive Denarii and Antoniniani, often in mint state. Particularly noteworthy are the beautiful Denarii of the Julian-Claudian imperial family, including Caligula (Lot 86) and Claudius (Lot 87), magnificent examples of all the regents of the Year of the Four Emperors, AD 69 (Lots 89-92), a Denarius of Gordianus II Africanus, an Antoninian of Pacatianus (Lot 115) and an Aureus of Tacitus (Lot 118). From Late Antiquity there are rare coins of Constantin I with desirable motifs (Lots 122 and 124) as well as selected Solidi.
Lot 140: Byzantine. Justinianus II. Solidus, 692-695 AD.
Byzantine coins are mainly represented in gold. Of particular note is an extremely rare variant of a joint strike of Justinus I and Justinianus I in mint state (Lot 136), as well as a rare Solidus of Justinianus II with the earliest depiction of a bust of Christ on coins, also in mint state (Lot 140).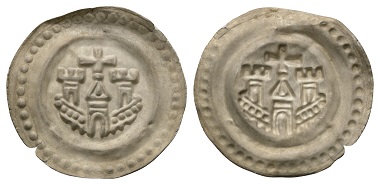 Lot 147: Ravensburg. Bracteate, around 1265.
This is followed by rare medieval coins from Germany and Europe, including an extremely rare Bracteate from Ravensburg from around 1265, the fourth piece offered at an auction to date, even only the second since the 1950s (Lot 147). An issue of a Regensburg Penny is presented in trade for the first time. So far, only five pieces are known from a Czech treasure trove that are in museum possession (Lot 148). There is also a remarkable series of mostly excellently preserved, partly rare coins from medieval Southeastern Europe.
Lot 164: Saxony. Kingdom. Anton. Medal with 67,53 g, 1831.
After all, attractive and rare modern coins and medals from Germany, Austria and Europe are on offer, many made of gold. Examples are a mint state Ducat of Friedrich August III (Lot 162), or an extremely rare, heavy saxonian gold medal celebrating the Constitution of 1831 (67.53 g), which was otherwise only offered in silver. Among the other gold coins a small series of Polish Ducats should be mentioned (Lots 178-182). Several silver coins impress by their quality, among them a broad, triple Taler of the year 1650 by Johann Georg I. from Saxony (Lot 161) and a series of Bulgarian coins of the late 19th century (Lot 168-182).
The auction closes with an attractive series of Ottoman coins with numerous, rarely offered specimens.
You can send your maximum offers before the auction – or participate in the live auction, that allows you to bid on the lots in real time and influence the auction process directly, similar to a floor auction. The Live Auction starts on Sunday, October 28th 2018 at 16.00 CET. Please register till Friday, October 26th 2018 at 13.00 CET.
You can browse through the online auction catalogue on AUEX or Sixbid.
The coins can be viewed at the office of Solidus Numismatik prior to the auction (only by appointment).
For further information go to the Solidus Numismatik website.