[bsa_pro_ad_space id=4]
22-04-2016 – 01-01-1970
Online Auction 8
Attractive Gold and Silver Coins from Antiquity and the Early Modern Era at Solidus
Since the 7th of April bids can be performed on the coins of online auction 8 by Solidus Numismatik on the auction platform EMAX. 678 lots have been selected for this auction:
Lot 53: CHALCIDIAN LEAGUE. Olynthus. (Mid-4th century BC). Tetradrachm.
The auction starts with a few nice Celtic coins. It continues with Greek coins from Northern Greece (among others extremely rare coins from Thrako-Skythian rulers, tetradrachms of Lysimachos and an attractive tetradrachm of the Chalkidean League), Macedonia (among some tetradrachms and extremely fine gold staters), attractive silver coins from the Greek Mainland (including a rare Trihemiobol of Pherai) as well as samples of coinage from Asia Minor, among them rare types of Kyzikos, Lesbos and Phokaia.
These are followed by selected Roman Provincial coins with some rarities (e.g. Didius Julianus from Prusa) and especially nice items.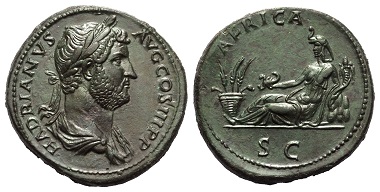 Lot 214: HADRIANUS (117-138 AD). Sestertius. 136 AD. Rome.
Roman Republican and Imperial coins are represented with selected and partially extremely rare Denarii and Antoniniani of high quality and with nice portraits, furthermore with a few exceptional bronzes.
Lot 390: GEORGIA. Rusudan (ca. 1223-1245). Drachm.
Many attractive Late Roman and Byzantine coins are offered in bronze, silver and gold. Medieval coins comprise partially rare items from Germany, Europe and Georgia. A rare denarius of Hartmann von Dillingen, bishop of Augsburg, and a drachm of the Georgian queen Rusudan, both in top quality, should be highlighted.
Lot 535: HUNGARY. Sigismund (1387-1437). Gold gulden. Nagybanya.
There are a lot of selected coins and medals of Early Modern Germany, Austria and Europe, among them several nice golden gulden and ducats with a focus on the Netherlands. Together with the Polish coins a respectable series of issues from Danzig deserves mention, some of them rare and in fine quality.
Finally an attractive series of Islamic coins with many rarities are on display, mainly coinage of the Ottoman Empire, furthermore the Seljuqs of Rum and Persia. The auction ends with some nice religious medals of the Byzantine Empire and the Baroque Era and a few interesting auction catalogues.
You may send your maximum offers before the auction – or participate in the live auction that allows you to bid on the lots in real time and influence the auction process directly, similar to a floor auction.
The live auction starts on Sunday, April 23, 2016, at 17.00 CEST
You can reach the auction on the platform EMAX following this link.
The auction can also be viewed via the platform Sixbid.
The coins can be viewed by appointment until Friday, April 22, 2016 in the office of Solidus Numismatik in Munich.
To visit the website of Solidus please click here.