[bsa_pro_ad_space id=4]
08-10-2012 – 11-10-2012
Auktion 7: Russian Coins and Medals, The Sincona Collection Part 1
Observations of a 'once in a century sale' – Russian Coins at Sincona
by Lutz Neumann-Lysloff
For over forty years I have observed the numismatic market at home and abroad. In all these years I have never witnessed – at least in Europe – a more brilliant auction. The auction room in the Hotel Savoy in Zurich was packed with Russian dealers and collectors. A very few professional numismatists from Zurich dropped in to see how the auction would go, but they played no part in the proceedings.
The director of the Historical Museum Coin Cabinet in Moscow, Igor Shyriakov, who was also present, had stated 'The Sincona Collection is the most important collection of Russian coins to come on the market since the sale of the Tolstoy Collection by Adolph Hess Nachf. in Frankfurt in 1913'. The attending public confirmed his words. This first part of the grandiose collection was estimated at CHF 1,844,760. The knocked down sum, after three and a half days of auction, was CHF 13,224,043.
227: Ioann Antonovich, 1740-1741, Pattern rouble 1740, St. Petersburg Mint. 25.78 g. Bitkin 49 (R4). Estimated: CHF 250,000. Realized: CHF 3,600,000.
The peak coin of the auction was lot 227, the pattern rouble 1740 of Ivan III. Estimated at CHF 250,000, it fetched, after a long bidding duel CHF 3,6000,000. To my knowledge this is the most expensive coin ever to have been sold in Europe. The auction room virtually exploded. Everyone was applauding, taking pictures of the auctioneer's table, the coin projected on the screen behind and the currency exchange tabulator on the side. This, even though astonishing results had been attained in the first few minutes of the auction. Lot 4, Poltina (1/2 rouble) 1701 fetched CHF 210,000 (30,000). Lot 10, Poltina 1703 with CHF 165,000 (15,000).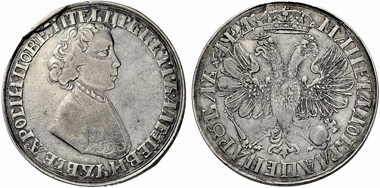 14: Peter I. 1682-1725, Rouble 1704, Red Mint. 27.97 g. Bitkin 786 (R4). Estimated: CHF 150,000. Realized: CHF 750,000.
Lot 11, Polupoltinnik (1/4 rouble) 1703, CHF 295,000 (35,000) and Lot 14, Rouble 1704, CHF 750,000 (150,000).
Small fractional pieces also brought astounding results. They only had to be rare and in excellent quality, for example:
Lot 80, 5 Kopeks 1714, CHF 23,000 (3,000) or Lot 81, Altyn (3 Kopeks) 1714, CHF 34,000 (2,500).
The list of remarkable knock down prices would be endless. As mentioned before, the coins of Peter I were in great demand. However, the coins of his successors were no less. A 5 kopek 1787, from the Tauric Mint of Catherine the Great, lot 495, fetched CHF 66,000 (4,000). The silver minor denominations of Paul I, all in wonderful quality, were knocked down for 4 or 5 figure prices.
The coins of the 19th century were mostly of finest quality and contained many specimens in Proof quality.
Lot 615. Pattern-rouble 1801 was sold for CHF 360,000 (50,000).
Rare copper coins such as lot 646, Polushka 1808 in attractive conservation fetched CHF 10,000 with an estimate of CHF 400.
Lot 749, a Poltina 1818 in Proof cost CHF 38,000 (3,000).
Lot 886, ein terrific copper 5 Kopek 1830 from the collection of Count Hutten-Czapsky was knocked down for CHF 20,000 (4,000).
A classic rarity of Russian numismatics, lot 937, the Family Rouble 1836 climbed speedily from its estimation of CHF 50,000 to a price of CHF 600,000.
1033: Nicholas I. 1825-1855, Poltina 1843, St. Petersburg Mint. 10.18 g. Bitkin 250 (R3). Estimated: CHF 10,000. Realized: CHF 240,000.
What quality paired with rarity means was shown by lot 1033, poltina 1843 in perfect Proof with wonderful patina – the estimate was multiplied 24 times from CHF 10,000 to CHF 240,000!
1310: Alexander II. 1855-1881, Pattern Rouble 1860, St. Petersburg Mint. 24.05 g. Bitkin 585 (R3). Estimated: CHF 25,000. Realized: CHF 450,000.
Lot 1310, a Pattern-Rouble 1860 in best quality was raised from a not so moderate estimation of CHF 25,000 to CHF 450,000. Even small minor coins such as lot 1340, 5 Kopeks 1861 M were sold for CHF 30,000. Lot 1509, a 25 Kopek 1883, last known auction occurrence in 1931, fetched CHF 190,000.
It recommends itself to order the list of prices realized from Sincona AG or to download it from their website in order to comprehend the magnitude of this unique sale.
Lastly, one must mention the small, but highly interesting, group of medals. Especially noteworthy are:
Lots 1879, a previously unedited gold medal of Peter I. that fetched CHF 88,000 (20,000).
Lot 1894, gold medal 1740, death of Empress Anna CHF 140,000 (30,000).
Lot 1960, for numismatists the highly interesting medal for Jakob Reichel 1851 for the opening of the New Eremitage. It fetched CHF 16,000 (1,000).
Los 2008, eine a relatively modern silver medal commemorating the construction of the Vladimir Cathedral in Kiev 1895, with a forceful portrait, was sold for CHF 23,000 (2,000).
2054: Medal for those who performed the first Russian circumnavigation of the world in 1806. Estimated: CHF 1,000. Realized: CHF 86,000.
And finally we would like to mention an absolute rarity, lot 2054 for which the catalogue author devoted a full page. It is a small silver medal given to the crews of the ships that performed the first Russian circumnavigation of the world in 1806. At an estimate of CHF 1,000, this small 'jewel' brought the astounding sum of CHF 86,000.
I maintained already several years ago that the Russian coin market shows strong parallels with the American coin market. Both have a standardized currency that is simply structured. A splintering in countless coin issuing authorities as in western and central Europe is not given. A large population with an interest in its history and a stratum of wealthy collectors that are ready and willing to spend large sums for coins, art, antiques and other collectibles, exist in both countries. Therefore it is no wonder that high prices are paid for rare years, best qualities and rarities. There is no coin from Switzerland or Germany that commands a price in the millions, but for United States coins and now for Russian coins. If the capitalist system in Russia continues to thrive and there are no political turbulences, we can continue to expect an unbroken demand in Russian numismatics.
This was only the first part of the 'Sincona Collection'. Three more parts will follow in the coming three years. One can be excited to find out how the Russian market will respond in the next three years. Certain is that coins of extraordinary rarity and quality will be offered. Let us wait for October 2013 and be surprised.
You can browse through the auction catalogue at Sixbid.
On the Sincona website you can download the result list.