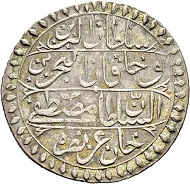 [bsa_pro_ad_space id=4]
23-10-2016 – 26-10-2016
Auctions 31-36
Observations on the Sincona Auctions held on October 24-27, 2016
Held last month, the six (or rather seven) Sincona Auctions took almost an entire week. A very broad spectrum was offered for sale, ranging from medieval to modern numismatics, phaleristics, bullion gold and bank notes.
Lot 57: Ottoman Tunis. Mustafa IV (1222-1223ah / 1807-1808ce). 8 Kharub 1808. Very fine to extremely fine. The Miller Collection. Estimate: CHF 1,800. Hammer Price: CHF 6,500.
Catalog 31 was eagerly awaited to be auctioned off. It meant entering unknown territory because never before had a large, specialized collection of Tunisian coins and medals crossed the auction block. The first lots already provided relaxation. With lively participation on the internet, the early medals and the gold coins in particular were sold for many times their estimates. A 1735 sultani (Lot 23) realized CHF 16,000, on its estimate of CHF 6,000. A silver 1808 8 kharub of Sultan Mustafa IV (Lot 57) achieved CHF 6,500, on an estimate of CHF 1,800. It was the only coin of this ruler in the collection. Altogether, the auction brought more than 53% above the estimate, thus CHF 309,156.
Lot 1002: Russian Empire. Imperial Order of the Saint Apostle Andrew the First-Called Order's collar, 1st model. RRR. Very fine. Estimate: CHF 500,000. Hammer Price: CHF 500,000.
Also eagerly awaited, but in conjunction with outright positive expectations, was the Auction Russia. Not surprisingly, the room was filled to capacity. It became necessary to fetch additional chairs, and some Sincona staff members had to do without their office chairs temporarily. The Auction Russia comprised a collection of orders of outstanding splendor and unique specimens never before encountered on the market.
The first lot, a star in diamonds of the Order of St. Andrew (Lot 1001), rose from CHF 150,000 to CHF 380,000.The collar of the Order of St. Andrew (Lot 1002) was auctioned off for CHF 500,000. Produced by legendary Karl Fabergé company which also created the famous Easter eggs, a star in diamonds of the Order of St. Catherine (Lot 1012), was sold, after a fierce bidding fight, for CHF 300,000.
Lot 1410: Russian Empire. Alexander. Pattern 2 Kopecks 1802, St. Petersburg Mint. Novodel(?). Extremely fine. Estimate: CHF 10,000. Hammer Price: CHF 130,000.
On an estimate of CHF 2.717 million, the entire Catalog Russia achieved CHF 5,287,000. The following lots obtained remarkable results. Lot 1216, roubel 1705 – CHF 52,000 (CHF 10,000); Lot 1253, 2 roubels 1726 – CHF 30,000 (CHF 7,000); Lot 1387, Albertus roubel 1796 – CHF 46,000 (CHF 10,000); Lot 1513 – family roubel 1836 – CHF 170,000 (CHF 150,000); Lot 1544, the cover piece, the "Reichel" pattern for poltina 1845 – CHF 600,000 (CHF 150,000). And a world record price was achieved by a European copper coin: Lot 1410, pattern for 2 kopecks 1802 – CHF 130,000 (CHF 10,000).
Lot 2100: China. 200 Yuan 1989. Dragon and Phoenix. Proof. Estimate: CHF 6,500. Hammer Price: CHF 105,000.
The world coin catalog, Auction 33, consisted of a large offer of coins and medals from all over the world. The prices of two modern Chinese coins, Lot 2100 and Lot 2101, that fetched CHF 105,000 and CHF 55,000, were amazing. They were a gold 1989 200 yuan and a silver 1989 20 yuan from the "Dragon and Phoenix" series. At the time of the Tiananmen Incident, these coins had been supposed to be sold, but were withdrawn because the market refused them. Only some very few specimens exist.
The Silesian coins obtained very good prices, for which Polish coin dealers were mainly responsible. Lot 2423, a 1611 4 ducat piece from Liegnitz-Brieg, realized CHF 12,000, on an estimate of CHF 4,000. The entire series of gold coins from Liegnitz-Brieg was a great success.
Lot 2590: France. Directoire, 1795-1799. Gold medal 1797. Extremely fine to Uncirculated. Estimate: CHF 3,500. Hammer Price: CHF 58,000.
France stood out with excellent results. After a fierce bidding fight, a gold 1797 Napoleon medal (Lot 2590) on the foundation of the Cisalpine Republic crossed the auction block for CHF 58,000. With CHF 38,000, the 1805 gold medal on the Battle of Austerlitz also obtained a splendid result. All in all, the French department was in great demand in the market.
Further good results were achieved by a small selection of Holy Roman Empire / Austria, probably in anticipation of the specialized catalog comprising material from the Holy Roman Empire. On an estimate of CHF 10,000, Lot 3081, a commemorative coin of 10 ducats 1567 was sold for CHF 32,000 to a bidder participating via telephone. Lot 3147, a 1908 100 kronen on the 60th reigning jubilee in fantastic Proof, realized CHF 11,000, on an estimate of CHF 5,000. The final result of Catalog 33 added up to CHF 2,004,693, while the estimate was CHF 1,868,000.
The final part of the catalog entailed the auction of coins, medals and bars, all made of gold. Auctioneer Jürg Richter announced the then current gold price, and the following bids were placed in varying percentages above the gold price. All lots were sold, without exception, at prices ranging from 1 to 95 % above the gold price. This auction was a novelty in the coin auction business and a complete success for both the auctioneer and the buyers. There was no premium and the winning bidder had to pay only the gold price plus a percentage he or she had specified.
Lot 4213: RDR. Ferdinand III., 1637-1657. Half thaler 1656. Prague. Very fine. Estimate: CHF 400. Hammer Price: CHF 22,000.
A very special highlight of the six auctions was Catalog 34 – Holy Roman Empire. It comprised an old collection with many rarities. Most of the coins had been minted in the mints of Prague, Kuttenberg, Joachimsthal, Breslau, and Budapest. Further coins and medals came from Vienna and other mints. A gem was the magnificent 3½ talers from 1629 on the occasion of the Bohemian coronation of Ferdinand III (Lot 4207). On its estimate of CHF 20,000, this wonderful coin obtained CHF 46,000. A completely unexpected price was fetched by Lot 4213. The final bid for the 1656 ½ taler from Prague amounted to remarkable CHF 22,000. It had been estimated at CHF 400. Lot 4216, a double taler from Kuttenberg 1638, realized CHF 24,000 (CHF 7,500). Lot 4255, a 1671 taler also from Kuttenberg, changed hands for CHF 28,000. The estimate had been CHF 6,000. The collection contained many fractions that were offered as multiple lots. Many of these lots brought more than ten times their estimates or even more. Most participants in the auction room were dealers from the Czech Republic, Poland and Austria. But live bidding was very prominent, too. As was to be expected, the collection achieved a result that exceeded its appraisal by far. Having been estimated at CHF 286,405, it realized CHF 747,930.
Lot 5145: Switzerland. Gold gulden 1599 Fribourg. Nearly extremely fine. Estimate: CHF 25,000. Hammer Price: CHF 34,000.
Auction 35 was composed of Swiss coins. No surprise, that the room was full of collectors and dealers coming from all parts of Switzerland. The range of offer was very well-received. Lot 5132, a ½ gold guldiner from Bern no date (1510) brought CHF 22,000 (17,500). Lot 5145, a Freiburg gold guldiner 1599, received the final bid at CHF 34,000 (CHF 25,000). Lot 5255, an 1807 20 francs from Lucerne, sold for CHF 12,000 (7,000) to a bidder on the phone. Altogether, this catalog was a good success as well. On a pre-sale estimate of CHF 993,300, it achieved CHF 1,140,840.
Lot 7447: Poland. Bank Polski 10 Zlotych January 2, 1928. Pattern. Uncirculated. Estimate: CHF 300. Hammer Price: CHF 2,600.
As has become something of a tradition, this Sincona fall auction catalog, too, comprised a catalog of banknotes. It obtained almost CHF 200,000, thus slightly less than the estimate of CHF 238,000. Particular mentioning should be made of the Swiss series which fetched very good prices – Lot 7597, 1921 10 francs, reserve banknote, for example, was sold for CHF 11,000. The appraisal had been CHF 7,500. Other individual items also exceeded their estimates, as a Turkish 50 kurush note from 1849 which achieved CHF 11,000 (CHF 500). A Polish 10 zlotych specimen note from 1928 (Lot 7447) realized CHF 2600 (CHF 300).
As could be seen, online bidding has become a very important factor in the numismatic auction business. The prices for some parts of the sale were dominated first and foremost by the internet. Altogether, the auctions brought CHF 9,682,309 on a pre-sale estimate of CHF 6.3 million.
Catalogs, Prices Realized and other information about the sale you will find at Sincona's website.