[bsa_pro_ad_space id=4]
11-10-2015 – 15-10-2015
Auctions 24-27
Largest Swiss gold coin at Sincona
At its Fall Auctions 2015 Sincona offers more than 4'100 lots in four catalogues. The spectrum covers coins, medals, orders and banknotes of the whole world, from the Middle Ages up to our times. Highlight of the sale is the largest known Swiss gold coin, a Basel 30 ducats.
The numismatic autumn in Zurich will be defined by the five-day SINCONA AG auction. Auctions 24 to 27 will be held from October 12 to 16, 2015, now for the second time in their own auction rooms on Limmatquai 112.
Over 4'100 lots will be auctioned in 4 catalogues. The spectrum of the auctions covers coins, medals, orders and banknotes of the whole world, from the Middle Ages up to our times.
Auction 24
Auction 24 will prove to be an exciting beginning, because it will be the 4th part of the "Sincona Collection" of Russian silver and copper coins.
385: Paul I. Pattern-Efimok 1798. Bitkin 217. Almost uncirculated. CHF 120'000.
After the first three parts of the collection brought superior results and often unbelievable single knock-down prices, one can have high expectations for this 4th and last part. 1154 positions (including lots), from the beginning of the modern coinage under Peter I to the end of the Russian Empire, will be auctioned. Among the lots is a collection of c. 800 early kopecks (lot 1132). The main emphasis, however, is on the 19/20th century. Once again, wonderful qualities, often in proof, unique coins, great rarities, Russo-Polish issues, patterns and naturally just "normal" coins at reasonable estimates, will be offered. As in the past auctions of this outstanding and unique collection, great expectations will be held as to the prices realized.
1530: Catherine II. 10 Roubles 1767. Bitkin 16. Almost uncirculated-uncirculated. CHF 28'000.
Following this, 156 lots of special Russian coins and medals from other provenances will be offered, and afterwards, 202 further lots, also from other provenances, in the catalogue of Auction 26.
Auction 25
SINCONA AG has not yet reached its 5 year jubilee, but is already conducting its Auction 25.
Reason enough to present a special "Jubilee Catalogue". 119 numismatic rarities will be presented in almost 500 pages: in colour, enlarged and the most beautiful side of each coin embossed (printed in relief).
2011: Reichsguldiner 1595. Imhof S. 545, 78. Kellner 146, Dav. Appendix A 10038. Of the highest rarity. Unique. Good extremely fine. CHF 15'000.
Paging through the catalogue and viewing the pictures of the coins, medals and banknotes should increase the interest for more. The catalogue contains unique pieces, fantastic qualities, and "tangible history". Each piece is of special interest and should be an enrichment for the collection of any purchaser.
2030: Victoria, 1837-1901 5 Pounds 1839. Una and the Lion. Seaby 3851. Schl. 148. Fr. 386. Very rare, only 400 specimens struck. Proof. Brilliant uncirculated (NGC PF61 Ultra Cameo). CHF 100'000.
One of the most beautiful and thusly desirable gold coins of the world is the famous British gold coin 5 Pounds 1839 "Una and the Lion". The calling-out price of CHF 100'000 is, in this quality, fully understandable. (Lot 2030).
2069: 30 Ducats o. J. (about 1700). D.T. 737, Anm. (25 Dukaten). HMZ 2-77b, Anm. Fr. 31a, Unikat. Of the highest rarity. Unique. Brilliant uncirculated. CHF 500'000.
SINCONA AG is proud to be able to offer the largest known Swiss gold coin, the Basel 30 ducats n. d. (c. 1700). (Lot 2069). The calling-out price of CHF 500'000 for this unique piece is commensurate to today's market prices for such spectacular large gold coins. In all probability it will increase in price during the auction.
2110: 2110. South Africa. Griqualand-East. 1 Pound 1868. Very fine. CHF 5'000.
Because, as is known, SINCONA also deals with banknotes, it is natural that such objects are to be found in the rarities catalogue 25. This area of collecting is well represented with notes from Albania, the Netherlands (with four rarities), Norway (with signature of the polar explorer Roald Amundsen, documenting the first airplane flight to the North Pole, written on a British banknote), Switzerland, and the rarest banknote of South Africa.

Auction 26
Auction 26 with over 2000 lots features coins and medals from the Middle Ages to the present time.
2550: Brazil. 20000 Reis 1725. Rare. Almost extremely fine-extremely fine. CHF 9'000.
Auction 26 begins on Thursday with Egypt, a small series of Australian sovereigns, as well as several larger and rare Brazilian gold coins, coins from Belgium, China and Denmark.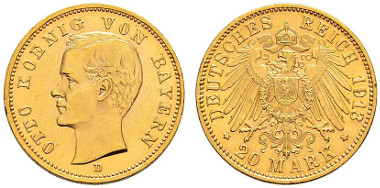 2876: Bavaria. 20 Mark 1913. Very rare. Almost extremely fine-extremely fine. CHF 18'000.
Germany is represented with 419 lots, including a special collection of Nürnberg with 105 lots, interesting individual coins and larger groups of German Empire coins, Weimar Republic, German Federal Republic and German Democratic Republic.
France has 188 positions, Great Britain 68 and Italy 191 lots. Here one finds interesting individual coins, Naples/Sicily with 28 6 ducati pieces, as well as Venice with a representative series of zucchini and silver coins. The next larger group is to be found in the Netherlands (68 lots) with coins in spectacular quality, especially from the Kingdom.
3939: Switzerland. Pattern-20 Franken 1871. Durussel. Very rare. Extremely fine-uncirculated. CHF 15'000.
Further coins from diverse countries lead to the Holy Roman Empire/Austria (45 lots) and Switzerland (533 lots). Aside from cantonal coins, federal coins and medals, a large series of shooting medals will be offered – another specialty area of SINCONA AG. Spain, South Africa, Czechoslovakia (with an interesting series of coins of 1934) Hungary and Transylvania, USA, Vatican, and Venezuela follow. At the end come magnificent medals of the medallist Jacques Wiener and interesting multiple groups.
Auction 27
SINCONA AG is not only an address for numismatics in minted form, but is the auction house for bank notes and nonvaleurs in Switzerland. The second auction devoted solely to paper money will take place in October. Few auction houses can boast regular auctions in this specialized field. Auction 27 contains in all 701 lots.
5439: Switzerland. Kantonalbank Schwyz. 50 Franken of 2. Jan. 1902. Very fine. CHF 5'000.
The geographical spectrum is enormous. Certainly all large countries are represented, but also such rare emissions from places like British Guyana (lot 5048), the German city of Colberg in Pomerania (lot 5094), and the short-lived Republic of the Rhine (October 1923 – February 1924) – (lot 5100). Fiji is remarkable with three rarities (lots 5122-5124). Italy stirs one's interest with a 1-Lira note from Osoppo. Particularly noteworthy is the chapter with Swiss banknotes in a large offering (lots 5414-5533). Several notes have never been offered in any auction before. For the collector of American notes the 100 lots of USA notes should prove to be of great interest, (lots 5574-5674). Seeing the estimates, there should be something of interest to every banknote collector in this auction.
SINCONA AG features in Auction 27 Live Bidding.
Catalogues may be ordered from SINCONA AG, Limmatquai 112, 8001 Zürich.
Tel. +41 44 215 10 90. Or per email.
The internet page of SINCONA offers the possibility to look at the lots individually, thumb through the catalogues or look at the items in multiple lots.