[bsa_pro_ad_space id=4]
22-05-2012 – 24-05-2012
Auction 5 'Numismatic Rarities' and Auction 6 'Coins, Medals, Banknotes & Literature'
Swiss Rarities at Sincona
Sincona AG held its auctions 5 and 6 on May 23-25th in Zurich. Catalogue 5 'Numismatic Rarities' contained 92 coins and medals of special rarity and / or beauty. The estimate of this catalogue was 2,161,000 Swiss Francs. The knock-down result was 2,905,000 Swiss Francs.
Although the main emphasis was on Swiss coins, foreign coins and medals were also offered. Especially notable were lot 2, Arenberg, taler 1576, estimated at 10,000, result 21,000.
11: Greece. 50 drachms 1876, Estimated: 15,000, Realised: 56,000.
Lot 11, Greece, 50 drachms 1876, estimated with 15,000, brought 56,000. Lot 23, Austria, the splendid Order of the Golden Fleece, estimated at 10,000 attained 42,000. A beautiful and extremely rare Polish medal by Sebastian Dadler, commemorating the quelling of the Cossack Revolt in 1651, probably not on the market since the 1920s, went from an estimate of 10,000 to 24,000.
Swiss coins and patterns fetched amazing results. While the extremely rare double pistole of Neuchâtel (lot 44) remained in the area of its estimate going from 85,000 to 90,000, the dicken of Uri, Schwyz and Nidwalden (lot 49) more than doubled its estimate of 15,000 with 32,000.
57: Swiss. 20 Franc 1873/1883, Estimated: 100,000, Realised: 260,000.
The most expensive coin of the catalogue and both auctions was lot 57, the unique 20 Franc pattern of 1873/1883. Estimated at an already high price of 100,000 francs it was knocked down at the almost unbelievable price of 260,000 francs. Lot 60, the very rare 20 francs of 1887 in perfect quality made the pattern competition. It was sold for 210,000. In comparison, the 'Stirnlockenvreneli' seemed cheap with 105,000. The Vreneli in Gondo-Gold of 1897 fetched 100,000. The pattern 10 franc 1911 must also be mentioned. Estimated at 60,000 it reached 140,000. All prices are in Swiss Francs.
Catalogue 6. The general catalogue with 780 pages and 4790 lots could hold the record for being the thickest coin auction catalogue. With a total estimate of CHF 3,217,350, CHF 3,437,840 were knocked down. The sale contained coins, medals and banknotes. The spectrum of the auction reached from Ancients to Modern. Included were many gold coins and medals that were estimated very close to the gold value – a true opportunity for gold price conscious buyers.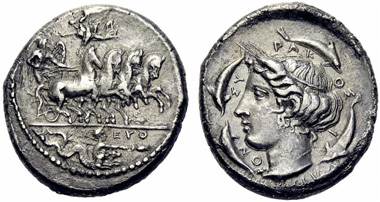 107: Syracuse, tetradrachm by Phrygillos. Estimated: 9,000, Realised: 15,000.
Some interesting results were: lot 107 a Tetradrachm from Syracuse by the artist Phrygillos that increased its price from 9,000 to 14,000. Lot 166, Roman Republic, a denarius of M. Iunius Brutus in wonderful quality jumped from 1,000 to 5,000. Lot 203, an uncirculated Tetradrachm of Septimius Severus from Laodicaea ad Mare fetched 3,200 at an estimate of 1,000. Lot 244 a denarius of Charlemagne brought 4,400 and lot 246, a portrait denarius of Louis the Pious 6,750.
From the modern coins we note a ducat from Königsberg of Frederick III of Prussia bringing 11,000, almost double the estimate. A surprising price of 30,000 was attained by a taler (1511/1558) of the Bishopric of Bremen at a solid estimate of 20,000. The unique quart d'ecu 1608 of Charles Gonzaga from Charleville (lot 1268) was knocked down with 16,000. The catalogue was so all-encompassing that a detailed listing of the interesting coins would break the bounds of this report. Notable was however a medal by P. H. Müller (lot 1714) commemorating the Russian naval victory at Gangut. Estimated very modestly with 1,000 it was sold for 32,000. Russia is still the strongest area on the numismatic market.
A large portion of the catalogue was dedicated to Swiss coins and medals, including the Collectio Dr. Charles Froidevaux. A dicken of the city of Chur (lot 2399) fetched 10'000 at an estimate of 6,500. A small liard from Franquemont (lot 2405) brought 6,500, more than double the estimate.
2610: Swiss. Taler of 1550 Altdorf mint, Estimated: 18,000, Realised: 37,000.
The Altdorf taler of 1550 (lot 2610) also doubled the estimate, going from 18,000 to 37,000. Cantonal gold was also sought in this sale. Lot 3007, a 3 ducat from Berne of 1699 increased from 17,500 to 27,000.
One must not forget China in the overseas section. After Russian coins, Chinese coins have reached the highest increase in prices in the last years. Lots 4325 and 4326, each a 10 cash from Hunan – probably patterns – brought each 32,000.
However the greatest portion of the catalogue was material for the 'normal' collector. Many coins were estimated between 50 and 500 francs and were sold for normal, sometimes very favourable prices.
After these sales and those of last year, Sincona AG has definitely established itself as one of the leading coin auction houses in Switzerland and also internationally. One looks with great anticipation to the Fall auction sale when the largest and best Russian collection since Count Tolstoy (Hess 1917) will start to come on to the market.
The complete auction catalogues are available online: Auction 5 and Auction 6.
Or you may download the results here.