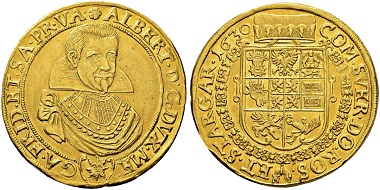 [bsa_pro_ad_space id=4]
17-05-2016 – 19-05-2016
Auction 28-30
Spring auctions at SINCONA
SINCONA AG in Zurich will hold its spring auction from May 18 to 20, 2016. The auction will take place, as usual, in their own new localities in Zurich at Limmatquai 112, 1st floor.
Over 3000 lots will be auctioned in two special catalogues, as well as a general catalogue.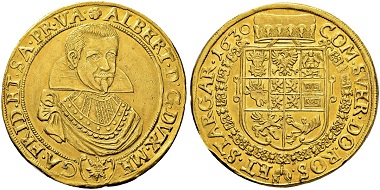 Lot 58: Albrecht v. Wallenstein, 10 ducat 1630, Mzst. Jicin.
Auction 28 features the Ladavac Collection which contains in its first section the largest group of coins of the famous general and commander-in-chief of the Catholic forces during the 30 Years War, Duke Albrecht von Wallenstein. Not only does the collection include two 10 ducat pieces, but also a 5 ducat piece. The last has not been offered on the market for over half a century. Further 16 gold coins, 40 talers, 8 half talers and 2 quarter talers and many minors show his mintage impressively. One can only mention a few examples: 10 ducats 1630 (lot 58), 10 ducats 1631 (lot 63), and the taler 1629 from the Wismar mint (lot 92). Diverse pieces can only be met once in a lifetime. This catalogue will become the standard sales catalogue in the future for coins of Albrecht von Wallenstein.
In the second part follows a collection of medieval denars from Bohemia and Moravia, as well as a grouping of the noble stands and neighbouring territories.
Lot 196: Bohemia, Georg v. Podibrad, piedfort of a groschen in weight of 10 groschen.
Among the medieval denars there are many coins in truly extraordinary condition. Under the groschen mintage one finds some special pieces. Of worthy mention is a piedfort of a groschen in weight of 10 groschen (lot 196). Among the neighbouring areas, a series of klippes from the Silesian Protestant Stands (lots 267 to 275) is remarkable.
Auction 29 begins on the same day with a group HRE/Austria coins, as well as Hungary and Transylvania. Among a large number of talers in the HRE section, we also draw attention to a 10 ducat 1692 of Leopold (lot 523). Also noteworthy are a 5 ducat 1678 from Olmütz (lot 618) and a 3 ducat 1717 (lot 619). Hungary is represented by gold guldens up to coinage of the Hapsburg rulers and some modern issues. Transylvania features a number of ducats.
Lot 845: Augsburg, Goldgulden 1628.
Auction 29 continues the next day and brings collectors coins and medals of the world from medieval times to the present. Browsing the catalogue one finds, time and again, coins that have not been on the market in decades and rarities in wonderful conservation. The German portion offers 300 lots with pieces from
Augsburg. Goldgulden 1628 (lot 845)
Bavaria. Ducat 1780 Gold from the Isar River (lot 858)
Brunswick-Wolfenbüttel. 5 talers 1685 Silver from the Mine Lautenthals Glück (lot 901)
Bishopric Breslau. Taler 1694 (lot 908)
Teutonic Order. Ducat 1666 (lot 914)
Bishopric Fulda. Ducat 1721 (lot 929)
Abbey Kempten. Ducat 1729 (lot 941)
Archbishopric Cologne. Ducat 1723 (lot 943)
Lippe-Detmold. Ducat 1711 (lot 946)
Lübeck. Ducat 1729 (lot 947)
Lot 954: Bishopric Munster. 3 talers 1694.
Bishopric Munster. 3 talers 1694 (lot 954)
Nurnberg. 5 Ducats 1698 (lot 967)
Palatinate-Birkenfeld-Zweibrücken. Ducat 1788 (lot 976)
Archbishopric Trier. Double ducat 1735 (lot 1002)
Wurttemberg-Oels. Taler 1674 (lot1006)
Bishopric Wurzburg. Double ducat 1729 (lot 1009)
Other large groups come in France (183 lots) and Great Britain, as well as pieces from many other countries:
France. Double Royal d'or (lot 1125)
Greece. 100 Drachms 1935 (lot 1323)
Great Britain. 5 Guineas 1691 (lot 1335)
Great Britain. Specimen Set 1887 (lot 1372)
Lot 1525: Italy, Ferrara. Mezzo scudo 1546.
The Italian series with almost 550 numbers is more than extraordinary. Here one can recognize the successful partnership of the firm SINCONA AG with the auction house NOMISMA S.p.A., San Marino. The firm of NOMISMA, known to most collectors by their many auction catalogues, has decided to form joint venture auctions in the future with SINCONA. Thus they can serve not only the Italian, but the complete European market optimally. Both auction firms are convinced that this will be of greater advantage to all collectors and clients.
One can only list some examples from the overwhelming offering in the Italian section. The catalogue is full of numismatic highlights.
Kingdom of Italy. 20 Lire 1860, Bologna (lot 1408). 50 Lire 1891 (lot 1439). 5 Lire 1914 (lot1469). 50 Lire1926 (lot 1478). 20 Lire 1927 (lots 1482 & 1483). 50 Lire 1936 (lot 1509) as well as a large number of patterns.
Ferrara. Mezzo scudo 1546 (lot 1525)
Florence. Francescone 1766 (lot 1541)
Genova. 50 Lire 1758 (lot1574)
Livorno. Ongaro (lot 1585)
Lot 1591: Lucca. Tremissis of Charlemagne.
Lucca. Tremissis of Charlemagne (lot 1591)
Lucca. Fiorino (emission of 1387) (lot 1592)
Massa. Doppia 1588 (lot 1602)
Mantua. Ducato (lot 1603)
Milan. Ducato (lot 1610)
Parma. Testone (lot 1697). 8 doppie 1786 (lot 1699)
Piombino. Zecchino 1696 (lot1713)
Savoy/Sardinia. Ducato (lot 1723). Scudo d'oro 1552 (lot1727). Carlino sardo 1773 (lot 1747). 80 Lire 1821 (lot 1761). 20 Lire 1821 (lot 1762)
Vatican. Scudo 1782, Bologna (lot 1854). 5 Scudi 1846 (lot 1867)
Venice. Ducato (lot 1911). 6 Zecchini (lot 1926). Liretta in oro (lot 1930). Osella 1782, Piedfort (lot 1937).wicht (1937)
Lot 2558: Switzerland, Uri, Schwyz and Unterwalden, Half taler n. d., mint of Altdorf.
The third auction day begins with a section of Swiss coins in catalogue 29. Along the whole breadth of cantonal coins, federal coinage and shooting talers and medals, one must mention a series of the first cantons in singular quality.
Uri, Schwyz and Unterwalden. Dicken/Teston n. d. with St. Peter., mint of Bellinzona (lot 2555). Half taler n. d., mint of Altdorf (lot 2558).
Auction 30 will certainly turn out to become a standard catalogue for the numismatics of Bern. It contains special collection of the city of Bern, beginning with the minting of large coins up to the cantonal coins of the 19th century.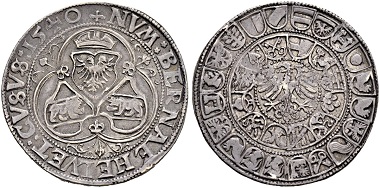 Lot 3524: Taler of 1540 with one-headed eagle.
The collection contains many "off-metal" strikes of silver coins in gold, multiple ducats in large numbers, as well as talers and goes on to minor coins. Supplementing the collection are a number of medals. Of special note are:
Taler of 1540 with one-headed eagle (lot 3524)
Unedited Vierer of 1580 (lot 3537)
10 Francs pattern n. d. (1772) (lot 3665)
8 ducats n. d. (c. 1775) (lot 3671
Half taler 1788 (lot 3735)
Enthusiasts of this exciting area of collecting will enjoy countless rarities in this offering.
All auction catalogues may be viewed on the internet. Online bidding before the auction is possible. During the auction "Live Bidding" is available for the entire course of the three auctions.
Further information may be obtained on the site of Sincona or NOMISMA S.p.A.