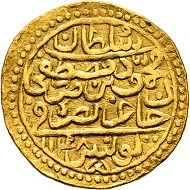 [bsa_pro_ad_space id=4]
23-10-2016 – 26-10-2016
Auctions 31-36
Sincona offers a number of special collections
The SINCONA Autumn Auctions – a firework of exciting themes covering the whole spectrum of Numismatics. This could be used as a heading for the coming SINCONA auctions in Zurich. Namely, several specialized collections are featured, as we are already accustomed to, from this important auction house.
Lot 23: Gold Sultani of Sultan Mahmud, dated 1148, very fine-extremely fine, RRRR (obv). CHF 6,000.
The start is with the first special collection: Auction 31, Coins and Medals of Tunisia from the 16th century to the present.
Following is the Russia Auction 32, the SINCONA Collection – 5th Part with decorations and orders of chivalry, partially with items never before offered on the market and important and rare coins and medals.
Coins and medals from throughout the world are offered in Auction 33, with special sections such as Nürnberg, Silesia, German Empire, Alsace and Romania.
Auction 34 contains the third special collection in this auction series; Coins and Medals of the Holy Roman Empire with emphasis on Bohemian, Silesian and Hungarian mints.
Another highlight is Auction 35 Swiss Coins and Medals from throughout the centuries.
On the last day, as has become tradition in every October, a special catalogue of Banknotes, Auction 36, closes this exciting Zurich auction week.
Here are the reviews of the different catalogues in particular.
Lot 4: Bronze medal from 1574, very fine+, RRR (rev). CHF 250.
Auction 31: Coins and Medals of Tunisia – The Miller Collection
Starting the auction week, SINCONA features a unique private collection of coins and medals of Tunisia, formed in the course of the last 30 years. The collection is divided into three chapters of the numismatic history of Tunisia and its capital Tunis, beginning with the turbulent 16th century when Emperor Charles V led war against the mighty Ottoman Empire, driving the Turks from Tunis in 1535. In 1574 the Turks reconquered the city and reigned over this territory for the next 300 years. Gold coins minted in Tunis in this time (lots 5, 7, 9-11, 13-15, 30-34) are considered to be especially rare. But silver mintages (lots 6, 8, 12, 17-20) and bronze coins (lots 26, 42, 79) are not easy to find for the collector.
Lot 289: 20 Francs, 1956, Silver, Mintage 303, Fdc, R (rev). CHF 500.
In the 19th century the local Tunisian governors, called beys, gained more power and in 1830 France attempted to establish itself along the whole North African coastal region, especially in Tunis. In 1881 the "Protectorat Français" was came into being and ten years later the French decimal monetary system was introduced (lots 201-327). Here begins the second chapter of this auction. Not only coins – most with almost unbelievably low mintages – are offered, but also diverse essays and piedforts (lots 291-318), along with jetons minted in Tunis (lots 328-331).
The third and last section of the collection contains mintages of the modern Republic of Tunisia, founded in 1957. Many extremely rare coins – in gold (lots 348-367) and silver (lots 368-382) are present, as well as essays and piedforts (lots 383-387).
Lot 1544: "Reichel" Pattern Poltina 1845, St. Petersburg, proof with attractive patina. CHF 150,000.
Auction 32: Sincona Collection – 5th Part, Orders of Chivalry, Decorations and Coins of Russia
In the past years the Zurich auction house SINCONA AG has auctioned Russian imperial coins with sensational results in many sales. With this firm's Auction 32 on October 24, 2016 this tradition is not only continued, but extended by approx. 100 orders of chivalry and decorations of the Russian Empire, including numerous extraordinary and sensational objects.
Lot 1012: Orders. Breast star of the St. Catherine Order, from the Fabergé firm in St Petersburg. CHF 75,000.
After a Collar of the St. Andrews Order made by Julius Keibel with later jewel and breast star by Albert Keibel follows a jeweller's masterpiece: the breast star of the St. Catherine Order, made between 1908 and 1916 by Alfred Thieleman, the leading craftsman of the world renowned firm of Karl Fabergé in St. Petersburg (lot1012).
From the estate of the French President Paul Deschanel (1855-1922) comes a set in diamonds (with the original stones) of the St. Alexander Nevsky Order that was presented to him in his function as President of the French Senate by Emperor Nicholas II (1858-1918) during a state visit in France in September 1901. Under the insignia of the Order of St. Vladimir is a remarkable Cross of the third class by Afanasii Panow, the mentor of Immanuel Georg von Pannasch (1773-1836), which was created between 1802 and 1820.
Under the insignia of the Order of St. Anne, a cross of the 2nd class in diamonds by Karl Hahn from 1906/1907 and a jeweller's production of a 2nd class cross with crown by an unidentified master, probably from around 1847, must be mentioned. In addition items such as a monogram decoration for the ladies in waiting of Empress Maria Feodorowna and Empress Mother Alexandra Feodorowna, awarded between 1896 and 1917 with number 384, made by Karl Blank in the years 1912/1913 and an extremely rare badge. Commemorating the 100 year anniversary of the Finnish Senate, made by Suomen Kultaseppa OY /Finska Guldsmeds A. S. in 1916, will come to auction.
Other sensational objects to be auctioned are a breast star of the Order of St. Andrew in diamonds (with the original stones) under lot 40. This star was made in 1907 by the company of Karl Hahn in St. Petersburg for the Cabinet of His Majesty the Emperor and bestowed in 1907 to the Russian ambassador in France, Alexander Iwanowitsch Nelidow (1835-1910). From the legendary Professor Tammann Collection, auctioned 2008 by UBS in Basel comes a breast star of the Order of St. Alexander Nevsky made by Julius Keibel in 1855 or 1856. The reverse inscription leads one to assume that it was bestowed upon a German or Austrian recipient in 1856.
The richly illustrated catalogue with text in English and Russian has been written by the phaleristic expert for the house SINCONA, Michael Autengruber of Constance, together with further Russian phaleristic and numismatic experts. The numerous, partially extensive notes, to historical as well as technical backgrounds, have made this distinctive catalogue to an important title of scientific phaleristics, as well as Russian numismatics.
Lot 1442: Pattern rouble 1808, SPB, MK, Novodel(?).FDC/proof-like. CHF 50,000.
Enthusiasts of Russian coins will find extraordinary rarities in the second part, such as the pattern rouble 1808, SPB, MK Novodel(?) (lot 1442) with notable provenance from "Duplicates from Russian Museums" 1931 and Auction Hess/Leu 1968. From the same auction stems lot 1544, the "Reichel" Pattern Poltina 1845, St. Petersburg. Many coins are of highest quality; for example: Poltina 1839 (lot 1516) and Denezhka 1865, EM (lot 1578) of which only 30 specimens were minted.
Lot 2037: Bohemia. Wenzel IV. Gold gulden no year, Auerbach mint. Extremely rare. CHF 15,000.
Auction 33: Coins and Medals from Throughout the World
In the middle of the auction cycle of SINCONA AG stands the catalogue of Auction 33 with world coins and medals. Routine changes with rarity, of which may be said "What? That too?" or "I haven't seen that one in a long time". An example being the goldgulden of the Bohemian King Wenzel IV, from the mint of Auerbach. This mint was in existence only for a few years in the second half of the 14th century (lot 2037).
Lot 2157: Brandenburg-Preussen. Silver medal 1708. On the restoration of the Tragheimer Church. Extremely fine-FDC. CHF 2,500.
Coins, and especially medals, are the expression of certain events, such as the wonderful medal from Brandenburg-Prussia, honouring the restoration of the Tragheimer Church by Königsberg (lot 2157. The architect Joachim Ludwig Schultheiss von Unfriedt, who was entrusted with the project, selected as plan a Greek cross and large half-round windows above the galleries.
As usual, Germany is strongly represented with 450 numbers. Attention must be given to Nurnberg with 99 lots, a group of beautiful Silesian coins and the mintages of the German Empire with diverse rarities in gold.
An interesting series of Alsatian coins will be auctioned within the French section. This is a small but exceptionally fine group. Collectors will have the opportunity to bid on rare coins of the "Rappenmünzbund", for example a rare batzen of Colmar 1535 (lot 2662) or another rare batzen, this time from Thann 1533 (lot2724).
Lot 3239: Sweden. Gustav Vasa. 2 Daler 1544, Svartsjö. Extremely rare. Very fine. CHF 10,000.
Great Britain features 50 numbers, Italy 140 numbers and Romania more than 50 numbers. Here, in between, in spite of the following specialty catalogue, are 100 numbers of the Holy Roman Empire. This is also true of Hungary and Transylvania.
At the end of the catalogue a new chapter in auction history will be opened with the SINCONA-Gold-Auction. For the first time an auction platform for investment and bullion gold – at best conditions – will be offered by SINCONA, thus entering "auction new-land". Private persons and dealers who want to invest in gold should read the conditions of auction and study the offered material.
Lot 4118: Taler 1603. Budweis Mint. FDC. CHF 2,000.
Auction 34: Coins and Medals of the Holy Roman Empire
The 34th SINCONA AG Auction features a large offering of coins and medals of the Holy Roman Empire in a special catalogue for this interesting area of collecting. Special emphasis is on the mints of Prague, Joachimsthal and Kuttenberg.
In all, 530 numbers are presented for sale, including 200 talers and 9 multiple talers, numerous half- and quarter talers, as well as many large lots of small denominations from, 30 Kreuzer to ½ Kreuzer denominations.
Most coins have an attractive cabinet patina, found only in collections that have been gathered over many years.
Lot 4207: 3 1/2 Taler 1629 (on the coronation of Ferdinand III). Prague Mint. Extremely rare. Extremely fine+ with superb patina. CHF 20,000.
Some highlights of this catalogue are: lot 4063, a taler 1574 from Joachimsthal mint of which only 2 to 3 specimens are known, as well as lot 4118, a taler 1603 from Budweis in wonderful FDC, and, of course, the prime lot, a 3½ taler 1629, for the Bohemian coronation of Ferdinand III in Prague in fantastic quality (lot 4207).
Lot 4235: Silver medal 1650 on the return of the Duchy of Upper Austria to the rule of Ferdinand III). Extremely fine and extremely rare. CHF 5,000.
Among the medals one finds many handsome and wonderful specimens. Lot 4235 is a silver medal of 1650, engraved by G. Schweiger, in commemoration of the return of the Duchy of Upper Austria to the rule of Ferdinand III.
Should the specialized collector not be able to view the interesting large lots in person, SINCONA AG offers as a service to all collectors, the possibility to view them on the internet.
Lot 5415: Bishopric of Sitten. Bishop Johann Jordan (1548-1565). Dicken 1549. Very fine and extremely rare. CHF 10,000.
Auction 35: Swiss Coins and Medals from the Middle Ages to the Present
The auction contains a good 900 lots from all Swiss areas of collecting. In the series of 550 cantonal coins, following lots should be specially noted:
Lot 5145: Freiburg i. Üe. Gold gulden 1599. Nearly extremely fine and extremely rare. CHF 25,000.
A splendid and extremely rare goldgulden from Basel 1505 (lot 5021); a Berne double ducat from 1600 (lot 5059); a gold medal in weight of 25 ducats from Berne, minted in about 1725-1730 (lot 5066); a series of 70 coins of Fribourg, including a ½-goldgulden ca. 1510, as well as a goldgulden from 1599 (lot 5145).
Further worth mentioning are a ducat of Maccagno, an imitation of the Chur ducat of 1622 (lot 5232), a 16 Francs of 1813 from the canton Graubünden (Grisons), as well as a ducat 1728 from the Abbey of Fischingen (lot 5376).
The collection closes with a wonderful group of 40 coins from Valais, including very rare pieces – for example: a guldiner of 1501 (lot 5411), or a dicken of 1549 (lot 5415). And at the very end one finds a wonderful double ducat 1673 of Zurich (lot 5472).
Lot 5581: Switzerland. Confederation. 1 Franc 1857. First strike/FDC. Only 526 specimen minted. CHF 25,000.
The federal coinage brings interesting pieces such as lots 5580 and 5581, a 2 and 1 franc piece of 1857 in top quality and lot 5618, a franc 1901 in extraordinary conservation.
A series of error strikes follows, including among others, a 5 franc 1928 in almost uncirculated condition (lot 5678).
The Swiss section ends with 150 numbers of shooting talers and medals.
Lot 7027: Bulgaria. Pattern of a 5 Leva banknote. Previously unknown. Nearly very fine. CHF 1,200.
Auction 36: Banknotes
It has become traditional that SINCONA AG holds a banknote auction every autumn. Aside from paper money from countries throughout the world, the collector will notice several large series – for example a fine collection of Bulgarian notes, including several up to today unknown bank note patterns (lots 7027-7032). Included in the sale are also Chinese notes (lots 7098-7156) and a series of the Netherlands with some rarities at moderate prices (lots 7385-7422).
Lot 7576: Switzerland, Banque Cantonale Neuchâteloise. 500 Francs from 15 March 1899. Fine. CHF 9,000.
Russia, too, is represented with 90 numbers (lots 7467-7557) and naturally banknotes from Switzerland with emphasis on the canton of Neuchatel (lots 7570-7587). The highlights of this auction are a number of rarities from this canton that have never before appeared on the market. At the end of the auction the collector will be surprised by interesting banknotes from Cyprus (lots 7707-7718).
Lot 7683: USA, Marshall Islands. 25 Cents no year / reproduction (1952). Nearly extremely fine. CHF 150.
As usual the collector will be able to find small "treasures" that are otherwise not obtainable. Worth mentioning is the "mess money" of the Argentinian battleship "Moreno" (lot 7006), a postal money transfer form from the island of Helgoland, then under British rule, (lot 7198) and several exceptional objects from the USA (lots 7682-7689), such as a note of the Marshall Islands with depictions of nuclear symbols and events.
Finally it remains to take note of documents in relation to the Grand Duchess Maria Pawlowna, daughter of the Russian Zar Paul I, later Grand Duchess of Saxe-Weimar and her secretary Karl Jakob von Otto. These are found under Germany and Russia (lots 7172, 7176, 7475).
After more than 700 numbers a small series of banknote printing errors and similar material from diverse countries ends the auction.
Here you can find all current auctions of Sincona AG.
Please go directly to the online catalogs:
Auction 31
Auction 32
Auction 33
Auction 34
Auction 35
Auction 36