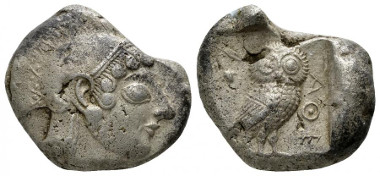 [bsa_pro_ad_space id=4]
03-04-2015 – 18-04-2015
Online Auction 1
Attractive Greek coins at Online Auction of Savoca Coins
Savoca Coins, the young Munich auction house mostly known for selling coins on Ebay, is now holding its first Online Auction.
The whole auction includes 441 lots, which are all carefully assembled ancient coins.
At the beginning, with a wide selection of 225 lots, you will find attractive Greek coins …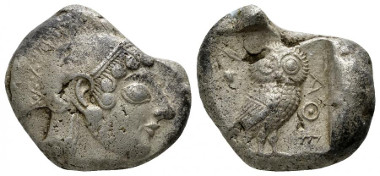 131: Attica, Athens. Circa 490-483 BC. Tetradrachm.
… including a well-preserved archaic Tetradrachm of Athens …
152: Mysia, Lampsakos. Circa 480-450 BC. EL Stater.
… as well as a rare Lampsakos Stater from Mysia.
263: The Social War, Marsic Confederation. C. Papius C.f. Mutilus. 90 BC. Denarius.
This is followed by a nice selection of provincial bronzes, coins of the roman republic (here should be particularly mentioned a denarius of the Marsic Confederacy from the time of the social war) …
419: Justin II. AD 565-578. Solidus.
… and finally a few Solidi and other byzantine coins.
Absentee bids can be placed until April, 19th 2015 on the new auction platform EMAX. Similar to a live auction all lots will be closed by the auction host manually on the last auction day starting at 6:00 pm CET.
To get to the website of Savoca Coins please click here.