[bsa_pro_ad_space id=4]
24-08-2018 – 25-08-2018
9th Blue Auction
Savoca's 9th Blue Auction
Blue Auction 9 of Munich-based auction house Savoca Coins is held in two parts. The sale comprises 2314 lots including – but not limited to – Celtic, ancient Greek, Islamic, and world coins.
Cimmerian Bosporos. Pantikapaion ca 310-303 BC. Bronze AE. 20mm., 8,21g. good very fine.
Live closing is going to start on July 25th and 26th, 2018 at 6 PM CEST respectively.
This auction features 2314 lots and includes Celtic, …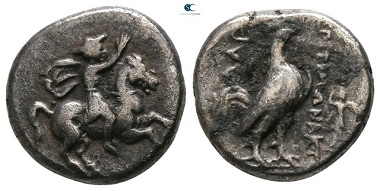 Troas. Dardanos. (Timonaktos), magistrate ca 400-300 BC. Triobol AR. 12mm., 2,21g. very fine.
… ancient Greek …
C. Marius C.f. Capito 81 BC. Rome. Serratus AR. 19mm., 3,85g. very fine.
… Roman provincial, Roman republic …
Nero AD 54-68. Rome. As AE. 29mm., 10,69g. very fine.
… Roman empire, byzantine, mediaeval, islamic, world coins and some large lots.
You can find the online catalogue on biddr: Part I and Part II.
For more information on Savoca Coins visit the company's website.