[bsa_pro_ad_space id=4]
06-04-2018 – 07-04-2018
6th Blue Auction
Savoca's 6th Blue Auction
Blue Auction 6 of Munich-based auction house Savoca Coins is held in two parts. The sale comprises 1595 lots with material for collectors with limited budget ranging from ancient to Islamic and world coins. The live closing is going to start on 7 and 8 April 2018 respectively at 6pm CET.
Lot 68: Sicily. Kephaloidion. Onkia, circa 200-190 BC. Very fine.
The auction features 1595 lots and includes Celtic, …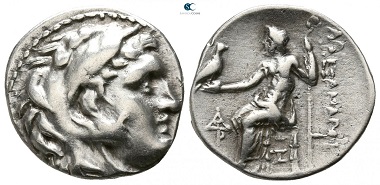 Lot 164: Kings of Macedon. Alexander III "the Great", 336-323 BC. Drachm, struck circa 323-280 BC, uncertain mint in Western Asia Minor. Very fine.
… ancient Greek, …
Lot 245: Thessaly. Olosson. Dichalkon, circa 400-350 BC. Struck by the Perrhaiboi in honor of their mint. Nearly very fine.
… Roman provincial, Roman republic, …
Lot 1316: Probus, 276-282. Antoninianus, Serdica. Good very fine.
… Roman empire, Byzantine, mediaeval, Islamic, world coins and some large lots.
You can find the online catalogue on biddr: Part I and Part II.
For more information on Savoca Coins go to the company's website.