[bsa_pro_ad_space id=4]
28-09-2018 – 29-09-2018
10th Blue Auction
Savoca's 10th Blue Auction
Blue Auction 10 of Munich-based auction house Savoca Coins is held in two parts. The sale comprises 2,165 lots with very requested material aiming thus particularly at new collectors. Live closing is going to start on 29 and 30 September 2018 at 6 PM CEST respectively.
Sicily. Syracuse. Hieron I, 478-466 BC. Litra. Good very fine.
The auction features 2165 lots and includes Celtic, ancient Greek …
Kings of Macedon. Salamis. Philip III Arrhidaeus, 323-317 BC. Half Unit (bronze). Very fine.
… Roman republic, Roman provincial, …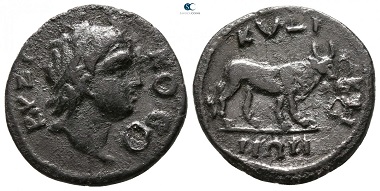 Mysia. Kyzikos. Pseudo-autonomous issue (bronze), AD 193-235. Very fine.
… Roman empire …
Hadrian, AD 117-138. Denarius, Rome. Very fine.
… Byzantine, mediaeval, Islamic, world coins and some large lots.
You can find the online catalogue on biddr.
All lots can be viewed in Savoca's office by appointment. For more information on Savoca Coins go to the company's website.