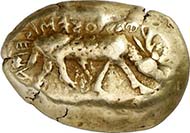 [bsa_pro_ad_space id=4]
07-03-2010 – 11-03-2010
185-188
Competition is good for the results
Gorny & Mosch start their "Live-Bidding-Systems"
From 8th to 12th March 2010, Gorny & Mosch Giessener Münzhandlung held four auction sales. They featured 4.500 lots, which were estimated at 3.5 Mio. Euro. The final price came up to 4.8 Mio.* Even before the sale, the buyers' interest became apparent: During the auction lot viewing the premises at Maximiliansplatz were overcrowded. Moreover, 250 clients had registered for the new live bidding systems via Internet. Be sure, that auction participants will long to return those times, when they only had to outbid the written bids.
Sale 185 "Ancient coins of high quality" provided a top-class offer of chosen highlights. Already the estimate had accounted for about one Mio. Euro. The final price of the 329 lots rose to more than 1.5 Mio., which corresponds to an average(!) price of more than 4.700 Euro. Of course, the most expensive coin sold far above this average: We are talking about one specimen of the four known Phanes staters. If there were only those bidders, who attended the sale, an American coin dealer would have dragged off the rarity at its starting price of 120.000 Euro. But the new live bidding systems made it possible that a Chinese Internet bidder competed in real time. The final price came up to impressive 345.000 Euro.
Some rare pieces caused pleasant surprises. Here are just some examples: A stater of the Arcadian city of Pheneos, a masterpiece of late Classical art, showing Hermes holding little Arcas on the reverse was estimated at 5.000 Euro and fetched 11.500. An unpublished archaic stater from the Cycladic island Tenos rose from its estimate of 6.000 Euro to 48.300. An extremely fine tetradrachm of the Syrian king Tryphon, who reigned from 141 to 138 BC, sold for 20.700 Euro (estimate: 3.000) due to its very nice portrait.
It was a late Republican coin, which became the most expensive among the Roman coins: An extremely rare and perfect denarius of Quintus Labienus Particus realized 94.875 Euro, which was more than triple the estimate of 30.000 Euro. The collectors also appreciated the many nice bronzes with the lovely patinas, for example a sestertius of Nero, struck under the reign of Claudius in Thrace. The extremely fine coin was estimated at 5.000 Euro and sold for nearly 12.000 Euro. An FDC aureus of Septimius Severus showing the portraits of the emperor and his wife Julia Domna rose from its estimate of 18.000 Euro to a final price of 25.300 Euro.
Sale 186 featured "Ancient Coins and Multiple Lots". Here, the figures stayed a little bit more modest, what does not mean, that the buyers' interest was lower. After all, the total estimate of 600.000 augmented to ca. 750.000 Euro.
The highlight of the sale was a little series of gold staters of Alexander the Great. An extremely rare variety showing Nike to the right realized 2.530 Euro (VF-EF; estimate: 1.500 Euro).
Especially the multiple lots, for which Gorny & Mosch is literally famous, aroused great interest. 104 of 117 numbers sold. The estimate of 55.025 Euro doubled to the final price of 111.000 Euro, which demonstrates that buyers of reasonable coins are willing to bid actively. Multiple lot no. 2738 proved that theory: It contained a comprehensive collection of ancient coins, all described by their former owner. It sold for 8.050 Euro (estimate: 2.000 Euro).
Sale 187 was dedicated to Russian coins. The high results didn't surprise anybody. No matter, whether a coin dates to the tsar era or the 20th century, the Russian market is willing to pay good prices for every offer..
Here are some results from the tsar era: An extremely rare ducat of Peter I struck in the Moskow Red Mint in 1712 realized 86.250 Euro, the highest result of sale 187 (VF-EF; estimate: 50.000 Euro). The most interesting group came from Poland and was struck under the reign of Alexander I. An extremely rare golden 50-zlotych-piece minted in 1823 in Warsaw cost 80.500 Euro (VF-EF / EF; estimate: 35.000), another 25-zlotych-piece of the same year 29.900 Euro (VF-EF; estimate: 15.000), and another 25-zlotych-piece of 1824 35.650 Euro (FDC; estimate: 6.000 Euro).
Over the intervening years, the coins and coin sets of the 20th century have proved to be superb investments. Those who collected the commemorative coins of the USSR in proof 20 to 30 years ago, made a good profit on these coin in gold, platinum and palladium.
Who specialized then, has now struck a bonanza: Gorny & Mosch offered 7 patterns mainly from the 1950ies estimated at 21.900 Euro all together. The final price of the most expensive coin was more than the total estimate. A copper nickel essay of the 10-copeck-piece from 1959 sold for 34.500 Euro (estimate: 15.000 Euro). The total of all seven patterns added up to 60.260 Euro.
The order of the White Eagle from the estate of the Serbian royal family was a special highlight. The proud new owner was willing to pay for this outstanding object 63.250 Euro (estimate: 50.000 Euro).
Sale 188 "Medieval and Modern coins" was another highlight of the auction week. The 1.746 lots were estimated at 950.000 Euro. The total was ca. 1.4 Mio. Euro.
Partly, this was due to the collection of world gold coins and medals. Investors loved these 580 pieces. From A for Albania (9 lots, all sold, estimate: 8.600 / final result: 22.603 Euro) to U for Ungarn (= Hungary, 9 lots, all sold, estimate: 11.550 / final result: 17.825) – right now, gold coins are every collector's darling. Just one more example: A 100-lei-coin struck under the reign of Charles II of Rumania in 1940 rose from its estimate of 7.500 Euro to 19.550 Euro.
And it was not only the gold that caught the eyes of the collectors. We also have to mention the interesting multiple lots, which aroused great interest. Here are two examples: There were these 96 coins offering a representative cross section of the German medieval history of coinage. They were estimated at 2.500 Euro and fetched 5.060 Euro. Or the exquisite collection of English coins: The ca. 170 pieces sold for 10.637 Euro (estimate: 3.250 Euro).
Like always, Poland sprang a surprise. 31 lots were for sale estimated at 15.080 Euro. The final result summed up to 88.555 Euro. This was due to the patterns of the Polish Republic of 1919 to 1939. A tombak (an alloy of copper and zinc) essay, for example, struck in 1925 surpassed its estimate of 500 Euro more than 40 times with 20.700 Euro.
The sale ended with coins from the Islamic world. Rarities like the gold medal on the coinage reform (10.000 / 18.400 Euro) or the golden medal for merit in agriculture and technics (3.000 / 39.100 Euro) demonstrated, how the interest in Turkish medals has increased.
All results of the four sales can be found at www.gmcoinart.de.
* all prices include buyers' fee of 15 %.