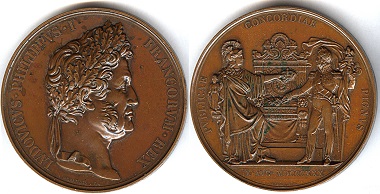 [bsa_pro_ad_space id=4]
21-02-2018 – 01-01-1970
Fixed-Price List
Fixed-Price List Rusty Pennies #45 is online
In his 45th sale Alexander Basok features the first part of a large collection of table medals, both foreign and U.S.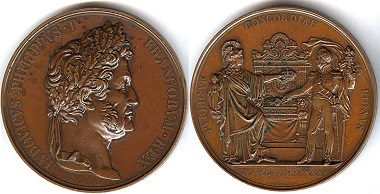 053: France. Louis Philippe, 1830-1848. AE medal 1830. On his accession to the throne. By Alexis Joseph Depaulis. 75mm. Quite rare! XF $450.
There are many bronze and silver medals there as well as some medallic issues from Hungary, Iceland and others that have denominations. The entire collection is planned to be sold over the next few sales.
083: Italy. AE medal, no date. Italian Red Cross. For good merit. By Angelo Cappuccio. Society of Daughters of Italy of New Orleans award. 69 mm. Quite rare! AU $750.
There are about 80 medals in sale 45 designed and executed by leading world medallists depicting famous monuments, locomotives, ships, airplanes and commemorating horse competitions and shooting festivals.
097: Russia. Peter I, "the Great" (1682-1725). AE medal. 1725. On his death. By Jean Dassier. Diakov 63.12 (R3), Iv LVII-5, Stakh 16(R2), Reichel 1549 (in silver). 38 mm. XF-AU. $550.
Considering the Holiday time of the sale, there are more than 150 lots of gifts ranging from Ancient Greek and Roman antiquities, political and sports autographs, political memorabilia, sterling silver collection of spoons and utilitarian items and Japanese antique inro accessories.
098: Russia. Elizabeth (1741-1761). AE medal. 1761. On her death. By S. Yudin. Diakov 107.1. Sm 242a. Reich 2204 (in silver). 60 mm. XF-AU. $750.
Russia is not only represented by a selection of table medals, but sale 45 also includes a small group of high quality large Russian Porcelain Figurines manufactured by former Imperial Porcelain Factory.
Browse through sale 45 on the Rusty Pennies website.