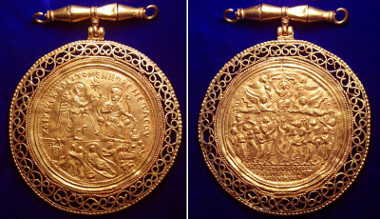 [bsa_pro_ad_space id=4]
27-09-2014 – 01-01-1970
Auction VIII
Byzantine gold medallion – estimate: one million pound
A unique and highly important Byzantine gold medallion is expected to fetch £800,000+ when it is offered at auction in September by London-based auctioneer Roma Numismatics Ltd. It is estimated at one million pound and it is among 1,200 superb ancient Greek, Roman and Byzantine coins that are being sold in the firm's autumn auction. The medallion was struck as part of the grand imperial wedding celebrations for the princess Charito, daughter of the emperor Tiberius II Constantine, to Germanus, the supreme commander of the Byzantine armies, on or around Christmas Day in AD 583. It weighs over 100 grams, and is one of the very largest gold medallions known to have survived antiquity.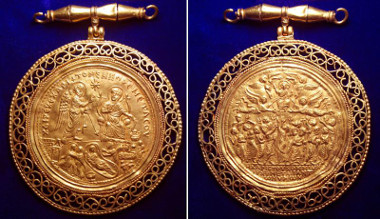 1144: Gold Medallion or Enkolpion (enkólpion, "on the chest"), attributed to Maurice Tiberius. Constantinople, circa AD 582-583. 90.52g, or with loop 103.10g. Estimate: GBP 1,000,000.
This grand imperial medallion depicts a remarkable series of illustrations from the story of the life of Christ as related by early Christian texts, of which some have no peer or parallel in surviving Byzantine precious metal art. The front features a highly detailed portrayal of the Annunciation, in which the Angel Gabriel delivers his message to Mary that she shall conceive the son of God. It also shows two smaller scenes of the Visitation and the Nativity. The whole of the reverse is dedicated to an image of Christ's Ascension to Heaven as his disciples look on. It is believed that this medallion preserves the earliest surviving images of the Annunciation and Ascension in gold.
The medallion is comparable only to the famous specimen in the Dumbarton Oaks Museum (Washington D.C., USA) with which it shares a great many similarities, and a lesser example currently residing in the Christian Schmidt Collection (Munich, Germany). All three appear to have been the work of the same imperial artisan and were produced within a very short time-span.
Richard Beale, director of auctioneer Roma Numismatics, said: "This incredible piece is tremendously significant, not only from a historical perspective, but also because of the rich religious symbolism woven into its design. The scenes as portrayed here became the standard model for all subsequent Byzantine and Orthodox depictions of these key moments from the life of Christ. It is thus of immense importance within the fields of both Byzantine and early Christian art."
For further information you may contact Richard Beale, by phone: +44-(0)20-3178-2874, or via email.
All lots of the auction you will find on the website of Roma Numismatics.
And to the Byzantine gold medallion you may get directly here.