[bsa_pro_ad_space id=4]
Polish and Russian Rarities in Stack's Bowers NYINC 2023 Auction
Capitalizing on the momentum of a record breaking 2022, the Stack's Bowers Galleries World and Ancient Coin Department offers a massive selection spanning nearly all areas of numismatics in their capacity as an Official Auctioneer of the 2023 New York International Numismatic Convention. Delivering more than 5,700 lots, this sale truly provides something for everyone at all budget levels. The auction offers 14 live and Internet sessions over the course of a week, with sessions to be held in New York City on January 13-15 and in Costa Mesa, California, from January 16 through 20.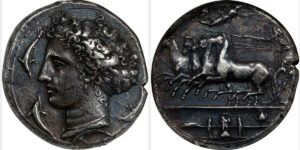 Among the 845 lots of ancient coins will be found several premium rarities that are sure to attract much attention from those who love classical numismatics. Lot 20016 offers one of the most popular of all ancient coins, a Dionysios I Syracuse Dekadrachm Graded NGC EF, Strike 5/5 Surface: 4/5 Fine Style. Engraved and signed by Kimon, this example displays with clarity the workmanship and desirability of Kimon Dekadrachms. A wonderful Bosporos Stater from Pantikapaion, lot 20073, graded NGC AU Strike: 5/5 Surface: 4/5 Fine Style, is the highest estimated ancient lot in the January NYINC sale at $150,000-$175,000. Those who collect Roman coinage will be thrilled by lots 20181 and 20190, scarce Aurei of Pertinax and Carinus graded Ch EF and Ch AU respectively.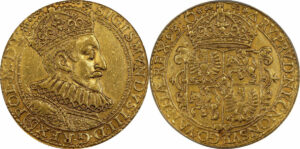 Several strong collections of world coins offer premium and seldom seen rarities. Leading the way is the Taraszka Collection of Polish Rarities. Nearly all the coins in this collection have been off the market for years, and certain pieces are expected to once again disappear into collections for a generation. A single 10 Ducat would be a rare offering; the Taraszka Collection, however, offers five pieces of this weight. In addition there are other rare multiple Ducat weight issues and single Ducats from elusive mints such as Malbork, Riga, and Vilnius.
Carefully curated for rarity and quality, The Taraszka Collection of Polish Coins offers types that have been off the market for decades and items that may not reappear for a generation. This collection heavily features gold from the Polish-Lithuanian Commonwealth, presenting both circulating pieces and medallic ducat-weight pieces. Several extremely rare branch mint Ducats are offered, including a 1585 Ducat and a 1593 10 Ducat from the Malbork Mint. The Vilnius Mint is represented by a 1586 Stephan Bathori Ducat and a 1622 Sigismund III 10 Ducats. Perhaps the most difficult mint to acquire, Riga, is represented in this collection by a 1619 Sigismund III Ducat. It has been estimated that no more than 20 Riga Ducats from the reign of Sigismund III have survived. Additionally, The Taraszka Collection contains a 1655 Swedish medal struck at the Riga Mint in the weight of 10 Ducats during the period of Swedish Occupation known as the Deluge.
Danzig gold issues remain as popular as ever, and this sale will include a phenomenal dually dated 1613/1614 10 Ducats from that city. Those seeking a complete monarchal set of Ducats will be thrilled by a 1671 Ducat of Michal Korybut, who is perhaps the most challenging Polish ruler to acquire such a coin for. A Taler of John III Sobieski graded AU-58 by PCGS is of phenomenal quality and preservation and should hold great appeal for any collector of Polish coinage.
The Sigma Collection offers a plethora of elusive and desirable Russian rarities that are certain to be in high demand when they cross the auction block. A Fabled Family Ruble from 1835, far rarer than the 1836, graded NGC MS-63 leads the way. As one of the few types of world coins to surpass the $1,000,000 mark in the past, the $400,000-$600,000 estimate reflects its potential. Additionally, the Sigma Collection offers a Mint State example of the 37-1/2 Rubles, the largest gold coin ever minted in imperial Russia. Some Pattern Novodel Rubles, including lot 22206 a 1807 Novodel Graded Specimen-53, are also among the highlights of the Sigma Collection and are certain to generate much enthusiasm.
Stack's Bowers Galleries presents a strong Latin American offering in this sale, featuring several stunning patterns, including lot 21309, a Gold 5 Venezolanos Essai graded PCGS Specimen-65. With an estimated mintage of just 10, every Venezuelan collector would be thrilled to acquire this pattern. Lot 21312 offers another very rare Venezuelan pattern, a stunning Reeded Edge Venezolano Essai Graded PCGS PROOF-62. This lot when coupled with lot 21311 (the plain edge variety of the same type), graded NGC PROOF-63, offers a stunning pair that should hold great appeal for any collector of Latin American coinage. Lot 21097 delivers a beautiful Colombian Pattern 20 Pesos graded PCGS Specimen-62 with an estimate of $40,000-$60,000, illustrating the depth and breadth of the Latin American rarities offered.
Other Auction Highlights Include:
Tierra Del Fuego. 5 Gramos, 1889. El Paramo (Popper) Mint. PCGS MS-62.
Salzburg. 1200th Anniversary of the Archbishopric Gold Medal of 6 Ducats Weight, 1782. Vienna Mint. Hieronymus Graf Colloredo von Wallsee und Melz. NGC MS-63★ Prooflike.
2 Ducats, 1688. Copenhagen Mint. Christian V. NGC MS-63+.
Saxony. Gold Medallic 12 Ducats, 1630. Johann Georg I. NGC AU Details–Rim Damage.
Great Britain. Sovereign (30 Shillings), ND (1584-86). London Mint; mm: escallop. Elizabeth I. PCGS AU-55.
Great Britain. 5 Pounds, 1887. London Mint. Victoria. PCGS PROOF-62 Cameo.
St. George/Christ & Apostles Gold Medal of 10 Ducats Weight, ND (ca. mid-late 17th Century). Kremnica Mint. PCGS AU-58.
Speciedaler, 1648-PG. Christiania Mint. Christian IV. NGC MS-63.
Danzig. 25 Gulden, 1923. Berlin Mint. NGC PROOF-67 Cameo.
Gold 4 Ducats Novodel, ND ("1613-45") (struck ca. 19th Century). St. Petersburg Mint. Michael I Feodorovich. NGC MS-63.
South Africa. Second Boer War. "Veld" Pond, 1902. Pilgrim's Rest Mint. NGC MS-63.
Here you can find all lots of Stack's NYINC Auctions 2023.
For further information, visit the firm's website.