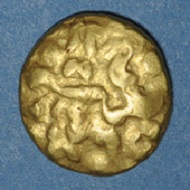 [bsa_pro_ad_space id=4]
06-02-2018 – 01-01-1970
Bongard Collection sale
Celtic coins from the Bongard Collection with impressive results
192 lots from the Bongard Collection were offered to bidders on the 7th of February, by Régis and Alain Poinsignon. This collection mainly composed of Celtic coins is exceptional for both rarity and quality of its composition, and is arguably one of the most important collections of Celtic coins of the past decades.
Lot 2: Ambiani. Statère d'or biface.
The first highlight of the auction was a stater attributed to the Ambiani and of great rarity, with a fantastic reverse, which rose 2,000 €.
Lot 6: Aulerques Diablintes. Quart de statère d'or à la situle.
This extremly rare quarter stater hammered 3,500 € (estimate: 2,000 €).
Lot 29: Caletes. Hemistater.
This amazing "hémistatère au maillet" unknown until recently, with an apollonian head on the obverse, was sold for 4,700 € (estimate: 2,500 €).
Lot 30: Carnutes. Quarter stater.
Until recently, the reverse of the she-rider with lyra quarter stater was described as having one horse. The two horses shown here hammered 2,000 €.
Lot 43: Hemiobol, Marseille.
With lot 43 came an unique Marseille hemiobol, sold in 1987 by Alain Poinsignon and Marcel Pesce in their mail bid sale n°4. Unique by then, still unique by now, this coin was sold for 3,900 € to a connoisseur.
Lot 44: Abrincatui. Stater.
This amazing Abrincatui's stater, depicting on obverse a tattooed face reached 2,600€. Who said modern art is unaffordable?
Lot 47: Ambiani. Bronze.
With an estimate of 800 € hammered 3,600€ this Amiani's bronze set up what the auctioneer says to be a world record for Celtic bronze.
Lot 60: Bellovaques. Bronze.
An "African style mask" on the obverse combine with an "Asian swastika" on the reverse rose 2,900 €. Don't we live in a small world?
For more information visit the Poinsignon website.
You can also find the Bongard catalogue online.
And if you want to download a PDF with the auction's results click here.