[bsa_pro_ad_space id=4]
02-11-2013 – 01-01-1970
Auction 9: Gitbud & Naumann
Pecunem present its largest and highest value auction to date
The online auction platform Pecunem is pleased to announce its largest and highest value auction to date. Auction 9, presented by Munich-based dealer Gitbud & Naumann, closes in the first week of November. The sale contains over 1000 lots of ancient and world coins and has a conservative presale estimate of €220,000. Many attractive lots in all price ranges are available – most with very low opening bids.
As a new, independent platform for online auctions, Pecunem has been very successful with its first eight sales, all of which were organized by Gitbud & Naumann. So far, more than 1500 collectors from all over the world have registered and participated. "Our clients enjoy bidding in our auctions on Pecunem, and consignors have been happy with the results. For us it's been a great new channel for reaching our customers," said Marcus Naumann, one of the directors of Gitbud & Naumann, the first auction company to host its auctions on the platform.
Auction 9 continues in the same tradition of Gitbud & Naumann's previous offerings at Pecunem: a large assortment of coins from all time periods, ranging from lower cost items to very valuable rarities.
Some of the sale highlights include:
193: Asia Minor. Uncertain mint. EL Hekte (Circa 600-550 BC). Estimate: €6000.
211: Kings of Pergamon. Attalos I (241-235 BC). Tetradrachm. Estimate: €1000.

277: Kings of Lydia. Kroisos (560-546 BC). Gold Stater (Light Series). Estimate: €10,000.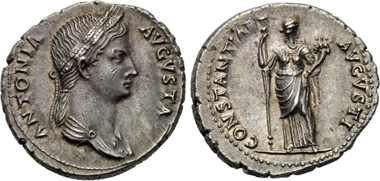 432: Antonia Minor (AD 37-41). Denarius. Rome. Estimate: €12,500.
629: Severus Alexander (AD 222-235). Gold Aureus. Estimate: €3000.
901: Byzantine. Anonymous. AE Medaillon (10th-11th centuries). Estimate: €3000.
1009: Romania. Karl I (1866-1914). Gold 100 Lei (1906). Estimate: €4000.
Pecunem Auction 9 may be viewed online where you can register and place your bids.