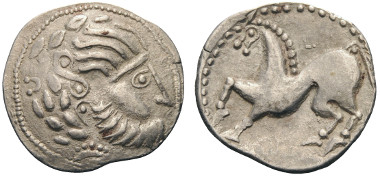 [bsa_pro_ad_space id=4]
17-05-2014 – 01-01-1970
Auction 17
Second auction of Solidus Numismatik with Pecunem
Pecunem announces that Auction 17, presented by Solidus Numismatik, is online now and will end Sunday, May 18, 2014. This is the second auction that Solidus has conducted on the Pecunem auction platform, and it features 500 selected lots of ancient and world coins.
The sale comprises ancient Celtic, Greek, Roman Provincial, Roman, Byzantine, Migration Period, and World coinage.
A series of gold staters of Philip II and Alexander III deserve special mention, as well as a number of Roman Provincial coins with interesting reverses.
In addition, you'll find Roman Imperial denarii with exceptional portraits.
The medieval and world coins are highlighted by an extremely rare goldgulden of Ruprecht II of the Palatinate, a second known example of a half taler of Rudolf II from Kremnitz, and a presumably unpublished 1/6 ducat klippe of Regensburg.
As in its last auction at Pecunem.com, Auction 17 contains a selection of Islamic coins from the Ottoman empire with a number of rarities, such as the 40 Para of Mustafa II struck in Erzerum. Finally, the auction concludes with a small group of antiquities.
Some images of featured coins in this auction are listed below: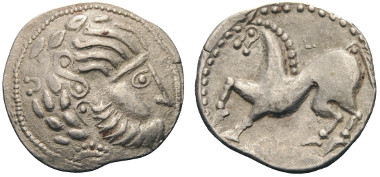 Lot 4: Eastern Celts. Serbia. Tetradrachm. Probably unpublished.
Lot 61: KINGDOM OF MACEDONIA. Philippus II (359-336 BC). Gold stater. Pella. 323/2-315 BC.
Lot 70: KINGDOM OF MACEDONIA. Alexander the Great (336-323 BC). Gold stater. Babylon. Ca. 311-305 BC.
Lot 95: SASANIAN EMPIRE. Queen Buran (AD 629-63). Drachm. Sakastan.
Lot 81: KINGDOM OF PAPHLAGONIA. Pylaimenes II / III Euergetes (Ca. 133-103 BC). Bronze.
Lot 247: DIVA PAULINA (d. before AD 236). Denarius. Rome. AD 236-238 (under Maximinus I Thrax).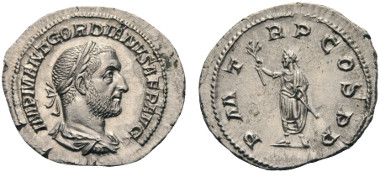 Lot 249: GORDIANUS I. AFRICANUS (AD 238). Denarius. Rome. AD 238.
Lot 251: PUPIENUS (AD 238). Denarius. Rome. AD 238.
Lot 373: GERMANY. PALATINATE. Ruprecht II (1390-98). Goldgulden. Oppenheim.
Lot 390: GEORGIA. Giorgi IV. Lasha (1210-1222). Irregular coinage in copper.
Lot 394: GERMANY BEFORE 1871. REGENSBURG – IMPERIAL CITY. 1/6-Dukat klippe. Regensburg. 1773-1803 (no year).
Lot 405: HOLY ROMAN EMPIRE. Rudolf II (1576-1612). 1/2 taler. Kremnitz. 1580 KB.
Lot 451: ISLAM. OTTOMANS. Mustafa II (1106-1115 H. / 1695-1703). 40 Para (Kurush). Erzerum. 1106 H.
Lot 498: BYZANTIUM. Enkolpion. 10th to 11th century AD.
You can register and bid on Pecunem Auction 17 online.