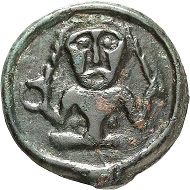 [bsa_pro_ad_space id=4]
14-09-2017 – 01-01-1970
Auction 43 – Coins from Ancient and Early Medieval Times, Ancient Art, Literature
Perfect Sestertii Constitute Highlight of Upcoming Jacquier Auction
On September 15, 2017, Paul-Francis Jacquier will conduct Auction 43. It will offer the experienced and dainty collector exactly the rarities he has been looking for for years. Several collections will cross the auction block, including a small series of Celtic potin coins, a number of sestertii in a perfect grade, as well as nearly 70 lots comprised of coins minted under Postumus, with great rarities. Also late antiquity and the early Middle Ages are well-presented.
50 lots of ancient art round off the selection.
The bibliophile numismatist can look forward to almost 550 lots of numismatic literature, for the most part duplicates from the BCD Library. Collector-friendly estimated, they include extremely rare works.
Lot 24. Remi (Reims region, Champagne. Potin, ca. 60-40 BC. Good very fine. Estimate: 100 euros.
A small series of potin pieces
The sale will kick off with 45 lots of Celtic strikings, among them a small collection of potin coins, some in a grade well above average. Several of these Gallic strikings feature imagery similar to the Gundestrup Cauldron. The obverse of Lot 24 depicts a man with long plaits, sitting in the lotus position and holding a torques in his right hand. A quite similar depiction used to be associated with Cernunnos. Today, a different identification is thought more plausible: a shaman who is about to embark on a soul journey.
Lot 74. Henna (Sicily). Bronze, ca. 339/8-335. Very rare. Almost extremely fine. Estimate: 2,500 euros.
Greek coins
Almost 100 in number, the Greek coins will continue the auction. Whether gold, silver or bronze, whether tetradrachm, stater or obol, whether Magna Graecia, the Greek motherland, Asia Minor or the Near East, in this department every collector will find something of interest.
The admirers of bronze coins should take a particularly good look, for the range of offers contains numerous rare pieces in an outstanding grade, often with an untouched patina. Dating from Hellenistic times, a bronze coin of the Sicilian city of Henna, today's Enna, serves as evidence. The representation of Demeter refers to the main cult of the city which in ancient times claimed to be the place where Pluto had abducted Persephone. The head of Demeter on the coin likely recalls her famous bronze statue which is primarily known to us as part of the booty of governor Caius Verres.
Lot 153. Nero. Sestertius, Lugdunum, 66. RIC 517. Untouched jade green patina. Extremely fine. Estimate: 5,000 euros.
Roman coins
As is customary with Jacquier, the Roman coins occupy center stage, amounting to roughly 350 lots. Mainly the sestertii will make the connoisseur's heart leap for joy. Untouched patina, superb portraits, the quintessential art of Roman die cutting – everything the collector's heart longs for.
Lot 156. Vespasian. Sestertius, 71. RIC 243. Untouched surface. Showpiece. Estimate: 8,500 euros.
The sestertii of Nero, Vespasian, Nerva, Aelius, and Septimius Severus deserve special mentioning.
Lot 234. Philip II. Quinarius, Rome, 248. RIC 231b. 3rd known specimen. Very fine / Extremely fine. Estimate: 4,000 euros.
The rare quinarii to be found in Jacquier Auction 43 should not go unnoticed, either. The most spectacular piece is a quinarius of Philip II, the third specimen known to exist. Of the remaining two one is in the British Museum and thus not available to collectors. The other was auctioned as part of the Trau Collection in 1935.
Lot 290. Postumus. Antoninianus, Cologne, January 268. Unique, published for the first time in 2017. Extremely fine. Estimate: 2,500 euros.
Every collector interested in coins of the Gallic Empire is well aware of the fact that Jacquier is THE expert in this field. It does not come as a surprise, then, that Auction 43 has some truly spectacular specimens in store. The almost 70 lots with coins of Postumus himself, of Aureolus in Postumus' name, and contemporary imitations include notable rarities and a spectacular unique striking. The latter's date can exactly be determined thanks to the bust it shows. Jupiter Stator points to the victories of Postumus over Gallienus.
Lot 274. Postumus, unknown mint, 263. 2nd known specimen. Very fine. Estimate: 4,000 euros.
The reverse of another antoninianus is dedicated to VICTORIA POSTVMI AVG. Needless to say that not only antoniniani will be available, but double sestertii as well.
Lot 485. Jovian. Siliqua, Arles, 363-365. RIC 331. Rare. Beautiful toning. Extremely fine. Estimate: 750 euros.
There are also many outstanding strikings from late antiquity on offer, for instance thrilling siliquae of Jovian, Valentinian I, and Jovinus.
Lot 500. Charlemagne. Denar, Mayence, ca. 768-775. Extremely rare. From a Belgian private collection (1960s). Very fine. Estimate: 5,000 euros.
Early medieval times
Last but not least, let's mention an extremely rare denarius of Charlemagne from the city of Mayence, minted between 768 and 775. The coin has formed part of a Belgian private collection since the 1960s. Mayence and Charlemagne are first and foremost linked through the Rhine Bridge, the only larger bridge over the Rhine dating from early medieval times. It was of strategic importance. The bridge enabled Charlemagne to easily cross the Rhine on his way from his Frankfurt palatinate to his Ingelheim palatinate. The Rhine Bridge of Mayence was so widely known among Charlemagne's contemporaries that Einhard mentioned it in his biography of Charlemagne.
Lot 511. Gold ring with layered agate gem depicting a hoopoe. Early Imperial times. Work of an exceptional quality. Estimate: 3,500 euros.
Ancient art
A signet ring dating form early Imperial times constitutes the literal gem of the 50 lots with ancient art. The gold ring supports a layered agate that depicts a hoopoe to the right, sitting on a elaborated twig. It was probably the eye-catching feathers on his head that prompted Aristophanes to call him the king of birds. He is also mentioned in the Quran, as the messenger between Solomon and the Queen of Sheba.
Literature
The lots amounting to almost 550, numismatic literature constitutes a major part of the upcoming sale. First of all, it entails a great number of works of a more recent date that are almost indispensable to any advanced numismatist. To single out only two: Authored by Calciati, the three-volume Bronze Coinage of Sicily (estimate: 950 euros), and – as another standard reference – the Pegasi to which he devoted a two-volume work (estimate: 350 euros).
Duplicates from the BCD Collection
It seems safe to assume that the rarities from the BCD Library are of special appeal to every bibliophile numismatist. Adding to important works that are still accessed on a daily basis – like the publication of the Asyut Hoard (estimate: 30 euros) or the study on Greek and Roman coin imagery as related to the history of medicine by author Oscar Bernhard (estimate: 25 euros) are numerous books that give an account of the history of numismatics.
Let us have a look at only one telling example: Despite its almost marginal estimate of 50 euros, Lot 1035 offers two important work of early numismatics. The first one is a book by Nicola Francesco Haym, actually a composer, cello player, and librettist of several operas of Georg Friedrich Handel. When Handel decreased in popularity, the multi-talented Italian with German roots, who also lived in Holland for a short period of time – a Baroque expat as it were –, decided to document all ancient statues and coins in British collections in several volumes. The only volume that was ultimately released proved so useful that in 1762 a Latin translation was published in Vienna.
The second book offered in this lot was also written in 1762, by Jacob Gessner in Zurich. It is a supplement to one volume of his monumental work which – in anticipation of the 'Griechisches Münzwerk' – he planned to incorporate and illustrate all ancient coins. It finally came up with a text spanning 254 pages and 347 copperplate engravings, covering a total of 15,000 coins. Two of the plates are shown in the small work offered at this auction.
If you prefer a work from recent history: Hardly any Olympic Games in the past did not succeed in inspiring a numismatist of the present to write a slender book with the relevant coin illustrations. As for the notorious 1936 Olympics in Berlin, the author was Max Bernhart (1883-1952), Director of the Munich State Coin Collection since 1933.
Something just as fascinating is the 1977 catalog of the International Association of Professional Numismatists, documenting the coins that were stolen from the Naples Archaeological Museum. This brochure is so important because prior to its publication there had not been any illustrations of most of the pieces available to the general public.
It remains to be stressed that the BCD duplicates include a major part with important auction sale catalogs published before WWII, in most cases even before WWI. Among them are catalogs of Brüder Egger, of Ratto and Sotheby.
The fully illustrated catalog may be ordered for 15 euros at Paul-Francis Jacquier, Honsellstr. 8, D-77694 Kehl am Rhein, phone: +49 (0)7851 / 1217, e-mail.
To place a bid live online, please register in time online.
The auction catalog can be viewed online.
You can find Auction 43 at Sixbid.