[bsa_pro_ad_space id=4]
Pantikapaion Stater Top Lot in CNG Feature Sale
A rare Greek gold stater from the Black Sea city of Pantikapaion drew frenzied bidding and reached $134,750, nearly double the presale estimate, in Classical Numismatic Group LLC's Feature Auction 121, highlighting strong prices overall for ancient Greek, Roman, Byzantine, World and British coins.
The auction, held over three days October 6-8, 2022, at the firm's headquarters in Lancaster, PA, and webcast live, realized a total of $5.38 million in sales, a record for any Fall auction held by CNG over its 46-year history, said Mike Gasvoda, Managing Director. All prices quoted are inclusive of the 22.5% buyer's premium.
"Our tally was about 60% over the presale estimate of $3.3 million," Gasvoda said, "which shows a continuation of the strong market for rare and historic collectible coins, despite recent turmoil in the financial marks and currency exchanges."
The highest price reached was for lot 283, a spectacular gold stater of Pantikapaion, a Greek trading post on the Black Sea coast, struck circa 340-323 BC. The obverse bears a striking portrait of the demigod Pan, while the reverse depicts a griffin, legendary guardian of gold treasure. Graded Mint State, the coin was estimated $75,000 and was quickly bid up to the final tally of $134,750 all in.
Other ancient highlight results include:
$85,750 for lot 129, a beautiful silver decadrachm of Syracuse, signed by the die-engraver Euainetos,
$79,625 for lot 696, an impressive silver tetradrachm of Cleopatra VII of Egypt and the Roman general Mark Antony, with a detailed portrait of the famous queen,
$42,875 for lot 804, a Roman gold aureus of the short-lived emperor Galba,
$36,750 for lot 65, a beautiful Greek silver stater of Metapontion in southern Italy,
$36,750 for lot 152, a large gold trihemistater of Carthage, struck 272-264 BC,
$24,500 for lot 935, a Roman gold "heavy aureus" of the Emperor Aurelian.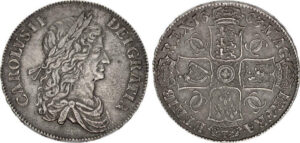 The extensive British coin offering saw a strong performance for silver milled crowns from the Gainsborough Collection, including lot 1365, a rare Charles II crown of 1663, which soared past its $5,000 estimate to reach $20,825. Other British and World results included $24,500 for lot 1254, a silver penny of the Anglo-Saxon Queen Cynethryth, wife of Offa of Mercia, and $23,275 for lot 1229, a gold 5 Dukat of Transylvania depicting Holy Roman Emperor Francis I (1745-1765).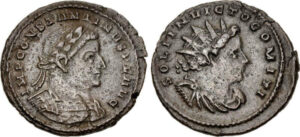 Some of the most impressive results versus presale estimate were obtained by coins from the collection of Paul DiMarzio, focused on late Roman bronze coins from the mint of Londinium, modern London. These included lot 969, a rare bronze follis of Constantine, estimated $300 and achieving more than 10 times that with a final all-in price of $3,675. Altogether the 28-lot DiMarzio collection brought just over $26,000, nearly quadrupling the presale estimate. "CNG stands alone in bringing wonderful specialized collections like this to the market," Gasvoda said.
Two more sessions of exemplary Ancient, World and British coinage come to the block in CNG's Electronic Auction 525, closing Wednesday and Thursday, Oct. 19 and 20, starting at 10 am EDT. The results of Feature Auction 121 bode well CNG's marquis auction Triton XXVI, scheduled for January 10 and 11, 2023, in conjunction with the New York International Numismatic Convention at the International Barclay Hotel in New York City, Gasvoda said. "If you'd like to take advantage of this strong market, consign to Triton 26 soon! We already have a very impressive lineup of coins assigned to this sale and the catalog is in production, but there is still time to include choice material."
All results from the CNG Feature Auction 121 are available online.
For further information, visit the CNG website.