[bsa_pro_ad_space id=4]
Outstanding Ancient and British Coins at CNG
IMPORTANT NOTE: Due to the developing situation regarding the novel coronavirus COVID-19, governments are continually placing restrictions upon public gatherings and travel. It is therefore likely that all of the information in our catalog, regarding venue, lot viewing, and lot pickup, as well as the terms of sale listed on the CNG website, will change.
CNG will communicate any changes via email and social media (Facebook and Twitter).
Classical Numismatic Group presents CNG Feature Auction 114, a Public and Online Sale closing Wednesday & Thursday, 13-14 May 2020. CNG 114 will be held at the Lancaster Marriott at Penn Square, 25 South Queen Street, Lancaster, PA 17603 in the Independence Room (2nd Floor). This sale offers 1405 lots with a presale estimate of $2.54 million.
The annual spring sale features Greek, Celtic, Oriental Greek, Central Asian, Roman Provincial, Roman Republican, Commercial weights, Roman Republican and Imperatorial, and Roman Imperial coinage. Additionally, there are featured selections of Byzantine, Early Medieval and Islamic, World coinage and medals, British coinage and medals.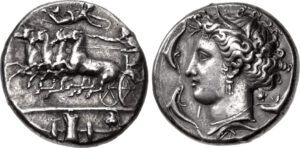 CNG 114 is highlighted by a number of collections and individual rarities, which make up the majority of coins on offer:
Further Offerings from the Jack A. Frazer Collection of Ancient, World, & British Coinage
A Selection of Ancient Coins from an English Queen's Counsel
Greek and Roman Coins from the Jonathan P. Rosen, John L. Cowan, Benito, San Vicente, and Weise Collections
A Choice Gold Stater of Tarentum from the Time of Pyrrhos
A Syracuse Dekadrachm from the Hermitage Collection
An Extensive Offering of Greek Electrum Coins, including Further Selections of Kyzikos from the Siren Collection
Further Selections of Seleukid Coins from the MNL Collection
Roman Coinage from the Collection of Professor David R. Beatty, C.M., O.B.E.
A Large Offering of Mark Antony Legionary Denarii
Roman Imperial Gold from the Provence Collection
An Adlocutio Sestertius of Galba – Among the Finest Known
A Choice Hadrian and Divus Trajan Aureus
A Significant Offering of Coins from the Travel Series of Hadrian
Fourth Known Presentation 10 Dirhams from the Mongol Great Khans
Selections from the James & Martha Robertson Collection of British & Scottish Coinage, Including a Diverse Selection of Thrymsas, Sceatts, and Pennies, and
An Important Offering of Early Scottish Coinage
Catalogs for CNG 114 have been mailed to the company's active mailing list and bidding is open on the site. Some of the individual highlights from CNG 114 are:
Pyrrhos Emulates Alexander
This rare and beautiful gold stater type was most likely struck by Pyrrhos of Epeiros during his expedition to southern Italy, at Tarentum's invitation, to fight the expansionist Romans circa 281-276 BC. Struck from dies of extraordinary style in sculptural high relief, the obverse emulates the famous silver coinage of Alexander III the Great of Macedon. The reverse depicts Taras holding a trident and driving a biga, establishing Tarentum as the mint. Wolfgang Fischer-Bossert, citing the support of S. Garraffo and G.K. Jenkins, places the issue during the famous Italian expedition of the Epirote dynast Pyrrhos, whose desire to imitate Alexander's career of conquest was well known. The bloody campaign of Pyrrhos gave us the term "Pyrrhic Victory," meaning a victory won at such terrible cost that it might as well be a defeat.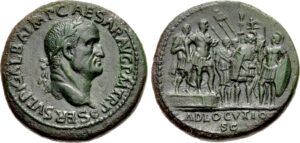 Galba Adlocutio Sestertius – Among the Finest Known
By AD 68, Servius Sulpicius Galba had governed Hispania for nearly eight years with a single Roman legion, VI Victrix, under his command. In April of that year, with Nero's regime crumbling, Galba appeared before his soldiers and proclaimed himself a vir militaris representing the Senate and People of Rome, marking his break with Nero and taking the first steps that would lead to his brief, chaotic reign as emperor. The scene is reproduced on this remarkable sestertius, an artistic tour de force, struck at the mint of Rome in December of 68. Although Adlocutio scenes depicting the emperor addressing soldiers had appeared on Roman coins before, notably on sestertii of Caligula and Nero, this piece represents a sharp departure from prevailing artistic norms. The four visible soldiers and a single horse are arrayed, not as identical units in ordered ranks, but in a variety of individualized postures and kits, along with standards, banners and weaponry, all layered to to suggest a huge mass of restless Roman soldiery. Galba faces them on a raised platform dressed as a soldier himself, his facial features distinctive despite the small scale. The composition has been aptly termed a masterpiece of numismatic art that has seldom, if ever, been equaled in the centuries since.
Superb Hadrian – Divus Trajan Dynastic Aureus
Publius Aelius Hadrianus, born to an aristocratic family in Roman Spain, lost his biological parents by AD 86 and became the ward of the future emperor Trajan, another Spaniard. As a young man, Hadrian began a career in the Roman government and military, and in about AD 100 married Sabina, a favored great-niece of Trajan. He also cultivated the friendship of Trajan's wife Plotina. Though widely regarded as a favorite for the succession, Hadrian was not formally named Caesar until Trajan fell fatally ill in Cilicia while returning from his great eastern campaign. It was not a universally popular choice and rumors immediately spread that Hadrian's adoption was stage-managed by Plotina after Trajan had already died. Hadrian, serving as governor of Syria, took immediate action to secure the throne, inducing the eastern legions to acclaim him as emperor by means of a hefty bonus. He then wrote to the Senate declaring his accession a fait accompli, but requesting his formal designation as emperor along with the deification of Trajan. With no real alternative, both requests were readily granted. This spectacular aureus, pairing Hadrian's portrait with that of the newly deified Trajan, was struck in Rome during the first months of the reign to mark both the accession of a new emperor and the creation of a new god, who is pointedly named as his father (DIVO TRAIANO PATRI AVG).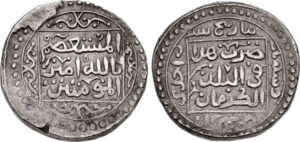 Enigmatic Presentation 10 Dirhams – Fourth Known
Previously unpublished until the appearance of the Numismatica Genevensis SA coin, this 10 dirhams represents an important period in Mongol history. Following the Mongol conquest of eastern Afghanistan in AH 618 (AD 1221/2), the inhabitants of al-Kurraman, a river district in what are today the tribal borderlands between Afghanistan and Pakistan, showed their allegiance to the Mongols by striking coinage in the name of the Great Khan. Following the death of Ögedei Khan in AH 639 (AD 1241), a period of turmoil followed over the succession. Ögedei Khan's wife, Töregene (Turakina) became regent, serving until her son Güyük was elected Great Khan in AH 644 (AD 1246). During this regency, Töregene ruled with complete authority as Great Khatun – female counterpart to the Great Khan.
On this coin, however, neither Töregene's name or title appears. Instead, the Abbasid caliph al-Musta'sim is cited as al-'amīr al-mūminīn – the religious and spiritual authority. During this uncertain period among their Mongol overlords, the al-Kurraman mint may have felt it prudent to strike a non-partisan issue in the name of the current 'Abbasid caliph. Whether used as tribute to the caliph in Baghdad, as payment for soldiery employed by Töregene, or to buy the loyalty of the locals, these coins were quickly melted and reused, thus making them exceedingly rare. The last known coinage from this mint was struck in the name of the Great Khan Möngke, after which this mint disappears from the numismatic records.
CNG E-Auction 468
In addition to CNG Feature Auction 114, CNG will also feature over 900 lots from many of the same collections listed above in their Electronic Auction 468, closing one week later on Wednesday, 20 May 2020, from 10AM ET (U.S.). Bidding for CNG Electronic Auction 468 will begin on 6 May 2020.
All lots of this sale can be viewed online at the CNG website as well as on Sixbid and Numisbids.
CNG is currently accepting consignments for future auctions sales. Please contact the firm for further details and consignment deadlines.
For further information, please contact CNG.