[bsa_pro_ad_space id=4]
Obolos 23: The Results!
Obolos 23 was held on a hot and sunny Sunday in Zurich: your correspondent spent time cleaning out the garden pond, or at least some of it. Over all it did quite well, indeed: interesting coins of high quality were much in demand and sold at high prices; good coins sold for reasonable prices – some were real bargains; and coins, (which should have been probably in multiple lots), sold at their starting prices or not at all. But now, for some results!
The auction began with the second part of the Alexandrian Collection belonging to J.-P. Righetti, a passionate collector who has long been able to see the historic interest and numismatic attractiveness in found in coins that other people often might just pass by. Here is one that no one passed by…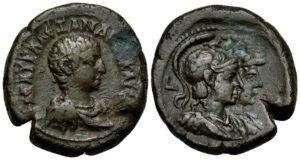 Lot 98 is a tetradrachm of Severus Alexander Caesar, struck during the fifth year of Elagabalus's reign in Alexandria (221/222; lot 98, SP 160 CHF). The obverse shows us the usual bare headed bust of a prince, familiar from those of Diadumenian and Geta, and on the reverse we have the symbolically interesting jugate busts of Roma and Alexandria. This seems to be the second known example and it soared right up to 1,700 CHF!!
Lot 147 – another rare coin, this time from Kamarina – Westermark and Jenkins only knew of two examples of the type – and it received quite a few bids. Thus, lot 147's SP of 1000 CHF soared up to 4,200 CHF!!
Here's another Sicilian coin that did remarkably well: a Syracusan tetradrachm, lot 162 (SP 800 CHF), zoomed up to a final hammer price of 9,500 CHF!
This intriguing little bronze, a double chalkous?, comes from the Black Sea city of Mesambria (or Mesembria or Messembria), now modern Nesebar in Bulgaria (thus it has yet to be bombed flat as have other Black Sea cities). It (lot 216) was given the SP of 40 but it more than tripled to sell at CHF 150. It is dated to the "4th–3rd Century BC" and bears a Corinthian helmet on the obverse and a shield, apparently an oval Celtic shield, rather than the usual Greek round one. We see it from the inside, but turned sideways, showing the strengthening struts and the interior of the boss on the surface, with the handhold shown vertically.
Corinthian, and Corinthian-type, staters have long been extremely popular due to the myriad of symbols they bear; with enough resources a collector can amass a collection of hundreds and hundreds of different examples! Here's one (lot 364, SP 200 CHF) from Corinth with a flying Nike as a symbol: it went for 1,300 CHF!
Lot 422 a drachm from Assos in the Troad, and it is a coin I particularly like (lot 422, SP 250 CHF). They have a vigorously rude vitality about them and it is clear that there are many other people who like them too: this one went up to 1,700 CHF!!
Would you want to be called Uvug? Uvug Mylonas? Uvug Akurgal? Sir Uvug Evans? Almost certainly you wouldn't! What a thought! But, of course, in 5th century BC Anatolia – specifically in Lycia – Uvug was a popular name for boys; you can just imagine a loving couple looking fondly at their new born son and saying, "what shall we call him?" After a little deliberation the wife would say, "I have it! Let's call him Uvug!"; and her husband would say, "Gee Honey, what a great name, he looks just like an Uvug!!" Well, unlike today, when it is very unlikely that you will ever find anyone looking like an Uvug, in those days there were people who did look "like an Uvug", and one of them issued this coin (lot 443, SP 60 CHF) in Lycia, c. 470-440 BC. Why has it been catalogued here under Ionia – don't ask! Anyway, today there seem to be quite a few Uvug-fanciers, and they drove up the hammer price to 500 CHF!
Have you ever wondered how our cataloguers chose the coins that end up with titles in the online catalogue, like this one (a coin of Domitian from the Community of the Macedonians, lot 586, SP 60 CHF), which is entitled "Powerful depiction of the Macedonian Shield"? And, specifically in relation to this one, how can you tell the difference between a powerfully depicted Macedonian shield and a, say, weakly depicted one? Here are two more, neither of which are described as being powerfully depicted: Lot 585 and 587
Both are also struck by the Community of the Macedonians, the first in the time of Claudius or Nero (lot 585, SP 75; Hammer price 100 CHF) and the second under Hadrian (lot 587, SP 50, HP 90). Do note that while the shield on 585 is surrounded by a single border of dots, and 587 is surrounded by a double border, 586, which sold for a "powerful 130 CHF", has a double border of dots within a circular linear border! Maybe that is the answer: our piece has what amounts to a shield with a triple border!! Pretty powerful, no?
I wrote about this piece a short while ago – a denarius of L. Papius (lot 680, SP 100 CHF) with the symbols of a baker's shovel or peel on the obverse, and a baker's oven on the reverse. I thought they were fascinating pair of symbols: so did a lot of other people and the coin flew up to 700 CHF!
Another rarity that was particularly intriguing was this wholly epigraphic piece of Cleopatra and Antony (lot 692, SP 200 CHF). A mass of people was interested in this one, and they drove it up to a final hammer price of 2,600 CHF!!
Rarity really does matter, at least it does with our erudite clients! Lot 736 is a just very fine denarius of Crispina with a very, very rare obverse legend (lot 736, SP 50 CHF). You would think that no one would really care, wouldn't you? Wrong. This coin received scads and scads of bids, finally ending up at 1,100 CHF!!
Here we have a puzzle. This seems to be absolutely unique and very intriguing: it is in the name of Constantine I Augustus but it has a reverse that is only appropriate for a Caesar (Principi ivventvtis), which makes it a mule of some kind (lot 810, SP 75 CHF). Our erudite cataloguer assigned this unmarked piece (is it a half follis as stated in the "catalogue" or could it be a "proof" from solidus dies?) to Ticinum based on the style of the portrait, but if the date used for this piece here – 309-313 – is right (rather than being from the early 320s, which would agree with the reverse), there are no Ticinese busts of Constantine that match this style. However, there can be no doubt that this coin was struck in a western mint since it has absolutely no eastern parallels. What is intriguing about this bust is the little line of three pellets at the back of the emperor's neck; and the triple row of flowing cloth at the front of his neck, above the curving line of his paludamentum. There are similar, but not the same, busts from Trier (as RIC 1-8 ff.) as well as Arles, and also similar reverse legend breaks (…I I – V-V…); but all have mintmarks. What an enigma! That's probably why it soared on up to 950 CHF!!
Let's end with a multiple lot, lot 1073, a group of Central European silver fractions of the Boii and the Vindeliki, bought en bloc by the Trausnitz collector in Germany in 1994. Given a Starting Price of 400 CHF it proved wildly interesting to a considerable number of collectors: it soared up to 2,900 CHF!
Well, that's it, if you want more results just go to our site and check for yourself!
For further information about the auction house, visit the Nomos website.