[bsa_pro_ad_space id=4]
Obolos 14 Successfully Closed With 93% Sold
Well, Obolos 14 was a very pleasant sale! The total starting price (SP) for the auction was CHF 147,785 and the final hammer price was CHF 304,774 – not bad at all! We had 4390 bids, which came from no fewer than 529 separate bidders. The bidders themselves come from 41 countries, ranging from Albania, Andorra, Australia and Austria, through China, Finland, Puerto Rico and Qatar, all the way up to the Ukraine, the United Kingdom and the USA. Thanks to Dimitri's IT brilliance we even know what some of our bidders look like: there's one collector of medicina in nummis who turns out to be a retired army doctor: he smokes trichinopoly cigars, has a guardsman's mustache, and walks with a slight limp from an an old jezail bullet! He is also a very intelligent collector with excellent taste.
But here are a few interesting results from Obolos 14:
Dimitris always liked this coin, which is why he put it in as a highlight the last newsletter. The head of Leukippos is a very noble one, of elegant style – looking slightly upwards in DG's favorite way – but what strikes me as fascinating is the prominence given the two symbols, the barley grain and the poppy-seed pod. They are much bigger than you would expect them to be (note that the legend reads ΜΕΤΑΠΟΝ rather than just ΜΕΤΑ as given in Obolos). Well, it went from an SP of CHF 400 to 1100!
Lot 67, a Nomos from Terina signed on both sides by the artist P; with an SP of CHF 150 it went up to 800!
A lovely tetrobol of Abdera, lot 73 (SP 75) went up to 1000! This must be a specialist rarity!!!
Lot 109, an obol of Pharkadon (SP CHF 150) and, frankly, the buyer got this for a fantastic, bargain price, given its fabulous workmanship: only 200!!!
Another bargain was lot 146, an Athenian tetradrachms of the 430s BC (SP CHF 300) it sold for the unusual price of 463 CHF! Frankly, in the 1990s it would have sold for 2000, and that would have been a snip!
This is lot 228 (SP CHF 150), one of a group of late Rhodian drachms of excellent quality and often of attractively dramatic late Hellenistic style: this is certainly a wonderful one, well worth its CHF 900 hammer price!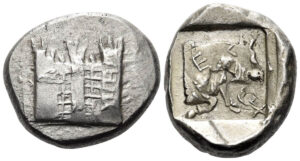 Dimitri gets very excited about what might be termed scholarly coins; for example, coins that tell us about chronology through overstrikes and undertypes. So when we were consigned lot 259. a silver stater struck possibly in Tarsos, or in some other mint in SW Asia Minor, he practically jumped through the window! He recognized the undertype as being from Aspendos. That must be why its SP of 200 jumped up to a hammer price of 2200!
In a previous note I mentioned how attractive and interesting this large bronze of Commodus from Cyzicus was: lot 340, SP CHF 500. It went up to 2400 CHF!
Tesserae are coin-like objects, sometimes made from various copper alloys, sometimes in lead, that served as tokens and had a value: they could be exchanged for things (grain, oil, wine, presents, services, etc) in lieu of actual money; they could prove attendance at official events, or could serve as entry tickets; etc. They have also become more and more popular. So here is lot 426, a lead tessera from Alexandria, struck sometime in the 2nd or early 3rd century. With a pedigree going back to the Dattari Collection (and to Naville 30 in 2017) it had an attractive SP of 300 but went right up to a hammer price of 950.
The Elephant Denari of Julius Caesar are invariably popular: the design is clear, with a trumpeting elephant trampling on snake and the bold legend CAESAR on one side, and some boldly displayed priestly implements on the other. It's great for jewelry, it's great for teaching, it's great to look at – there are none of the complications so common with other Roman Republican coins, whether of the early period or of Imperatorial times. But, maybe, our starting price of 150 was a bit low for lot 438: it sold for 2200!!! Maybe its buyer found a pedigree for it? It is really nice…
Taking a big jump we go to lot 681, a Crusader imitation of a silver dirham of Damascus, struck in Acre in 1251; all the legends are in Arabic but with Christian content (with an SP of 300 it sold for 1000).
As most people know, there is an old Greek tradition of hiding a coin in the cakes (Vasilopita) made to celebrate the New Year. This custom seems to have been taken over from the festival of St. Apollonia, a virgin martyr from Alexandria who was tortured by having her teeth pulled out. While she is venerated in the West – she is one of the Patron Saints of Catania – she was also revered by the Orthodox, who saw her as the patron of dentists. In Byzantine times dental surgeons celebrated her by putting a coin in a cake, slices of which they offered to patients: this often resulted in broken teeth, which the dentists then pulled, accompanying their work with prayers to St. Apollonia. Thus, our Dimitri has followed this tradition by trying to always include something special in every big lot we have. This is lot 738, a fascinating group of 155 small Greek silver coins, in which DG made sure there was something special: since it had an SP of 60 and went for 2000 CHF it must have had something really good in it!!
On the Nomos website you can find all results.