[bsa_pro_ad_space id=4]
09-12-2012 – 10-12-2012
Auction 155: Numismatic rarities – Friedinger-Pranter Collection
A Feast for Collectors at Numismatik Lanz Auction 155
Auction 155 of Numismatik Lanz in Munich was an auction collectors dream of! Among other material the Friedrich-Pranter collection was sold featuring many eminent pieces with good provenances for the benefit of the Caritas aid organization. Thanks to that, rarely seen coin types rejoined the market, many of them in a sublime grade with a perfect collection patina.
Those sitting in the room had the advantage to react immediately when some piece could be bought at the opening price. At Numismatik Lanz, as you must know, a coin starts at 60 percent. (In post-auction sale the pieces can be purchased at 80 percent of the estimated price.) And for that reason many collectors' faces beamed with joy about the acquired coins of the most distinguished provenance. Or would you hesitate to buy an extremely fine tetradrachm from Athens for 600 euros?
But, of course, not all pieces stayed at the starting price. Some of them saw a remarkable increase like a Celtic 1/24 stater of the Janus 1 type. It was called at 300 euros and knocked down, in the end, at 1,000 euros.
31: Acragas (Sicily). Tetradrachm, c.409-406. BMC 57. SNG Lloyd 818 (= Pozzi Coll. 388). Rare. Nearly extremely fine. Starting price: 3,600 euros. Hammer price: 13,000 euros.
And there were even more remarkable results with the Greek coins. Let's take for example a fantastic tetradrachm from Acragas in nearly extremely fine estimated at 6,000 euros. The starting price was 3,600 euros, the bidding ended only at a hammer price of 13,000 euros. And the man who purchased it was sure to have made a good deal! The same goes for an extremely rare, extremely fine and very interesting drachm from Gela minted with particularly fresh dies on both sides. It was estimated at 1,500 euros. The coin, hence, started at 900 euros and the hammer price was 3,200 euros.
83: Getas, King of the Edones (c.480-460). Octodrachm, c.470. Kraay pl. 26, 483. Very rare. Showpiece in extremely fine. Starting price: 30,000 euros. Hammer price: 48,000 euros.
One collector bought the arguably nicest oktodrachm of Getas, King of the Edones, really at a good price. The extremely rare and extremely fine showpiece was estimated at 50,000 euros. It climbed, though, from the starting price of 30,000 euros to 48,000 euros – and stayed thus only slightly below the estimate.
Oh, these perfect coins with an old collection patina, they scored particularly high results. Take, for example, a marvelous tetradrachm from the Roman province of Macedonia, nothing really spectacular, but simply beautiful (starting price: 300 / hammer price: 1,000 euros) or a perfect fraction from Aegina featuring a sea turtle (starting price: 300 / hammer price: 3,400 euros). And we also should not forget a tetradrachm of Mithradates showing his impressive portrait with flying hair (starting price: 2,400 / hammer price: 10,000 euros). Let's conclude the Greek section by looking at a denarius of Iuba II and Cleopatra Selene mentioned in the auction preview already. This perfect piece started at 3,600 euros and the last bid of the lucky buyer was 7,500 euros.
396: Q. Pomponius Rufus. Denarius, 54. Rv. Portrait of the dictator Sulla. Cr. 434/1. Extremely fine. Starting price: 600 euros. Hammer price: 5,200 euros.
The same could be observed with the Roman coins. Here, some collectors succeeded paying really collector-friendly prices, too. And those who paid more were delighted by the incredible quality of the purchased items as for example in the case of a denarius of Q. Pompeius Rufus featuring Sulla's portrait. The extremely fine coin started at 600 euros but halted only at 5,200 euros.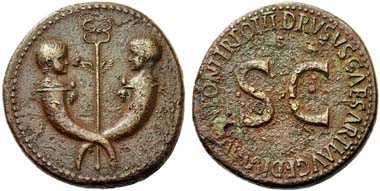 433: Tiberius. Sestertius, 22-23. Av. Busts of Tiberius Gemellus and Germanicus on cornucopiae. RIC 42. Rare. Reddish brown patina. Rv. slightly corroded. Nearly extremely fine / very fine. Starting price: 300 euros. Hammer price: 4,000 euros.
Something similar happened with a sestertius of Tiberius that had been clearly underestimated. On the obverse the coin was extremely fine and showed two cornucopiae from which emerged the busts of Drusus' twin sons. The coin was estimated at 500 euros, but, actually, the result was the octuple: 4,000 euros. This coin met exactly the expectation of collectors: honest quality and uncleaned surfaces. In these cases prices exploded. Indeed, it happened with many bronze coins as for example a dupondius of Trajan with a bright green patina (starting price: 300 / hammer price: 2,200 euros) or a sestertius of Crispina (starting price: 240 / hammer price: 1,050 euros) but as well with denarii like those of Hadrian (e.g. starting price: 240 / hammer price: 650 euros).
And rarities charged high in any case. The collectors spotted the extremely rare tetradrachm of Crispina from Alexandria in very fine (starting price: 300 / hammer price: 1,100 euros), the (fourrée) tremissis of Libius Severus III (starting price: 600 / hammer price: 2,100 euros), or the solidus of Constantinus VI and Irene (starting price: 1,800 / hammer price: 3,800 euros).
The auction's highlight, however, was still to come! The Friedinger-Pranter Collection of medieval coins, particularly bracteats, showed a quality not seen on the market for a very long time. And here it was the same: those present in the auction room were clearly at the advantage. Some treasures stayed in quite reasonable limits, other prices exploded like a denarius from Nordheim showing a portrait of Henry the Fat on the reverse. Bidding started at 900 euros and halted only at 8,500 euros.
Arnstein (Lower Saxony). Walter II, 1135-1176. Bracteat, Hettstett. Berger 1452. Very rare. Extremely fine. Starting price: 6,000 euros. Hammer price: 9,500 euros.
Even higher was the result of a perfect bracteat from Arnstein displaying an archway, above, an eagle, below, a lion. This piece realized 9,500 euros. This is, indeed, an impressive price for a bracteat, concerning the artistry it is still a bargain. The same goes for the sum of 8,000 euros paid for a bracteat from Gelnhausen which shows the famous royal couple of Frederick Barbarossa and Beatrix side by side.
Today bracteats are quite cheap in proportion to their beauty. Just take these two examples: Hermann II of Thuringia, son of holy Elizabeth, issued a splendid bracteat showing himself as landgrave holding the banner riding on a dapple grey, in the background a building with three towers, probably a castle. This wonderful piece realized 850 euros. (And now think just for one moment about what Greek coin you could have bought for the same money.) A similar case is that of a bracteat in FDC minted in Lindau between 1230 and 1235. On the obverse it shows a lion in front of a lime tree with three leaves. The incredibly fresh item with its Romanesque execution of the animal realized 1,600 euros.
Quite remarkable were as well the prices paid by collectors for medieval coins from Tyrol. An extremely fine pfennig (though with some flatnesses) from the hoard of Naturns minted by Henry III of Berchtesgaden in Brixen realized 5,750 euros (starting price: 2,400 euros) and a very fine zwanziger of Egino of Eppan from Trient was knocked down at 3,000 euros (starting price: 300 euros).
1032: Gorizia (Tyrol and Northern Italy). Engelbert III, 1187-1220, and Meinhard II, 1187-1232. Denarius, Lienz. Rizzolli, CNTM/LI2 (L2). Extremely fine. Starting price: 3,000 euros. Hammer price: 8,000 euros.
However, a denarius issued by Engelbert III and Meinhard II from the countship of Gorizia and minted in Lienz took the biscuit. The very fine piece climbed from a starting price of 3,000 euros up to 8,000 euros.
It certainly was worthwhile for all those who attended the Lanz auction 155. And the Caritas can be glad of the impressive results, too. Whoever wishes to buy some more coins from the Friedinger-Pranter Collection can do so online.
The auction catalogue and the prices realized are available here.
The upcoming Lanz Auction 156 will take place in June. If you think about consigning, contact Numismatik Lanz, Maximiliansplatz 10, 80333 Munich, Germany; email, Tel: +49 / 89 / 29 90 70, Fax: +49 / 89 / 22 07 62