[bsa_pro_ad_space id=4]
08-12-2013 – 01-01-1970
Auction sale 157: Numismatic Rarities. Dr. Ferrari Collection, Dr. Sattler Collection
Numismatic Rarities at NUMISMATIK LANZ
On 9th December, NUMISMATIK LANZ will conduct auction sale no. 157. The Focus are ancient coins, the Habsburg Empire and Italy featuring numerous rarities. Two collections, accumulated over the course of many years, will be liquidated.
Dr. Ernst von Ferrari-Kellerhof (1921-2009) was only twelve years old when he started collecting. His very first coin, a 1683 Leopold-groschen from Hall, created a fascination he was addicted to as long as he lived. In 1968, the specialist in dentistry became co-founder of the Numismatische Vereinigung Bozen, of which he was president at first, and honorary president since 2004. His collection of ancient and, most of all, Italian coins will be liquidated in auction sale 157 by Numismatik Lanz. The second collection containing several rarities from the House of Habsburg and many other areas likewise was put together by a physician, too. Dr. Arnold Sattler (1931-2010), born in Munich in 1931, worked in the USA for many years. His formative experience was a journey in 1965, when he travelled with the Beetle from Vienna via Turkey and Iran to Kabul in Afghanistan where he trained local doctors on behalf of CARE / MEDICO.
97: Thraco-Macedonian tribes. Uncertain mint. Double siglos, c. 500 B. C. Extremely rare. Extremely fine. Estimate: 40,000 euros. Starting price: 24,000 euros.
9:30 sharp – that is the time which the 157th sale of NUMISMATIK LANZ in Munich on 9th December 2013 is scheduled for, to be opened by a selection of magnificent Celtic coins. The Greeks are next: be it a nomos from Kaulonia with an impeccable provenance, a tetradrachm from Ainos or a gold stater of Mithradates VI – this sale offers something special for every aficionado of Greek numismatics. An Archaic coin of the Thraco-Macedonian tribes is highly likely to become one of the auction's highlights, weighing a double siglos and depicting a helmeted head on its obverse and a seven-stringed lyre on its reverse. This coin type is attributed to the island of Kalymna traditionally although there is a good case to associate this piece with the rich Archaic silver coinage of northern Macedonia instead.
137: Cyzicus. El-stater, 460-400. Rare. Very fine. Estimate: 25,000 euros. Starting price: 15,000 euros.
The entire trade in grain as well as slaves in the Black Sea Region was transacted with electrum coins from Cyzicus for many decades. NUMISMATIK LANZ offers many examples of this diversified coinage. The piece that stands out the most is an electrum stater whose obverse shows the Heros Kyzikos riding his rearing horse at a gallop to the right. This is the earliest depiction of the Thessalian founder of the famous city located at the Sea of Marmara where the tuna fish catch was so important that the animal became the characteristic feature of this city's coinage.
213: Elymais. Kamnaskires III and Anzaze, c. 82-74. Tetradrachm, Seleukeia at Hedyphon River. Very rare. Splendid specimen. Estimate: 20,000 euros. Starting price: 12,000 euros.
Let's single out just one last rarity from the comprehensive Greek offer, a tetradrachm from King Kamnaskires III of Elymais together with his wife Anzaze. The coin illustrates in a remarkable way how this kingdom in the south-west of Iran was influenced by the Greek AND the Parthian culture. While the double portrait of the royal couple is purely Greek in style, Kamnaskires is shown wearing Iranian garments, hair and beard style. The magnificent preservation of this piece is particularly noteworthy.
328: Faustina II, + 176. Aureus, 161-164. Mint state. E. Beckenbauer Coll. Bankhaus Aufhäuser 5 (1988), 317. Estimate: 15,000 euros. Starting price: 9,000 euros.
The section of Roman coins is opened by roughly 50 coins from the time of the Roman Republic, with early Aes Grave i. a. from Etruria and Umbria as well as many a rarity from the Roman Civil Wars. More than 100 lots with coins from Roman Imperial times follow. Whether aurei, denarii, antoniniani or bronze coins – there is exciting material for every collector and every budget!
The outstanding items are an aureus of Faustina the Younger from the Beckenbauer Collection, an antoninianus of Regalianus from Carnuntum (about extremely fine; estimate: 8,000 euros; starting price: 4,800 euros) and a sestertius of Titus, struck in a mint in the east (Thrace?) in 80 to 81 (extremely fine; estimate: 8,000 euros; starting price: 4,800 euros). By the way, there is a number of exquisitely preserved bronze medallions from the Greek cities under Roman rule dispersed amongst the entire auction!
357: Proculus, 280-281. Antoninian, c. 280-281, uncertain mint in Gaul or Britannia. Second specimen known to exist. Extremely fine. With export-licence of Arts Council England no. PAU/00206/13. Estimate: 50,000 euros. Starting price: 30,000 euros.
He who still doubts the existence of Emperor Proculus will be taught better by auction sale Lanz 157. The offered antoninianus of Proculus comes with a solid provenance: the specimen was found on 7th November 2012 on a field not far from Stamford Bridge in East Yorkshire and has been made from the same dies as the example that was auctioned off by Aufhäuser in 1991, now housed in the Staatliche Münzsammlung Munich. The latter coin was sold by an English collector, too, which makes a mint of Proculus located in Britain a likelihood.
The ancient section will end with a couple of Byzantine coins, including a solidus of Empress Irene, struck in Syracuse (mint state; estimate: 8,000 euros; starting price: 4,800 euros), and with a large series of coins from the Migration Period, mainly from the empire of the Ostrogoths.
477: Habsburg Empire. Ferdinand III, 1637-1657. 10 ducats 1643 (from 1642), Prague. From Hess-Leu 42 (1969), 208. Estimate: 40,000 euros. Starting price: 24,000 euros.
About 120 lots comprising coins from the vast empire of the Habsburg open the second part of the auction. The connoisseur discovers numerous rarities here as well, like, for example, the 10 ducat piece of Ferdinand III from Prague with the year 1643, that was changed from the original 1642 (very fine; estimate: 40,000 euros; starting price: 24,000 euros) or a broad 5 ducat piece of the Malcontents, struck in Nagybanya in 1703 (very fine; estimate: 5,000 euros; starting price: 3,000 euros). Likewise remarkable is a series of medals from the collection of Albrecht Marquis de Hohenkubin that might also serve as proof that the eminent coin enthusiasts of the past appreciated the medals' inherent beauty indeed.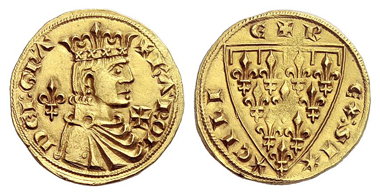 759: Italy. Kingdom of Sicily. Charles I of Anjou. Reale d'oro, Barletta. Extremely rare. Extremely fine. Grigoli 4 (1990), 569. Estimate: 25,000 euros. Starting price: 15,000 euros.
The Holy Roman Empire is followed by the foreign countries represented by roughly 270 lots of which about 120 come from Italy. Their spectrum is extraordinary. Covering everything from Aquileia to Venice, from 100 euros to 25,000, from the early Middles Ages to the Subalpine Republic, the range offers something for virtually every collector. Large series come from Aquileia, Milan and Venice, although other areas come up with notable rarities, too, like a reale d'oro of Charles I of Anjou from Barletta or an extremely rare Venetian ducat of Doge Antonio Grimani (1521-1523) (very fine; estimate: 20,000 euros; starting price: 12,000 euros).
864: Russia. Catherine II, 1762-1796. 10 rouble 1764, St. Petersburg. About mint state. Estimate: 15,000 euros. Starting price: 9,000 euros.
Last but not least, a comprehensive series of Russian coins as well as a small collection of Islamic coins (with one of the zodiac mohurs of Mughal Emperor Jahangir) will be sold.
And please remember! Only those who participate in the Lanz auction sale directly – whether in written form, by telephone, via the internet or in person – are entitled to the generous starting price of 60 %! So, make preparations in time: the auction sale catalog is available at the internet. If you prefer a paper copy you may request it against a protective fee of 15 euros at NUMISMATIK LANZ, Maximiliansplatz 10, D-80333 Munich, email, phone: +49 / 89 / 29 90 70, fax: +49 / 89 / 22 07 62