[bsa_pro_ad_space id=4]
04-06-2014 – 01-01-1970
Auction sale 158, Numismatic Rarities
Numismatik Lanz: 280,000 euros for a stater in the name of Phanes
More than 1,000 lots were offered by auction house Numismatik Lanz in Munich on 5 June 2014, including two numismatic icons, the stater of Phanes and the denarius of Brutus.

252: Phanes (Ephesos / Ionia). Electrum stater, Milesian standard. BMC 1 (same dies = Weidauer 39). Extremely rare. Extremely fine. From Rosen Collection, New York. Starting price: 150,000 euros. Hammer price: 280,000 euros.
It was the fifth known specimen of the stater of Phanes, that specimen from the Rosen Collection that was offered for sale in auction #158 of Numismatik Lanz. Hence, it is an extremely rare coin type, and of utmost historical and numismatic importance at that. After all, this is the first coin that bears an inscription. 'I am the badge of Phanes' is written above a grazing deer, and generations of scholars have given the person (or nature) of that Phanes much thought. One example of this rare coin is housed in the British Museum, a second one is owned by the German Central Bank. Three specimens are available on the market. One of these three now changed hands in Munich for 280,000 euros.
253: Phanes (Ephesos / Ionia). Electrum trite, Milesian standard. Extremely rare. Extremely fine. From Rosen Collection, New York. Starting price: 24,000 euros. / Hammer price: 55,000 euros.
Ten specimens are known to exist of the accompanying trite, of which likewise only two are owned by coin cabinets. The British Museum houses one, the State Coin Collection at Munich the other. Their obverse features the same deer as the stater. The abbreviated inscription reads 'of Phanes'. Hubert Lanz called out the piece from the Rosen Collection for 24,000 euros, but the price obtained was 55,000 euros in the end.
266: Cnidus (Caria). Tetradrachm, first half 2nd cent. B. C. Georges LeRider, Un tetradrachme héllénistique de Cnide, p. 155-157, pl. 18. Extremely rare. Extremely fine. Starting price: 30,000 euros. Hammer price: 29,000 euros.
These were by no means the only highlights in this great selection of magnificent Greek coins. A marvelous Archaic tridrachm from the Thracian city of Apollonia Pontica with the gorgoneion on the obverse rose from 4,800 euros to 11,000 euros. A stater from the city of Cyzicus depicting winged Phobos, a mythical creature consisting of the head of a predator and the body of a human, was called out for 24,000, to ultimately change hands for 34,000 euros. 29,000 euros was the price of the rarest tetradrachm of Hellenistic times, a coin from Cnidus from the first half of the 2nd cent. that shows Artemis Hyakinthotrophos on the reverse. We have pretty good information on the kind of worship this goddess enjoyed at Cnidus thanks to an inscription that invites the citizens of Cos to attend her quadrennial festivities. Likewise remarkable was the result obtained by a tetradrachm from Priene with the depiction of Orophernes on the obverse (starting price: 12,000 euros / hammer price: 19,000 euros) and a tetradrachm from Ake-Ptolemais, that was made during the one-year sole reign of Cleopatra Thea over the Seleucid Empire (estimate: 12,000 euros / hammer price: 18,000 euros).
300: Tigranes II. Tetradrachm, Antiochia. Nercessian pl. 74 / A65-P8b (Av same die). Starting price: 900 euros. Hammer price: 6,500 euros.
A pleasant surprise was the result achieved by a small group of almost twenty Armenian coins. The modest pre-sale estimate had amounted to 7,290 euros. All pieces achieved a multiple of that sum, which resulted in a hammer price almost four times the estimate, i.e. 26,900 euros. To single out just the most expensive piece here: a tetradrachm, minted in Antiochia for Tigranes II. This was the rarer variety with the small head. It was called out for 900 euros, only to arrive at impressive 6,500 euros in the end.
373: M. Iunius Brutus, + 42. Denarius, 42, mobile field mint in Asia Minor or Greece. Cr. 508/3. Extremely rare. About extremely fine. Starting price: 40,000 euros. Hammer price: 165,000 euros.
There are only a few coins that had such great an influence on modern iconography as the famous EID MAR denarius of Brutus that depicts the cap of liberty between two daggers on the reverse. This liberty cap that is usually carried on a pole became a symbol of all early European republics. It can be found both on the coins of the Netherlands and, as Phrygian cap, on the coins of the French Revolution. Illustrated already in the earliest numismatic books, this coin became an icon of numismatics. 40,000 euros – that had been the estimate of Numismatik Lanz, bidding started at 24,000 euros but the price obtained in the end was 165,000 euros.
645: Probus. Denarius, no year, Ticinum. Probably unpublished. Starting price: 1,200 euros. Hammer price: 12,500 euros.
Almost as spectacular by its own standards was the hammer price of an extremely rare denarius of Probus on a large, almost medallion-like blank. It shows the fully-armored emperor holding three arrows in his hands. The reverse is devoted to the 'virtus of emperor Probus': riding a horse, he throws a lance at an enemy who is already lying on the ground while another one is fleeing; in the background a small figure, perhaps Mars, perhaps Virtus, is greeting the emperor while carrying a trophy on the right shoulder as symbol of victory. This denarius from the 3rd cent. A. D. obtained 12,500 euros which is an incredible price or a coin of this era.
912: Gelnhausen (Germany). Frederick I, 1155-1190. Bracteate. Hävernick 49. Extremely fine. Starting price: 3,000 euros. Hammer price: 5,500 euros.
A beautiful collection of bracteates from the High Middle Ages was hidden amongst the coins of the Holy Roman Empire as a category under which Numismatik Lanz also subsumes Germany. The gorgeous pieces obtained impressive prices, like, for example, a pfennig from Münzenberg that shows Count Kuno beside Frederick I on the obverse (starting price: 3,000 euros / hammer price: 5,600 euros) or a pfennig from Gelnhausen, likewise depicting Frederick I, this time accompanied by his wife Beatrix (starting price: 3,000 euros / hammer price: 5,500 euros).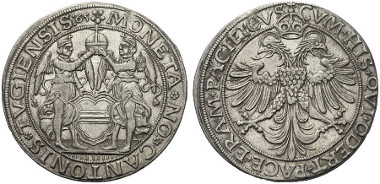 990: Zug. Engelthaler 1565. Dav. 8770. Extremely fine. Starting price: 6,000 euros. Hammer price: 12,000 euros.
Let us end with Switzerland of which some coins with very attractive estimates might have been available if the interest hadn't been so great. The thaler 1557 from Schaffhausen in very fine started with an estimate of 900 euros and rose to 3,500 euros; the Zurich pfennig of Otto III started at 3,000 euros to be sold for 4,200 euros. The most expensive Swiss coin was an engelthaler from Zug that obtained 12,000 euros and thus doubled its estimate (6,000 euros).
You can find all results on the internet. The next auction sale of Numismatik Lanz will be conducted in December 2014. Consignments are welcome at any time. More information on that are available at Numismatik Lanz, Maximiliansplatz 10, D-80333 Munich, email, phone +49 / 89 / 29 90 70, fax: +49 / 89 / 22 07 62.