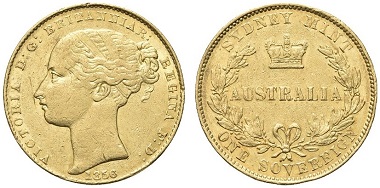 [bsa_pro_ad_space id=4]
08-12-2017 – 09-12-2017
Auction n. 12
Italian and World coins and medals at Numismatica Ranieri
On December 9 and 10, 2017, auction house Numismatica Ranieri will conduct their 12th numismatic auction in Bologna. The 2012 lots include Italian coins and medals and coins from all around the world. The foreign coins feature some pieces graded by PCGS.
Here is a selection of highlights from the auction:
Lot 1458.
Australia. Victoria. Sovereign 1856, Melbourne. Very rare. Condition: AU55
Starting price: 3,500 euro
Lot 1821.
Great Britain. George VI. 5 Sovereign 1937, London. Condition: PR64 CAM
Starting price: 2,500 euro
Lot 1769.
Great Britain. George III. Sovereign 1817, London. Condition: AU58
Starting price: 1,200 euro
Lot 1627.
France. II Republic. 20 Francs 1851, Paris. Condition: MS66+
Starting price: 800 euro
A printed catalogue can be ordered catalogue from Numismatica Ranieri:
Numismatica Ranieri
Piazza Calderini 2/2
(Palazzo Zambeccari)
40124 Bologna
phone: 051 267736
e-mail
To browse the online catalogue go to the website of Numismatica Ranieri.
The catalogue is also available on Sixbid: Part 1, Part 2.