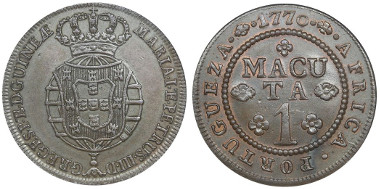 [bsa_pro_ad_space id=4]
02-10-2014 – 01-01-1970
Auction IX
Numismatica Leiloes Auctions presents a collection of NGC graded Portuguese coins
For the first time in Portugal, and probably in Europe, collectors worldwide will have the opportunity to bid for an entire collection of coins solely graded by NGC.
The auction will feature more than 300 select lots from Portugal and Portuguese former colonies and a small group of ancient coins and world coins. Many of them are single finest known on NGC Census.
The auction will be held on October 3, 2014 at the Sheraton Lisboa Hotel & Spa. and begins with lot viewing Monday, September 29, to Wednesday, October 1, followed by one single session on Friday, October 3, at 4 p.m.
Among the many coin highlights are the following: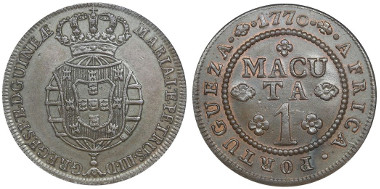 Angola, Macuta 1770, Muled with Maria Obverse, Gomes 03.01, KM n/c, MS-63 BN, exceedingly rare
Portuguese Guinea, Escudo 1933, Gomes 09.01, KM 5, MS-67, highly elusive in this grade
Portuguese India, Rupia 1911, Silver Essai, Gomes E6.01, KM Pn31, PF-66 Cameo, extremely rare
Portugal, 400 Reis 1818, Gomes 13.01, KM 359, MS-65, rare in this elite designation
Portugal,1000 Reis 1821, Gomes 14.04, KM 360, MS-64, only 275 struck and seldom found in any grade
Portugal, 6400 Reis 1745, Gomes 127.24, KM 221, MS-63, superb condition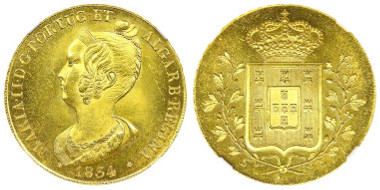 Portugal, 6400 Reis 1834, Gomes 19.01, KM 405, MS-64, exceptional eye appeal
Portugal, 500 Reis 1908 Proof-Like, Gomes 04.02, KM 547, MS-66 PL, rare in this premium designation
Portugal, Escudo 1935, Gomes 25.06, KM 578, MS-65, very rare in this superior quality.
Online bidding has begun and pre-auction bids will be accepted on the Numismatica Leiloes website or by email;
by fax at (+351) 217971359; and by postal mail addressed to Numismatica Leiloes, R. Dom Luiz de Noronha, 26 – 6º Esq, 1050-072 Lisboa, Portugal.
Interested bidders are also encouraged to view lots on our offices (by appointment only) in September and bid in-person at the live auction, or live online through Invaluable e-platform.
More information about the auctions and Numismatica Leilos can be found on Numismatica Leiloes website.