[bsa_pro_ad_space id=4]
17-11-2013 – 01-01-1970
Auctions 73-75
NAC offers numerous gems for connoisseurs
On 18 November 2013 Numismatica Ars Classica will be holding three auctions in one day at the usual location of Hotel Baur au Lac, Zurich. The three sales comprise 940 lots in total, with a combined estimate of 3.5 million Swiss Francs.
Auction 73: The Collection of Roman Republican Coins of a Student and his Mentor. Part II (Lots 1-277).
The sales begin with Auction 73, part two of the Collection of Roman Republican Coins of a Student and his Mentor. Following the success of the first part of this collection which was sold by NAC in the Spring, this offering of 277 coins will certainly not disappoint. The auction features an exceptional group of Bellum Sociale denarii (lots 90-95). Other highlights include an aureus of L. Cornelius Sulla (lot 110); the complete series of Q. Pomponius Musa (lot 140-151); …
Lot 95. Roman Republic. Bellum Sociale. Denarius. Estimate CHF 10,000.
… an extremely rare aureus of Marcus Antonius and L. Livineius Regulus (lot 224), one of only 15 specimens of which only 5 are in private hands; an incredible aureus of Brutus with Casca Longus (lot 236) and another aureus of Marcus Antonius this time with Lucius Antonius (lot 250), again in exceptional condition and known in very few specimens.
Lot 258: Roman Republic. Quintus Labienus Parthicus. Denarius. Estimate CHF 90,000.
Another great highlight of the sale is a remarkable denarius of Labienus (lot 258), easily one of the best specimens known of this type.
NAC will auction the third and final part of the Collection of a Student and his Mentor in Spring 2014.
Auction 74: The JDL Collection – part I (Lots 278-322)
NAC has had the pleasure of collaborating with Tradart to present the JDL Collection of coins of the Ancient World, a small but magnificent collection of Greek and Roman coins that boasts some highly important and exceptionally beautiful pieces. The sale contains many masterpieces and is highlighted by a majestic decadrachm of Syracuse signed by Euaientos (lot 281); a very rare and spectacular Athens tetradrachm (lot 287); …
Lot 289: JDL Collection. Greece. Kingdom of Pontus. Mithradates VI. Tetradrachm. Estimate CHF 25,000.
… a breathtaking tetradrachm of Mithradates VI Eupator (lot 289), undoubtedly the finest specimen known, and a remarkable example of the exceedingly rare tetradrachm of Seleucus I Nicator (lot 294).
The Roman part of the collection is equally strong boasting masterpieces such as the finest specimen known of the triumphal bronze of Augustus (lot 300); a sestertius of Agrippina with a wonderfully elegant portrait (lot 302); a very rare and complete sestertius of Vespasian with the Judea reverse (lot 305), again the finest specimen known; a superb and very rare tetradrachm of Hadrian, (lot 307) and last but not least a sublime double sestertius of Trajan Decius (lot 318).
The second and final part of this collection will be sold in Spring 2014. Tradart published a book on the complete collection in 2009 under the title of "Coins of the Ancient World. History's Priceless Treasures. A portrait of the JDL collection". This publication is available from Tradart in French and English.
Auction 75: An important series of Late Roman and Byzantine coins (lots 323-940)
Auction 75 will certainly be an unmissable sale for enthusiasts of late Roman and Byzantine coinage. The sale offers a remarkably complete series spanning over a millennium from Constantine I through to John VIII. The auction begins with a superb series of coins of the late Roman Empire with great rarities throughout, such as an extremely rare and beautifully preserved solidus of Procopius that formerly belonged to the Caruso Collection (lot 352); a superb solidus of Jovinus (lot 374); a unique 1 1/2 solidus medallion of Valentinian III (lot 386); a tremisses of Olybrius (lot 398); and an extremely rare solidus of Romulus Augustus (lot 400). This part of the sale concludes with a very interesting series of the migration of the Germanic tribes (lots 406-449). Moving into the Byzantine Empire, one will find many interesting pieces in exceptional condition such as the very rare solidus of Michael I Rangabè (lot 701); an extremely rare solidus of Leo V (lot 704); a very rare solidus of Michael III (lot 727); …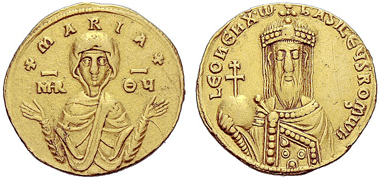 Lot 734: Byzantine Empire. Leo VI the Wise. Solidus. Estimate CHF 20,000.
… an extremely rare and intriguing solidus of Leo VI (lot 734) not to mention two exceedingly rare aspron trachea of Andronicus I Gidon (lots 890 & 891).
Catalogues are available on the NAC website. Catalogue auction 73, catalogue auction 74, catalogue auction 75.
Printed catalogues will be sent out to existing clients in early October and can be ordered through NAC's Zurich office. The coins can be viewed in NAC's London premises (Tel. + 44 207 839 7270) until 5 November and at NAC's Zurich premises from 15 November (+44 41 261 1703). Please contact NAC's offices to arrange an appointment. The JDL Collection will additionally be on exhibition at Tradart's premises in Brussels during November 6 to 10.
Additionally the auctions are online at Sixbid: auction 73, auction 74, auction 75.