[bsa_pro_ad_space id=4]
08-05-2018 – 09-05-2018
Spring Auction 105 and 106
Golden Spring Auction at NAC
Numismatica Ars Classica will held their forthcoming Spring auctions at the Hotel Baur au Lac in Zurich on 9 and 10 May 2018. The sale features more than 1800 lots spanning over a millennium from Ancient Greece to the Byzantine era with a combined total estimate of approximately 10,000,000 CHF.
Lot 6: M. Junius Brutus with Cornelius Lentulus Spinther. Aureus, 43-42 B. C., mint moving with Brutus. Only five specimens known of which this is the only one in private hands. Good very fine / very fine. Estimate: 75,000 CHF.
Auction 105, 9 May 2018: The George W. La Borde Collection of Roman Aurei, Part 3
Auction 105 represents the third and final part of the George La Borde Collection of Roman aurei and is by no means less impressive than its counterparts with a total estimate of almost CHF 3 million. As one might expect given the previous parts, the sale features many great rarities, often in an exceptional state of preservation, with a huge number boasting illustrious provenances such as Ponton d'Amécourt, de Quelen, Jameson, Gulbenkian and Biaggi, to name but a few.
The sale opens with a fantastic offering of Roman Republican featuring an aureus of Vibius Varus (lot 5) which is not only in an excellent state of preservation but also offers an unusually fine portrait of Apollo for the issue. This is followed by two extremely rare and fascinating aurei: the first issued by Brutus (lot 6) and the second issued for Marc Antony (lot 7) by one of his most loyal and skilled generals, Ahenobarbus.
The first century features a beautiful series of coins, including one of the best-preserved aurei of Domitian in existence from the famous Boscoreale hoard (lot 23).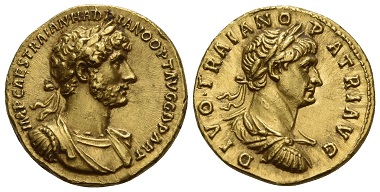 Lot 28: Hadrian, 117-134. Aureus, 117. Nearly FDC. Estimate: 70,000 CHF.
The second century opens with three exceedingly rare and historically significant coins of Hadrian (lots 28-30). Continuing through the second century, it is also worth noting two exceptional aurei of Faustina II (lots 42 and 43) and an extraordinary series of aurei of Commodus (lots 48-53).
Perhaps the most impressive part of the auction is the series of aurei of the Severans; all of the coins belonging to this series are exceptionally well-preserved. Highlights include: the first two aurei of Septimius Severus (lots 56 and 57), both in a perfect state of conservation; the three dynastic aurei (lots 58, 59 and 61), which are not only are beautifully conserved, but the first two of which also have very old and prestigious provenances. Part of the same series are two aurei of Caracalla and Geta, each of them with extremely interesting reverses showing wonderful portraits. The aurei of Macrinus and Diadumenian (lots 65 and 66) are among the finest known for these rulers and both boast very prestigious provenances.
Lot 66: Diadumenianus as Caesar, 217-218. Aureus, late 217. Perfect FDC. Estimate: 150,000 CHF.
The end of the third century is also admirably well-represented with a series of superb aurei including: a magnificent aureus of Salonina (lot 82), perhaps the best specimen known for this empress; a spectacular aureus of Aurelian (lot 83); a wonderful aureus of Florian (lot 87); two aurei of Probus with attractive helmeted portraits of exceptional style (lots 88 and 89) and a very rare aureus of Carinus (lot 94) where the emperor is depicted with a half bust.
The fourth century is by no less impressive with a wonderful series of aurei of the tetrarchy featuring four exceptional aurei of Maximianus Herculius (lots 105-109).
The auction closes with two superb front-facing aurei of Licinius I and Licinus II (lots 116 and 117), which are among the best specimens known and boast exceptional preservation and portraits of masterly style.
Lot 331: Cappadocia, Orophernes, usurper, circa 160-156 B. C. Tetradrachm, circa 160-156, Priene. Extremely fine. Estimate: 100,000 CHF.
Auction 106, 9 and 10 May 2018: A Collection of Cypriot Coins and a Collection of Roman Imperial Silver Coins
Auction 106, to be held on 9th and 10 May, offers the usual important selection of ancient Greek, Roman and Byzantine coins and is highlighted by two special collections: The Collection of Cypriot Coins – Property of a Discerning Collector Part I (lots 281-330). Assembled over the course of several decades from the 1960s to the early 21st century, this extremely important collection, possibly the most important for this coinage in private hands, was carefully put together by an anonymous collector who, while not Cypriot himself, had a great passion for this fascinating numismatic field. The collection represents a practically unique opportunity to acquire huge rarities in fantastic condition and mostly boasting impeccable provenances. One of the many highlights includes a siglos of the kingdom of Marion (lot 296), depicting a lion licking and scratching with his right back paw, his right foreleg on the obverse, and Phrixos, naked, hanging beside a ram on the reverse as well as two extremely rare sigloi showing equally unique symbols. (lots 294 and 295). At this point one must furthermore point out two sigloi that formed part of ancient hoards found in Afghanistan and the Near East: The coin of Siromos (lot 299) and the siglos of Nicodamos (lot 310).
Three smaller denominations are also very fascinating, for example the not yet published 1/6th siglos of Idalion (lot 292) and two 1/3rd siglos of Paphos, struck in the second half of the Vth century. (lots 302 and 304) A small gold coin, 1/10th stater of Evagoras I, king of Salamis, is another unicum in the collection (lot 312).
The auction proceeds with the sale of a magnificent private collection of Roman Imperial silver coins. Although each are equally significant a few highlights need to be mentioned, such as the magnificent Orophernes tetradrachm sporting one of the finest Hellenistic portraits on a greek coin. (lot 331) Only a few specimens of this coin are known and it surely presents one of the finest in private hands as the coin's provenance dates back to Hess-Leu's 1956 sale.
Lot 519: Cn. Domitius Ahenobarbus. Aureus, 41 B. C. moving mint. Nearly extremely fine / extremely fine. Estimate: 350,000 CHF.
One of the most sought-after coins of the entire Roman Republican series, lot 519 shows the exceedingly rare and celebrated Ahenobarbus aureus with temple reverse.
Lot 1049: Constantine I, 307-337. Aureus, circa 315-316, Heraclea. Nearly FDC. Estimate: 15,000 CHF.
Lot 1049 presents us with an aextremely rare medallion depicting a portrait of Constantine I of enchanting quality …
Lot 1069: Constantius II Caesar, 324-327. Medallion of 4,5 solidi, July 325, Nicomedia. Extremely fine. Estimate: 600,000 CHF.
… and lot 1069 captivates the eye with a beautiful half-length bust of Constantius II.
The second part of auction 106 should not disappoint comprising an excellent selection of over 624 Greek, Roman and Byzantine coins for every collector.
Catalogues will be available on Sixbid and NAC's website six weeks before the sale. On Sixbid you will find the catalogues as Auction 105, Auction 106 Part I, and Auction 106 Part II.
Printed catalogues will be sent out to existing clients in early April and can be ordered through NAC's Zurich office. The coins can be viewed at NAC's London premises until 25th April (+ 44 207 839 7270) and at NAC's Zurich premises from 7th May (+ 44 41 261 1703).
Please contact the respective office to arrange an appointment.