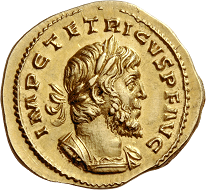 [bsa_pro_ad_space id=4]
28-05-2017 – 29-05-2017
Auctions 99 and 100
Second part of the George W. La Borde Collection of Roman Aurei at NAC
Numismatica Ars Classica will hold this year's spring auctions at the Hotel Baur au Lac in Zurich on 29 and 30 May 2017. Around 2060 lots will be auctioned over two days with a combined total estimate of more than CHF 8,900,000. The first sale presents the second part of the George W. La Borde Collection of Roman Aurei, which offers an outstanding choice of important pieces, while Auction 100 features a particularly significant selection of Greek, Roman and Byzantine coins.
Auction 99: The George W. La Borde Collection of Roman Aurei, Part II, sold in association with Stack's Bowers Galleries
The first auction contains the second part of a magnificent collection of Roman aurei assembled over the past fifteen years by George W. La Borde, featuring 50 coins of remarkable quality which rarely appear on the market. In addition, most of the pieces boast prestigious provenances, an increasingly coveted asset in the current market.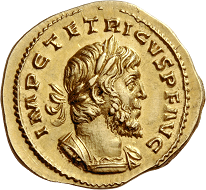 Lot 33: Roman Empire. Tetricus I, 271-274. Aureus, 272, Cologne or Treveri. Good extremely fine. Estimate: 50,000 CHF.
The sale opens with two particularly interesting coins from the period of the Roman Republic, the first one being an aureus of Sextus Pompey depicting the great general on the obverse, and his deceased father and brother on the reverse. The second coin is one of the best conserved legionary aurei issued by Mark Antony in preparation for his war with Octavian and Agrippa. Among other beautiful pieces, the opening section also includes a wonderful aureus of Antonia (lot 3), along with a superb aureus of Galba (lot 5), which is exceptionally well conserved and boasts a highly prestigious pedigree.
The sales continues into the second century, which features a series of beautifully preserved aurei that includes a captivating aureus of Lucius Verus (lot 15), a fascinating aureus of Lucilla (lot 16) and an aureus of Crispina (lot 19) also in an exceptional state of conservation.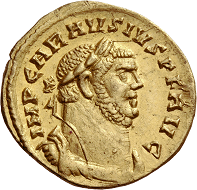 Lot 44: Roman Empire. Carausius, 286-293. Aureus, October 286-March 287, Londinium. Good extremely fine / Extremely fine. Estimate: 200,000 CHF.
The ensuing series of aurei from the third century is equally remarkable. We particularly want to draw the reader's attention to the following lots: an aureus of Julia Domna (lot 22) sporting an exceptionally beautiful portrait and a reverse which is apparently unpublished in gold. Furthermore, we would like to mention two breath-taking aurei of Caracalla (lots 23 and 24) and a superb aureus of Elagabalus, formerly belonging to the Caruso Collection, which was issued to commemorate the transportation of the Stone of Emesa to Rome (lot 25). The second half of the third century continues with an extremely rare aureus of Uranius Antonius struck at Emesa (lot 29) and furthermore includes an aureus of Tetricus featuring a portrait of extraordinarily beautiful style (lot 33). It closes with an exceedingly rare and important aureus of Carausius – in our opinion pne of the most important coins of the entire auction (lot 44).
Among the coins of the fourth Century we find an outstanding aureus of Constantinius Chlorus (lot 45) which comes from the legendary Arras hoard, closely followed by an incredibly well-preserved aureus of Maxentius (lot 47), and last but not least, a striking aureus of Constantine I, struck at the mint of Thessalonica (lot 50).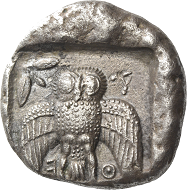 Lot 134: Attica, Athens. Decadrachm, circa 467-465. Good very fine / extremely fine. Estimate: 200,000 CHF.
Auction 100: Greek, Roman & Byzantine Coins, sold in association with Naville Numismatics Ltd
NAC's two-day event continues with auction 100, offering a wide selection of remarkable Greek, Roman and Byzantine coins. Over 1,000 lots will go under the hammer, including particularly splendid pieces such as a very rare Athens decadrachm (lot 134), a beautiful aureus of Geta caesar (lot 556), …
Lot 627: Roman Empire. Maxentius, 307-312. Quaternio, circa 308. Extremely fine. Estimate: 250,000 CHF.
… an extraordinarily impressive medallion of Maxentius (lot 627), an exquisite solidus of Vetranio (lot 670) and a Postumus aureus of superb quality (lot 586).
Numismatica Ars Classica NAC AG celebrates its 100th auction and is classed today as one of the most prestigious auction houses in the world for classical numismatics.
NAC AG has sold countless important collections over the last twenty-five years and in some sectors, such as the coinage of Magna Graecia and Sicily, the Roman Republic and the Roman Empire-gold coinage in particular, no other auction house in the history of modern numismatics can claim to have provided an offering of coins comparable to that presented by Numismatica Ars Classica in its public auctions.
Numismatica Ars Classica's operations have never been merely motivated by commercial success, on the contrary the company has always striven to combine the commercial and academic world by successfully promoting scientific research and publishing and funding innumerable publications and initiatives.
Obviously, the greatest credit for this success belongs to the person who founded Numismatica Ars Classica and directed the company until his passing in 2012; Roberto Russo. The result of Roberto's work is for all the world to see and his company's team hopes that he would be pleased to see that after his death, Numismatica Ars Classica NAC AG has continued, in line with his teaching, to present auctions at the highest level, maintaining its prestigious position in the market.
The catalogues are now available on Sixbid, auction 99 here, auction 100 here, auction 100, part II here and on the company's website.
Printed catalogues for all auctions are sent out to existing clients and can be ordered through NAC's Zurich office. The coins can be viewed at NAC's London premises (Tel. + 44 207 839 7270) until 12th May and at NAC's Zurich premises from 25th May (Tel. +44 41 261 1703).