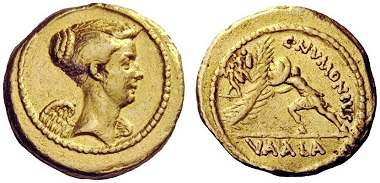 [bsa_pro_ad_space id=4]
22-05-2016 – 23-05-2016
NAC Spring Auctions 91-93
NAC announces four auctions featuring coins estimated at 9.6 m CHF
Numismatica Ars Classica is pleased to announce this year's spring auctions which will take place at the Hotel Baur au Lac in Zurich on the 23rd and 24th of May 2016. Over 2,600 lots will be offered over 4 sessions with a combined total estimate of CHF 9,656,350. The sales feature a highly prestigious collection of Roman aurei as well as a collection of coins of the Germanic Migration of great historical importance and an interesting collection of Roman Republican coins formed by an amateur scholar. Furthermore, a very important selection of Greek, Roman and Byzantine coins will be auctioned including the collection of E. E. Clain-Stefanelli.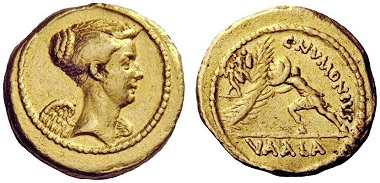 Lot 2: C. Numonius Vaala aureus, 41 BC. Estimate CHF 100,000.
Auction 91 – The George W. La Borde Collection of Roman Aurei in association with Stack's Bowers Galleries
Auction 91 presents the first part of a magnificent collection of Roman aurei assembled over the past fifteen years by George La Borde; the first part consisting of 68 coins with a total estimate of CHF 1,867,500 is sold in association with Stack's Bowers Galleries. With the assistance of local Canadian coin dealer Robert Kokotalio in the first stages, and Hadrien Rambach from 2005, the collector succeeded in building a truly impressive collection of aurei of the highest quality containing a great number of rarities. Moreover, almost all of the coins in this collection have long auction provenances, often dating back to the 19th century. Due to the consistently high quality and importance of the aurei, it is almost impossible to make a small selection for this preview and it is rather tragic that only a few can be named.
Lot 15: Nerva aureus, 97. Estimate CHF 60,000.
Two of these numerous highlights are certainly the extremely rare Numonius Vaala aureus (lot 2), just one of 3 in private hands out of only 15 known examples, and the M. Sanquinius III aureus issued in the name of Augustus (lot 6), a fascinating piece of which only one other is in private hands out of 6 known pieces. Noteworthy in particular for the 1st century is the scarce and perfectly-preserved Nerva aureus (lot 15), perhaps the finest aureus known of this extremely difficult emperor. It does not come as a surprise that David Sear chose this coin for the cover of his book: 'Roman Coins and their Values. Volume II: the Accession of Nerva to the overthrow of the Severan dynasty, London 2002'. Among the coins from the 2nd century, we simply have to draw the reader's attention to the exceedingly rare aureus of Clodius Albinus (lot 33), formerly part of the Nelson Bunker Hunt Collection, the finest of only 3 known specimens presenting a spectacular portrait in the finest style of the period and a very interesting reverse type. For the 3rd century, certainly worthy of mention are the rare aureus of Septimius Severus and Julia Domna (lot 34), bearing two spectacular portraits of fine style. Further highlights include a Caracalla aureus bearing the radiate lion on its reverse (lot 38) and a wonderful aureus of Macrinus (lot 39), formerly part of the Trau collection. From the second half of the third century we simply have to point out the aureus of Tacitus (lot 48), which is exceptionally well-preserved, as well as the aureus of Probus (lot 49) showing a spectacular portrait and a beautifully-executed composition on its reverse. From the Tetrarchy we must include an aureus of Maximianus Herculius (lot 57) in outstanding condition showing a beautiful bust type as well as the equally well-preserved aureus of Maximianus II Daia minted in Antiochia (lot 65).
Lot 430: Brutus aureus. 43-42 BC. From the collection of Sheikh Saoud Al Thani. Estimate CHF 450,000.
Auction 92 – An Important Selection of Greek, Roman and Byzantine Coins
NAC's two-day event continues with auction 92, offering a wide selection of remarkable and important Greek, Roman and Byzantine coins, with the Roman component featuring coins from the collection of E.E. Clain-Stefanelli (also sold in association with Stack's). Over 1,000 lots will go under the hammer with a combined total estimate of approximately CHF 6,228,950. Among the pieces from the Greek period we would like to draw the reader's attention to a very rare and beautiful Catana tetradrachm signed by Herakleidas (lot 110) bearing a beautiful portrait of Apollo (ex Hunt Collection); a scarce Syracuse decadrachm signed by Euainetos (lot 135), one of the finest known examples of this important issue; an incredibly well-preserved stater of Cyzicus (lot 186) from the Kunstfreund collection, without doubt among the finest specimens in existence; as well as by far the finest example of a stater of Miletus (lot 211), which is of the highest importance and rarity.
The Republican section presents an impressive series of aurei and denarii, highlights include the extremely rare denarius of M. Arrius Secundus (lot 402), of which only three examples are known, followed by the exceptionally well-preserved Marcus Antonius and Livineius Regnus aureus (lot 411); the exceedingly rare Brutus aureus issued by Casca Longus (lot 430) which is a fascinating issue of great historical importance, an unusually well-preserved Eid Mar denarius (lot 431), again one of the best examples known bearing a wonderful portrait on particularly good metal, the exceedingly rare Q. Cornuficius denarius (lot 432) and the outstanding specimen of the scarce Caesar and Vitulus denarius (lot 442).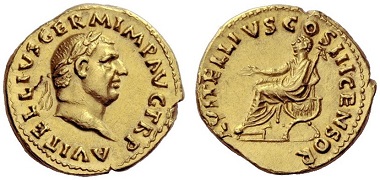 Lot 506: Vitellius aureus. late April-December 69, Estimate CHF 80,000.
Among the pieces from the Roman Empire, we would like to draw attention to an impressive series of aurei including the aureus of Galba (lot 505), the aureus of Vitellius (lot 506), the aureus of Pertinax (lot 604), the Postumus aureus (lot 662) and the finest specimen of a Maxentius aureus (lot 682). Among the sestertii one finds a magnificent and extremely rare Marciana sestertius (lot 545) as well as an Aelius Caesar sestertius (lot 568) in an outstanding state of preservation presenting a remarkable portrait of fine style. The late Roman period is highlighted by a very interesting collection of coins of Julian II and the festival of Isis (lots 731-782) as well as a superb series of solidi in exceptional quality such as a Constantine III solidus (lot 831), the solidus of Aelia Verina (lot 875) and an attractive example of the rare Romulus Augustus solidus (lot 889). The Byzantine section presents 182 coins of mainly gold almost all of which are in an extraordinary state of preservation, among them an exceedingly rare solidus of Justinian I (lot 911), as well as a Leo VI solidus (lot 992), a Constantine VII solidus (lot 998) and a Romanus II solidus (lot 1001). We are proud to note that this is the first time that the solidi of all three of these emperors have been offered in the same sale.
Part II of auction 92 offers a varied and interesting selection of coins from the Greek, Roman and Byzantine periods including "An Interesting Collection of Roman Republican Coins formed by an English Amateur Scholar" featuring many rarities at attractive starting bids and will continue after Auction 93.
Lot 1314: Lombardy and Tuscany, Ratchis Tremissis, 744-749. Estimate CHF 20,000.)
Auction 93 – A Very Important Collection of Coins of the Germanic Migration
The third part of the sale presents a highly important collection of coins from the period of the Germanic Migration compiled over the course of the past thirty years with a total estimate of CHF 433,500. Not only does this outstanding collection include many pieces from the most relevant collections sold in this field, but it also fully represents all of the coinages of the Germanic Migration with a special focus on the Ostrogoths, Vandals and Lombards. Although there are countless coins of high importance in this sale, we need to limit ourselves to highlighting only a small selection: the solidus issued by Sigismund, king of the Burgundians (lot 1252) is extremely rare and particularly noteworthy as well as a tremissis minted at Aosta by the moneyer Betto (lot 1258), which was the first coin bearing the city's name on its reverse. The Lombards are represented with exceptionally interesting coinage including issues from the pseudo-imperial period, minted in the transalpine region (e.g. lot 1260) as well as the regal period showing the names of the different rulers. Among them the solidus in the name of Constans II (lot 1283), which was presumably minted at Spoletum, needs to be mentioned as well as the series of tremisses of Lucca (lots 1293-1295); the tremisses attributed to Aripert II and Liutprand (lots 1299-1310); the series of tremisses bearing the names of the moneyers (lots 1311-1313) and the exceptionally rare tremisses of Ratchis (lots 1314-1317) and Aistulf (lot 1316). Last but not least, the duchy of Beneventum is also well represented with fascinating coins, among them an imitation of a solidus of Constantine IV (lot 1323); a series of solidi and tremisses issued by Liutprand (lots 1328-1330); and the solidus and tremisses of the Interregnum (lot 1331-1332).
The coins can be viewed at our London premises (Tel. + 44 207 839 7270) until 6th of May and at NAC's Zurich premises from 19th May (Tel. +44 41 261 1703).
The catalogues are available on Sixbid and NAC's website.