[bsa_pro_ad_space id=4]
07-10-2015 – 01-01-1970
Auctions 86, 87, 88
Gasvoda and Ploil Collections offered by Numismatica Ars Classica
Numismatica Ars Classica is delighted to announce their autumn auctions taking place on 8th October 2015 at the hotel Baur au Lac in Zurich. Approximately 700 lots will be auctioned in three sessions with a combined total estimate of CHF 6'000'000. The first two sales present two prestigious collections of Roman coins, after which auction 88 will offer an important series of Greek, Roman and Byzantine coins.
Auction 86: The Gasvoda Collection – Coins of the Imperatorial Period and the Twelve Caesars
Sale 86 features 191 lots and is dedicated to the first part of an exceptional collection of the Imperatorial Period and the Twelve Caesars. This auction has a total estimated value of approximately CHF 2'400'000. Assembled over the past twenty-five years by Mike Gasvoda, well-known writer of scholarly numismatic articles as well as speaker, trustee and Vice President of the American Numismatic Society (ANS), the collection is abound with many remarkably rare and significant pieces, almost all of which are outstandingly well-preserved and boast prestigious provenances. Bronze, silver and gold are equally represented and the accompanying catalogue provides substantial historical background written by the collector himself.
Lot 23: Brutus aureus, ex Leu 22, 1979, 184; NFA XXII, 1989, 23; Stack's-Berk 29 November 1990, John Whitney Walter, 7; Ira & Larry Goldberg 46, 2008, Millenia, 75 and Goldberg 59, 2010, 2416 sales, CHF 500'000.
As difficult as it seems to focus on only a few of the numerous numismatic highlights this part of the Gasvoda collection holds, we would nevertheless like to draw the reader's attention to an extremely rare denarius of Pompey issued by Q. Nasidius illustrating an impressive fleet composition on its reverse (lot 16) – one of the rarest coins in the entire Republican series and the only example in private hands out of six known specimens. In addition, we must mention one of the finest examples of the aureus of Brutus issued by Casca Longus featuring a portrait of wonderful style (lot 23); a Sextus Pompey aureus illustrating three beautiful portraits of him along with his deceased father and brother (lot 31) …
Lot 46: Augustus aureus, ex NAC sale 59, 2011, 870, CHF 90'000.
… the exceedingly rare and historically important AEGVPT CAPTA aureus issued by Augustus, one of four known pieces and one of only two in private hands (lot 46) and a magnificent cistophoric tetradrachm of Claudius, undoubtedly the finest example known depicting an impressive portrait of great style (lot 110). Among the variety of excellent pieces one must furthermore point out a remarkably well-preserved Port of Ostia sestertius from the Nero series, with an exceptionally well-detailed reverse composition, which featured in Harlan Berk's 100 Greatest Ancient Coins (lot 130); one of the finest specimens known of an extremely rare Clodius Macer denarius issued during Rome's Civil War (lot 141) …
Lot 182: Domitian sestertius, ex Gorny & Mosch sale 151, 2006, 417, CHF 40'000.
… and an important and exceedingly rare Colosseum sestertius issued by Domitian, one of ten known examples and one of only three in private hands (lot 182).
Auction 87: The Ernst Ploil Collection of Roman Coins
Like the previous sale, auction 87 also comprises the first part of a remarkable collection put together by Austrian lawyer Ernst Ploil. Apart from directing the law firm Ploil Krepp Boesch Rechtsanwälte GmbH, he functions as one of the CEOs of the auction house Kinsky. Consisting of 159 lots, this auction features extraordinary pieces of all metals from the Roman period starting after the death of Nerva and continuing into the early Byzantine era, with an estimated total value of almost CHF 900'000. It is important to note that the Ernst Ploil collection also includes Roman Republican, Imperatorial and Twelve Caesars coins but NAC has decided not to offer any of these pieces in this part so as not to overlap with the Gasvoda collection. These coins will be offered in NAC's sales next year.
Lot 220: Trajan aureus, ex Hess-Leu 2, 1955, 86 and Astarte XIV, 2004, 412 sales. From the Jameson and Biaggi collections, CHF 15'000.
Noteworthy in particular is an exceptional aureus of Trajan from the Jameson and Biaggi collections with its reverse depicting the façade of the Forum of Trajan (lot 220). In the catalogue preface NAC's director, Arturo Russo, describes this rare coin as the best specimen he has seen in the last 20 years. For Hadrian highlights include a rare left-facing bust denarius with a marvelous portrait in the finest style of the period (lot 244) as well as a beautiful aureus featuring another elegant portrait of the emperor, the reverse showing a finely detailed representation of Nilus (lot 246). Within the series of Antoninus Pius one finds an exceptionally well-preserved aureus struck to celebrate the first decade of his reign (lot 261) plus another spectacular aureus issued in honour of the birth of his twin grandchildren (lot 262), followed by a rare Faustina II sestertius in exceptional condition (lot 273).
Lot 291: Septimius Severus aureus, ex Sotheby, Wilkinson & Hodge, 13 July 1908, O'Hagan, 502; Hess-Leu 41, 1969, 287 and Leu 87, 2003, Perfectionist, 53 sales. From the V.M. Brand collection, CHF 25'000.
Among the coins of Septimius Severus, the highlights include a fine dynastic aureus depicting three high style portraits of Caracalla, Julia Domna and Geta on its reverse (lot 290) and another aureus, struck to commemorate the modernising works in Carthage with a delightful portrait and an intriguing reverse composition of Dea Caelestis riding a lion (lot 291). For Caracalla series one must take a closer look at another of the auction's main highlights – a spectacular aureus from the Biaggi collection showing a magnificent portrait of helmeted Roma on its reverse (lot 300).
Auction 88: An Important Selection of Greek, Roman and Byzantine Coins
Auction 88 contains a rich selection of exceptional and important coins from the Greek, Roman and Byzantine periods. Around 350 lots will be offered with a total estimate of approximately CHF 2'700'000.
Lot 365: Naxos hemidrachm, ex NAC 13, 1998, 387; NAC 21, 2001, A.D.M., 104 and Triton XV, 2012, 1056. From the A.D.M and Pennisi Collections, CHF 50'000.
Within the Greek series we would like to highlight a fascinating and rare Naxos hemidrachm from the Pennisi and A.D.M collections in an outstanding state of preservation (lot 365); a rare Syracuse tetradrachm of the Demareteion series from the Charles Gillet and de Guermantes collections (lot 367) …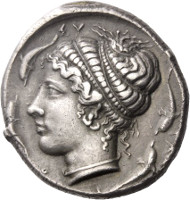 Lot 368: Syracuse tetradrachm, ex Leu 15, 1976, 115 and Goldberg 72, 213, 4024 sales. From the Dr. J.H. Judd and Wolfen family foundation collections, CHF 75'000.
… followed by a very rare Syracuse tetradrachm depicting a wonderful representation of Arethusa on its reverse, providing an excellent example of early Classical style (lot 368); one of the finest known specimens of a highly rare Siris stater from the British Museum duplicates (lot 390); a Phaestus stater, formerly belonging to the M. A. Sinton collection – an excellent piece and extremely rare (lot 403); the best known example of a rare Cyzicus stater (lot 407); a marvelous and important Chios stater, by far the finest and the only one in private hands of 4 known pieces (lot 423) as well as a triple siglos of Cos showing a delightful scene of naked Discobolus gathering momentum to throw his discus on the obverse (lot 430).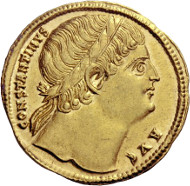 Lot 499: Constantine I the Great medallion of 2 solidi, from a Swiss collection and privately purchased from A. Tkalec in 1998, CHF 100'000.
The Roman section features a beautiful series of aurei, among them a rare Pertinax aureus with a superb portrait of fine style (lot 469); a magnificent unique and unpublished Constantine I the Great medallion of 2 solidi (lot 499); an unrecorded Constantius II medallion with a lovely portrait and a spectacular reverse composition (lot 506) as well as a heavy milarensis of Vetranio in exceptional condition with a beautiful portrait (lot 509).
Part II of auction 88 offers a varied and interesting selection of coins from the Greek and Roman period at attractive starting bids.
The coins can be viewed at NAC's London premises (+ 44 207 839 7270) until 22 September and at NAC's Zurich premises from 5 October (+ 44 41 261 1703). Please contact the respective office to arrange an appointment.
To browse through the virtual auction catalogues please follow these links: