[bsa_pro_ad_space id=4]
25-05-2014 – 26-05-2014
NAC Auctions 77 and 78
Great Spring at NAC
This spring, NAC's sales 77 and 78, to be held at the Hotel Baur au Lac in Zurich, will be another unmissable numismatic event. More than 1,500 lots are to be sold in these two days, at an total estimate nearly CHF 10 million.
Auction 77 – The David Walsh Collection
This catalogue is exclusively dedicated to the David Walsh Collection featuring an impressive collection comprising over 150 prestigious and interesting coins, formed in the late 1990s and early 2000s.
Lot 17: Greek, Syracuse, Tetradrachm, signed Kimon (ex Auction Leu 76, Lot 57 dated 27 october 1999). Estimate: CHF 1,000,000.
The star of the remarkable Syracuse series of this collection is undoubtedly a tetradrachm bearing the facing head of Arthethusa, signed by Kimon; collectors will no doubt recognise the coin (ex Käppeli collection) from the cover of the catalogue of Leu's 1999 auction 76. This is, in our opinion, one of the finest Greek coins in private hands.
Other highlights include a selection of Athenian coins boasting a tetradrachm of the "Wappenmünzen" series with a glittering provenance (ex Jameson and Gillet collections), …
Lot 46: Greek, Athens, Gold stater. Estimate: CHF 350,000.
… as well as an extremely rare gold stater …
Lot 45: Greek, Athens, Decadrachm. Estimate: CHF 90,000.
… and decadrachm.

The Greek part of the sale concludes with a wonderful selection of Bactrian coins with many rarities that have long been absent on the market.

The Roman offering includes two remarkable Roman Republican cast coins and 18 gold coins of the Roman Empire including an aureus of Augustus and Gaius.
Auction 78 – Greek, Roman and Byzantine Coins
This sale offers a vast series of Greek and Roman coins, rich in important pieces and includes the final part of the JD Collection of Roman Republican Coins.
The Greek world features an important group of staters of Cyzicus and a stater Lampsacus, as well as a tetradrachm of Achaeus and gold staters of Andragoras and Eucratides.
The Roman part of the sale presents an impressive selection featuring over 300 gold coins. Highlights include:
Lot 843: Roman Empire, Caligula and Germanicus, Aureus. Estimate: CHF 100,000.
an aureus of Gaius and Germanicus, one of the finest specimens known; …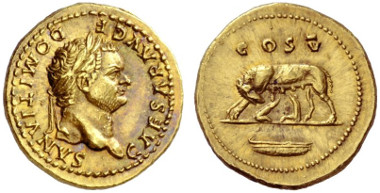 Lot 903: Roman Empire, Domitian, Aureus. Estimate: CHF 40,000.
… a magnificent Boscoreale aureus of Domitian, an aureus of Pertinax of superb style; …
Lot 1044: Roman Empire, Geta and Caracalla, Aureus. Estimate: CHF 100,000.
… another aureus of Caracalla and Geta; an extremely rare aureus of Plautilla; an aureus of Probus, helmeted; an aureus of Licinius with facing portrait and finally a 2½ solidus of Constans II.
Also included is an extensive selection of bronze coins boasting a wonderful sestertius of Nero sporting the port of Ostia scene, a fantastic sestertius of Pertinax and two medals of Philip II and Maximianus Herculius.
The second part of the catalogue comprises a wide range of interesting Greek and Roman coins for every taste and budget.
Both catalogues are available on the NAC website since mid April and printed catalogues were sent out to NAC clients previously. New customers can order the catalogue against an annual subscription of CHF 100 through NAC's Zurich office (Phone +41 44 261 1703) or by eMail.
All lots will be on exhibition at NAC's London premises (Phone +44 20 7839 7270) until May 8, 2014; they can also be viewed by appointment in Zurich as of May 23 or during the sales.