[bsa_pro_ad_space id=4]
19-05-2015 – 23-05-2015
Auction 82-85
Greek and Roman Rarities at NAC's Spring Auctions
This spring, in the same week NAC will be holding an important two-day sale of approximately 2,200 ancient coins with a combined total estimate of almost 10.5 million Swiss Francs at the hotel Baur au Lac in Zurich followed by an auction dedicated to a prestigious collection of Italian coins to be held at a new venue in Milan. Both events are certainly set to be exciting highlights in the numismatic calendar.
Auction 82: The M.L. Collection of coins of Magna Graecia and Sicily & The J. Falm Collection of Miniature Masterpieces of Greek Coinage depicting Animals
This catalogue is exclusively dedicated to two outstanding collections of high-quality Greek coins.
Formed of 65 lots, the M.L. Collection offers a rich selection of remarkable coins of Magna Graecia and Sicily that are exceptional for both quality and style. Many of which are exceedingly rare and practically all boast highly desirable provenances. The collection was formed predominantly in the 1990s and the collector succeeded in acquiring many of the best specimens to appear on the market in that period.
It is clear to see the Collector's stamp on the collection and through leafing the catalogue, the reader gains a true appreciation of his sensitivity and taste; each coin has been meticulously selected paying close attention to style and beauty.
Lot 44: Messana. Tetradrachm, circa 420-413. De Luynes 1022. Rizzo pl. XXVI, 12. Caccamo Caltabiano 508.1. EF. Estimated: 100,000 CHF.
Highlights include but are by no means limited to: a beautiful two exceptionally well-preserved gold staters of Tarentum (lots 8-9); one of the finest specimens known of a very rare tetradrachm of Rhegium (lot 33); an exceedingly rare and interesting tetradrachm of Messana, with Pan and springing hare reverse composition, the finest of only 5 specimens known (lot 44); a very rare tetradrachm of Selinus with a spectacular quadriga obverse composition (lot 51), and an unsigned Kimon decadrachm of Syracuse (lot 61).
Lot 84: Rhegium. Drachm 415/410-387. Herzfelder 113. SNG Copenhagen 1934. SNG ANS 665. Historia Numorum Italy 2497. Demeester 20. EF. Estimated: 7,500 CHF.
The sale continues with the J. Falm Collection comprising 165 predominantly small denomination coins. Published in 2002 in a book by Anne Demeester "Les Animaux et la Monnaie Greque", the collection takes you on a fascinating journey across the Greek world enabling you to observe the rich and diverse way in which animals were represented on coins.
Lot 218: Kings of Bactria, Sophytes 325-300. Drachme, Bactra 325-300. SNG ANS 21. Mitchiner, Indo-Greek 29b. Demeester 152. Nearly EF. Estimated: 5,000 CHF.
What is striking about the collection is the consistently good condition throughout and hence the coins allow you to fully appreciate the skill of Greek die-engravers to render even the smallest details on such minute spaces.
Auction 83: The Collection of Roman Republican Coins of a Student and his Mentor, Part III
This third and final part of the Student and his Mentor Collection comprises 306 coins. The gold component is truly impressive counting 29 gold pieces in this single sale. As one would expect from the auctions of the previous two parts of the collection, the average quality of the silver in this third and final part is very high.
Lot 509: Cn. Domitius Ahenobarbus. Aureus, 41. Babelon Domitia 1. Bahrfeldt 68. Kent-Hirmer pl. 27-28, 100. Sear Imperators 338. Calicó 69. Crawford 519/1. EF. From the J.H. Durkee Collection. Estimated: 350,000 CHF.
Highlights of the sale include: an oath-taking stater (lot 230); a 30 asses (lot 233); a stater of T. Quinctius Flamininus (lot 264); an extremely interesting aureus of Julius Caesar bearing his age (lot 406); an aureus of Lepidus (lot 463); an aureus of Vibius Varus (lot 465), an exceedingly rare aureus of Arrius Secundus with the Este family countermark (lot 500); an exceedingly rare aureus of Ahenobarbus formerly belonging to the Metropolitan Museum (lot 509); an aureus with the portrait of Julius Caesar minted by Agrippa (lot 517); an aureus of Mark Antony with the portrait of Antillus on the reverse (lot 519) and finally a legionary aureus of Mark Antony (lot 520); four Civil War denarii (lots 315-318); a magnificent denarius of the moneyer Aemilius Lepidus (lot 372); an extraordinary denarius of Pompey coined by Minatius Sabinus (lot 434) …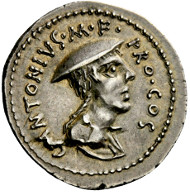 Lot 451: C. Antonius. Denarius, 43. Babelon Antonia 148. C 1. Sydenham 1286. Sear Imperators 141. Kent-Hirmer pl. 30, 104. RBW 1699. Crawford 484/1. EF. Estimated: 75,000 CHF.
… an exceptional denarius of Caius Antoninus – undoubtedly the finest specimen known (lot 451) and a delightful denarius of Servilius Rufus (lot 502) to name but a few.
Auction 84: An important series of Greek, Roman and Byzantine coins
This auction offers a vast selection of Greek and Roman and Byzantine coins, featuring many rare and important pieces. The Greek part of the sale opens with an extensive offering of Hispano-Carthaginian issues and, along with the usual selection, the sale features some important electrum coinage and concludes with two important series of coins of the Jews and South-West Levant and of Cyrene.
Lot 534 – Iberia, Carthago Nova. Trishekel, circa 221-206. De Navasques 458. CNH 12. Robinson, Essays Mattingly, 6(b). Villaronga-Benages 552. EF. Estimated: 65,000 CHF.
Highlights in the Greek section include an impressive trishekel for Carthago Nova (lot 534), a stunning tetradrachm of Selinus (lot 576), a unique hecte of Cyzicus from the Kunstfreund collection (lot 632), two interesting and beautifully preserved staters of Cyzicus (630-635), three very important electrum staters from an uncertain mint in Asia Minor (lot 644-646) and a wonderful drachm of Clazomenae from the Kunstfreund collection (lot 653).
The Roman Republican section presents among others a superb Julius Caesar portrait from the moneyer L. Flaminius Chilo (lot 847), and the finest known denarius of Arrius secundus from the Haeberlin collection (lot 866).
Lot 875: Octavian as Augustus, 27 BC – 14 AD. Aureus, Bahrfeldt 137. C 26. BMC 659. RIC 538. CBN 1010. Rambach-Walker SNR 91, 2012, 1.9. Calicó 168. EF. Estimated: 250,000 CHF.
The Imperial section is extremely impressive and featuring: a spectacular Augustus aureus with the heifer (lot 875); a wonderful sestertius in the name of Drusus from the William James Conte collection (lot 907); a sestertius of Galba with a spectacular portrait (lot 933); one of the finest aurei in existence of Pescennius Niger (lot 1053); a perfect aureus of Macrinus from the Jameson collection (lot 1084); a spectacular medallion of 2 solidi of Helena (lot 1212) and an exquisite 2 solidi medallion of Aelia Eudocia (lot 1293).
Auction 85
Auction 85 in Milan features 212 coins from the Ravegnani Morosini collection.
Lot 17: Casale. Bonifacius II Palaiologos, 1518-1530. Ducato, CNI 2 var. Ravegnani Morosini 1. MIR 213. Friedberg 169. VF. Estimated: 50,000 euro.
The collection is an important series of Italian portrait coins which features many rarities. It was formed by Ravegnani Morosini, the author of the wonderful reference book "Signorie e principati. Monete Italiane con ritratto 1450-1796". No doubt this book will be well-known to enthusiasts in the field and this sale presents a unique opportunity for collectors to acquire coins which once belonged to his collection.
The catalogues are now available NAC's website …
… and on Sixbid:
Auction 82
Auction 83
Auction 84
Auction 85
Printed catalogues for all auctions will be sent out to existing clients in mid-April and can be ordered through NAC's Zurich office. The coins in of auctions 82, 83 and 84 can be viewed in our London premises (Tel. + 44 207 839 7270) until 5 May and at NAC's Zurich premises from 17 May (+44 41 261 1703). Please contact NAC to arrange an appointment. Coins from Auction 85 can be viewed at NAC's Milan office from 14 April -23 May 2015 (strictly by appointment only +39 028056304) and on the day of the auction at the Hotel Excelsior Gallia on 24 May from 9:30-17:30.