[bsa_pro_ad_space id=4]
02-07-2014 – 01-01-1970
Webshop July
New Coins added to Nomos Webshop
68 new items have been added to the Nomos webshop. These additions are mainly from two private collections and include bronze, silver, electrum, and gold pieces that range from ancient Asia Minor (c. 5th century BC) to a Commonwealth 'Fine work' Shilling struck in 1651. The carefully selected group of Greek coins comes from an American specialist who focused on elegant pieces with highly important provenances. Among these are examples from the collections of the Johns Hopkins University and J. W. Garrett, Rockefeller University, BCD, J. Velkov, H. A. Cahn, Henri de Nanteuil, G. Picard, C. Strozzi, M. Collignon, and S. Pozzi.
13938. Mysia, Pergamon. 334-332 BC. Stater. Gulbenkian 699 = Jameson 2580. SNG France 1557 = de Luynes 2492. Extremely rare, one of a very few examples known. Very minor flan fault on the obverse, otherwise, good extremely fine.
The first coin that we highlight here is one of the very rare gold staters of Pergamon that bears a fine head of the youthful Herakles on its obverse. While it lacks the name of its minting authority, the clearly Pergamene figure of Athena on its reverse indicates that city as its mint. The appearance of examples of this type in the famous Saïda hoard, found beginning in 1829 and dating to the late 320s, makes it clear that it had to have been struck at some point during the reign of Alexander III. If so, we might view it as a special issue designed to pay the troops who guarded Pergamon, where one of the King's great treasuries was located.
Remarkable for its extraordinary strike and broad and massive flan is a silver stater from Velia showing its badge of a lion attacking a stag on the reverse. This lively scene is sharply struck and so well centered and that it shows the full legend, often missing on lesser specimens.
Most of the Roman Imperial and Provincial coins were part of a Swiss collection assembled well before the 1980s. Therefore, quite a few do have the kind of beautiful toning characteristic of old collections; as the denarii of M. Junius Brutus, P. Cornelius Lentulus Marcellinus and Octavian. An excellent sestertius of Nero is particularly remarkable for its well-nigh perfect state of preservation and beautiful style: the figure of Roma on the reverse is artistically and delicately made that it almost seems to have been a prototype for the series. Today's offer is completed by a square weight of 3 Unciae (80.4 g) that is a fascinating example of late Roman – early Byzantine medal work.
Lot 14131.
14131: GAUL, Massalia. Circa 150-100 BC. Drachm. A most attractive example of this scarce variant. Perfectly struck and with a lovely old cabinet tone. Good extremely fine. Price: 675 CHF.
Lot 14150.
14150: LUCANIA, Velia. Circa 290-280/75 BC. Stater. A wonderful example with a reverse of exceptional power. Well struck on an extraordinarily broad flan. Beautifully toned, and of magnificent style. Extremely fine. Ex Dr. Busso Peus Nachf. 280, 30 October 1972, 35. Price: 6,750 CHF.
Lot 14152.
14152: LESBOS, Mytilene. Circa 330 BC. Hekte. An excellent example perfectly struck and with a most attractive old tone. Among the finest known specimens of this type. Extremely fine. From the collection of James and Sneja Velkov, ex Jean Vinchon, 24 November 1994, 141. Price: 3,250 CHF.
Lot 13937.
13937: Island off Thessaly, Skyros. c. 485-480 BC. Didrachm. Very rare. Nicely toned and clear. Overstruck on an uncertain earlier issue. Crudely struck as usual, otherwise, good very fine. Ex Gemini VII, 9 January 2011, 322 and from an American collection and from the collection of Norman Davis. Price: 82,500 CHF.
Skyros is a fairly rough island and was never particularly prosperous. In the early 5th century BC it became the stronghold of the Dolopian Pirates who proceeded to terrorize the northern Aegaean until they were destroyed by the Athenians under Kimon c. 475. After that the island was settled by Athenian cleruchs and lapsed into obscurity: it is known for being the burial place of both Theseus (whose supposed bones, probably those of a giant sloth, were taken to Athens by Kimon) and the British poet Rupert Brooke (who had died of sepsis from a mosquito bite on the way to Gallipoli in World War I).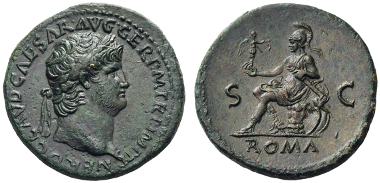 Lot 14156.
14156: Nero. AD 54-68. Sestertius. A beautiful coin with a fine portrait and an exceptionally lovely reverse. A sharply struck, very well preserved example with a fine dark green brownish patina. Most attractive and of the finest style of the period.
Lot 12883.
12883: Antoninus Pius. AD 138-161. Aureus. A pleasant piece with a left facing portrait. Nearly extremely fine. From the Archer M. Huntington collection of Roman gold coins (HSA 30000), ex Numismatica Ars Classica 67, 17 October 2012, 335. Price: 9,250 CHF.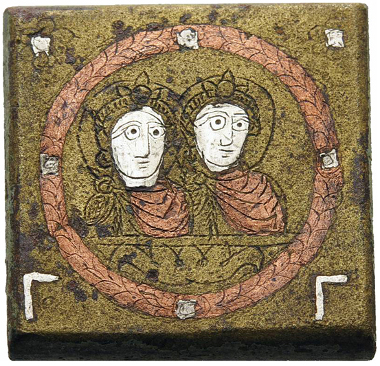 Lot 13939.
13939: 5th-6th century. Square Weight of 3 Unciae. Very rare. A remarkable example of late Roman – early Byzantine medal work. Patinated as found but with the top surfaces cleaned to reveal the design and the original golden-brown color of the bronze, the red of the copper and the grey silver. Extremely fine. Ex LHS 102, 29 April 2008, 473 and from a private collection in the Middle East. Price: 15,000 CHF.
Lot 13945.
13945: Great Britain, The Commonwealth. 1649-1660. "Fine Work" Shilling. Very rare. A splendid, toned example with nearly proof-like fields. Good extremely fine. From the M. Hughes collection, Spink 139, 16 November 1999, 162, ex Seaby, 23 April 1986, 170 and from the collections of M. A. Brigg, Glendining & Co., 23 May 1939, 406, C. A. Watters, Glendining & Co., 21 May 1917, 441, J. G. Murdoch, Sotheby, Wilkinson & Hodge, 8 June 1903, 404, Hyman Montague, Sotheby, Wilkinson & Hodge, 8 November 1896, 690, W. Brice (purchased privately by H. Montagu in 1887), J. B. Bergne, Sotheby, Wilkinson & Hodge, 20 May 1873, 861 and W. Durrant, Sotheby & Wilkinson, 19 April 1847, 731. Price: 24,500 CHF.
The so-called "Fine work" silver coins were especially carefully struck using the traditional hammered techniques combined with very carefully made dies in order to compete with the machine made coins produced by Pierre Blondeau. In the end the English hand workers managed to delay the coming of machine technology by less than a decade. The extensive collection pedigree is a typical example of the kind of information that is often retained for major British coins, but usually lost for coins from collections on the Continent.
If you want to take a look at the Nomos webshop please click here.
If you are interested in consigning material to the Nomos webshop, please contact the company.