[bsa_pro_ad_space id=4]
27-01-2014 – 01-01-1970
Nomos webshop January
New Coins added to Nomos Webshop
36 new items have been added to the Nomos webshop. They are a carefully selected group of Greek, Roman and Byzantine coins struck in gold, silver and bronze.
The group begins with a splendid Didrachm from Velia that was part of the famous Woodward Collection that was sold in 1930 in Ars Classica XV and also belonged to the well-known collection of R. Jameson. The Stater of Philip II is another particularly beautiful Greek coin with an interesting historical background: great numbers of gold coins in the name of Philip II were struck to pay his soldiers, and those of Alexander III; after their terms of service were over those troops returned to their homes, bringing their golden pay along with them. Thanks to their purity and beauty, the staters of Philip II, which were issued in only a few mints during his lifetime (primarily the royal Macedonian mints of Amphipolis and Pella), but they continued to be struck after his death; and also gave rise to a vast and long-lasting series of imitations, produced by the Celts.
The Denarii of Q. Marcius Libo and Cn. Plancius are well struck, attractively toned, and provide good examples of how impressive the numismatic art of the Roman Republican period can be. Nomos also offers a small group of Roman Imperial bronzes in extraordinary condition. A stunning pair of pieces struck during the reign of Antoninus Pius is notable for its superb condition and the emperor's expressive portraits. This group of new offerings is completed by some gold, silver and bronze Byzantine coins. The tiny silver quarter siliqua of Heraclius is truly remarkable: it is definitely one of the finest known examples of its type.
Finally, the new additions include a number of interesting and important old auction sales catalogues.
We hope that everyone visiting our webshop will enjoy doing so, and that you all will find something exciting that you would like to add to your own collection.
13763: LUCANIA, Velia. Circa 300-280 BC. Didrachm. A spectacular piece with bright and clear surfaces and a very impressive pedigree. Extremely fine. Ex Ars Classica XVI, 3 July 1933, 277 (described as ,de toute beauté'). From the Woodward Collection and ex Ars Classica XV, 2 July 1930, 215 and there indicated to come from the collection of R. Jameson, Paris 1914, 72. Sold.
13815: KINGS of MACEDON. Philip II. 359-336 BC. Stater. A truly superb piece perfectly struck on a full flan. Extremely fine. Price: 6,500 Euro.
13810: Q. Marcius Libo. 148 BC. Denarius. A stunning example perfectly toned and sharply struck. Extremely fine. From the collection of Roman Republican coins of a Student and his Mentor, ex Numismatica Ars Classica 70, 16 May 2013, 28. Ex Tkalec & Rauch Sale, 14-15 April 1986, 247. Price: 875 Euro.
13765: Cn. Plancius. 55 BC. Denarius. An excellent piece attractively toned. Minor flatness on the reverse, otherwise, extremely fine. This reverse type refers to Creta where the moneyer Cn. Plancius served under the proconsul Q. Metellus. Sold.
13926: Agrippa. Died AD 12. As. A very nice example featuring an expressive portrait. Minor flaws on the reverse, otherwise, good very fine. Ex Classical Numismatic Group 60, 22 May 2002, 1504. Price: 1,650 Euro.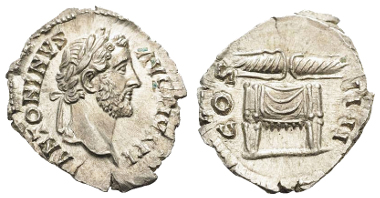 13737: Antoninus Pius. AD 138-161. Denarius. A bright, lustrous example. Virtually as struck. Price: 850.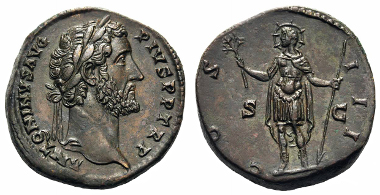 13786: Antoninus Pius. 138-161. Sestertius. A splendid example of a perfectly struck sestertius with an excellent portrait. Lovely brown patina, extremely fine. Price: 6,750.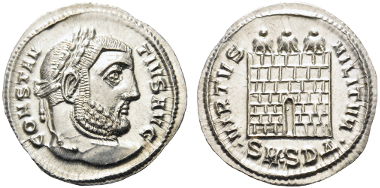 13814: Constantius I. AD 305-306. Argenteus. Very rare. A marvelous piece perfectly struck in all respects. Among the finest known specimens of Constantius I as Augustus. Lustrous and as struck. Price: 2,750 Euro.
13920: Heraclius. 610-641. Quarter Siliqua. Rare. An outstanding example in extraordinary condition. Attractively toned and perfectly centered on a broad flan. Among the best known pieces for this type. Good extremely fine. Price: 850 Euro.
13975: Münzhandlung Basel. Auction 3 catalogue. Collection de monnaies et médaillons romains, formée en majure partie par le Prince Waldeck vers la fin du XVIIIe siècle. Basel. 4-5 March 1935. 1071 lots, 53 plates of which 1-2 is a folding double plate of aes grave. An important sale of Roman coins with lots of spectacular medallions. Sold.
If you want to take a look at the Nomos webshop please click here.