[bsa_pro_ad_space id=4]
21-05-2016 – 01-01-1970
Auction 12
Nomos Sale during Numismatic Week in Zurich
This year Nomos, along with Hess-Divo, Numismatica Ars Classica and Sincona, have coordinated so that you can have an exciting 'Numismatic Week' here in Zürich: there will be something for everyone!
The sale runs from archaic Greek pieces all the way through flamboyant baroque medals: rarities are present, of course, but what Nomos has really tried for is to present coins that are attractive, interesting and unusual.
Lot 5: CELTIC, Northwest Gaul. Uncertain tribe. Circa 3rd-2nd century BC. 1/4 stater D&T I, p. 33, 24. Scheers Série 3, III, var. b, fig. 32. Sills 209. Very rare. Extremely fine. Estimate: 12,000 CHF.
The auction begins with a nice group of Celtic, including a spectacularly attractive quarter stater struck by an uncertain tribe in NE Gaul (5), and a series staters made by the Helvetii. Then comes a small run of coins from Magna Graecia, Sicily, Thrace and Macedonia these are followed by some extraordinary rarities from Greece. Now that the great collector of this series has gone off to meet his idol Imhoof- Blumer, present-day collectors may find acquiring these coins somewhat less difficult!
Lot 58: PHOKIS, Delphi. Amphictionic issues, circa 336-334 BC. Hemidrachm. BCD 389. SNG Berry 585. Of great rarity, one of only four known examples. Good very fine. Estimate: 15,000 CHF.
The completely unknown Aitolian drachm (56) and the lovely Delphiote hemidrachm (58) are wonderful surprises. There is a pleasant group of Cretan coins with a romantic story behind their acquisition (72-85); and even an unusual series (for Nomos) of Kushan gold (126-145).
Lot 199: Constantine I, 307/310-337. Solidus, Nikomedia, 324. Depeyrot 34. RIC 70. Rare and attractive. Extremely fine. Estimate: 20,000 CHF.
There are a variety of Roman and Byzantine coins, all of very good quality (there's even an unknown representation of Homer, 165).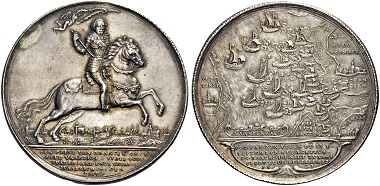 Lot 275: NETHERLANDS, The Dutch Republic. Frederik Hendrik of Orange-Nassau, 1625-1647. Medal on the Battle of the Slaak on 13 September 1631, won by the Dutch against a much larger Spanish fleet; by A. van der Wilge, 1631. Sandwich AA8. Van Loon II, pp. 194-195. Very rare and attractively toned. About extremely fine. Estimate: 3750 CHF.
As a change, after the last Byzantine gold piece Nomos has an important group (244-320) of Dutch and Dutch-related medals. These pieces, primarily dating from the 16th and 17th centuries, all come from an important private collection and are often of exceptional quality.
Frankly, they can be beguiling in the best way! They are also very attractively estimated.
All offered lots you may find here.