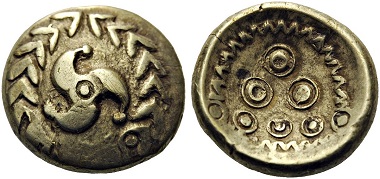 [bsa_pro_ad_space id=4]
20-02-2016 – 01-01-1970
obolos 4
obolos 4 – online bidding open now
The obolos 4 sale of Nomos is now ready and it has some terrific things in it.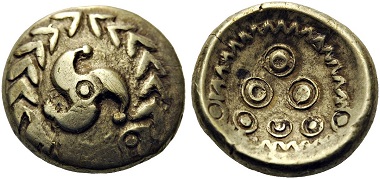 Lot 8: CENTRAL EUROPE, Vindelici. Early 1st Century BC. Stater. Allen & Nash 160. Good very fine. From a private European collection. Starting Price: 3000 CHF.
This is, by far, their biggest sale – containing 1000 lots with a total starting price of over CHF 300,000 – and it contains all kinds of Celtic, Greek, Roman, Byzantine, early Medieval and modern coins.
Lot 310: KINGS of PONTOS. Pharnakes I, circa 200/185-169 BC. Drachm Very rare and with a superb portrait. Food very fine. From a European collection, formed before 2005. Starting Price: 2500 CHF.
Dr. Alan S. Walker said: "A curious problem that we have begun to have comes from the popularity and success of our previous sales: we have more and more consignors! Just imagine what it is like when, after Yves, Lars and I have finished the cataloguing, put all the lots in order and fully numbered everything, someone walks in with another 30 Celtic coins and Yves says, 'Oh sure, we can put them in obolos 4…' Luckily, by using brute force we have prevented him from adding any more lots and now you can enjoy looking through a really good sale!"
Lot 521: Mark Antony, with Octavia, Cistophorus, Ephesus (?), 39 BC. Banti & Simonetti 21 (this coin). RPC 2202. Good very fine. Ex NAC 70 (2013), 178, Sotheby's, (1979), 443 and Hess-Leu 45 (1970), 456. Starting Price: 750 CHF.
So please enjoy yourselves hunting through all the coins Nomos is presenting in obolos 4:
Lot 558: Nero, 54-68. Sestertius, Rome, c. 62-68. Banti & Simonetti 506 and 506/1 (same dies, Lugdunum). BMC 126 var. RIC 133 var. (with S – C). Very rare variety. Good very fine. From the collection of Prince Waldeck, Münzhandlung Basel 1, 28 June 1934, 183. Starting Price: 1500 CHF.
Lots have pedigrees, some come from very old collections, others from more recent ones and all have very reasonable starting prices.
To view the complete catalogue please click here.